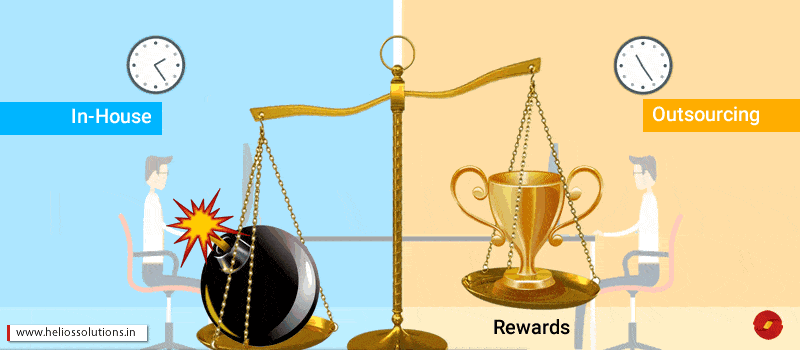 Do you have your own website? Failing to have one, in this digital era, just means you are missing out on an important marketing tool with immense potential. Now, to develop in-house or outsource, is a question confronted by most of the companies irrespective of their industry. The answer, however, is not that straightforward and making the decision could be quite tough.
Many successful companies outsource web design and development while some prefer in-house development. Before you make a decision, you would need to consider many factors; hence in today's blog we would try to understand the risks and rewards associated with each.
Key Factors to consider
Although, you need to consider and compare many factors but focusing on the right factors would enable you to make your decision easily. So, we are organizing our comparison upon the following factors:
Costs

Skill set

Turnover

Communication
Now, let's get started!
Costs
Web development experts are quintessentially in demand in this digital age, however, you need not necessarily pay a huge amount for your web development project.
Outsourcing your project to a website design and development company located offshore in India is always a more cost-effective investment than hiring in-house web developers. Our clients collaborate with us because of the attractive cost and quality ratio.
In-house web development, on the other hand, would require you to hire a team of web developers and that could be more costly. Here, you should not forget considering monthly salary as well as the mandated benefits like paid leaves, health insurance, etc. Besides, you would need to take into account HR services, equipments, personnel management, software, office space and facilities are other expensive overheads.
By hiring in-house, you are choosing to incur all of the costs without knowing whether your product will be a success or not.
Whereas, outsourcing web development companies are already fully equipped and they can reduce your time-to-market which would give a better return on investment.
Skill set
Well, if you have access to a crew of techies with evolving skill sets, it will undoubtedly help your company to survive and sustain. However, do you know what skills would be required to develop your product? How would you manage it till completion? Any after launch execution plans?
Remember that you won't be just building an app but a business, so you would also need business analysts, product manager and app marketing expert. Do you know that you would need to set up an entire IT village for in-house web development?
A proven outsourcing web development company would have more than sufficient talent to understand, develop and execute your project. However, risks are associated with this option too; for instance, your project might end up costing more than you had anticipated. Or, they may fail to deliver the right product on time.
In order to avert these risks, you have to make sure you are selecting the right outsourcing Web Development Company with the right people who follow the right process.
Wondering how to find your potential Mobile App Development Partner? Click here!
Turnover
Research reveals that the tech industry has the least loyal workforce. Imagine if one of your loyal in-house talents leaves amidst an important ongoing project? The tech professionals frequently jump ships and getting another tech professional onboard can bring your project to a halt, threatening the viability of your app.
While you outsource web design and development, you would not require absorbing the risk of turnover. A professional tech firm would keep you on the same page in the event of turnover and quickly work towards making things right.
A great outsourcing web development firm usually doesn't allow hiccup in the development process and hence you would hardly need to ponder about things like turnover or employee development.
Communication
When your web development team is in-house, you will no doubt have full ownership and control over every aspect of the project. You will have full knowledge about every single detail, how much progress is made and even about setbacks during the development. In short, you will have greater visibility into the progress of your web development project.
A good outsourcing web development firm will always keep you involved in the process through project management tool, emails as well as skype conversations. You would be able to communicate with the development team throughout the project lifecycle.
Also won't it be superb if the talent pool of the outsourcing web development company is proficient in English? English being our second language in India and also the formal language of instruction minimizes the language barrier to a great extent. And real-time communication across borders and time zones is not a big deal these days, thanks to the advancements in technology!
Perhaps you would not agree less with us when we say that it is always convenient to communicate with people who share your native tongue. This is because language plays a pivotal role in shaping our mindsets. Helios Solutions, therefore, bridges the cultural and communication gap by providing you direct access to our dedicated and international project managers.
Final words!
There are so many companies which do not need to outsource web development projects as they have a talent pool in-house to suffice their needs. However, small and medium businesses who want to compete with such companies in this rapidly evolving tech world should make an effort to find web development solutions that fit their budgets as well business needs.
Also for startups, leveraging the collective expertise of an outsourcing web development company like us makes lot of sense because this would allow them to focus on their core business areas.
Being a web development company, many established businesses as well as startups have partnered with us over the last decade for building meaningful and robust web presence for their brands. We have always succeeded in exceeding our clients' satisfaction through our seamless and effective solutions.
Reach out to our international project managers from your own country, communicate with them in your native language and get cost-effective and efficient web app solutions for your business needs.
What's your say on in-house versus outsourcing web development? We would love to know your thoughts; please share with us by leaving your comments below.