Microsoft has been encouraging organizations irrespective of their sizes to begin migrating operations to Microsoft Office 365, however, the transition process from an established infrastructure to a cloud environment demands meticulous planning. Although they have always tried to communicate this message that cloud would be the future, Microsoft identifies that many organizations cannot or will choose not to migrate to the cloud in near future.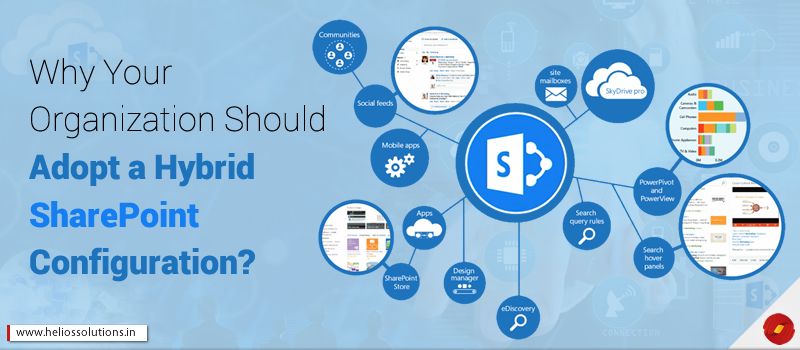 Hybrid SharePoint Environment
Hybrid SharePoint architecture is one where some of the content and services, which cannot be leveraged in the cloud, are hosted on-premises while others are running in Office 365. This is an ideal option if you want to take the path to cloud but want to make slow transition. It is also a nice option if you don't want to take the journey altogether and prefer permanently keeping one foot on premise and other on the cloud due to the following reasons:
Legacy applications with server side code
You might have invested a great deal in developing solutions that contain server side code and are serving critical business needs. The cost and risk of re-architecting these solutions to work in cloud may be high. You may rather consider upgrading the solution to work in SharePoint 2016 by consulting our team of SharePoint Development Specialists who have been skillfully handling hybrid deployment for many clients.
Legacy applications with exceptional UI customizations
Although SharePoint Online's modern user interface is quite appealing but branding and customization techniques may be quite different. When your own legacy custom application is having notable user interface migrating to SharePoint on-premises could involve lesser effort. Therefore, customizations applied through the web parts in the browser, e.g. custom CSS, JavaScript, or SQL which have been developed can create issues for cloud migration.
See Also : Microsoft Dynamics CRM Redefining Way Of Doing Business!
Third-party solutions for on-premise deployment
Another critical reason hindering cloud migration could be that the third party vendor's product you are using has not yet been re-architected to work in Office 365 because of lack of its demand in the marketplace. Therefore, it exists only in a form that could be deployed to an on-premise SharePoint implementation. Therefore, get in touch with us for professional SharePoint Development Services.
Performance issues associated with network latency
As the content held in SharePoint Online can exist in one location, it means that if you are in a geographically dispersed location then you will surely experience some latency. This means the further you are located from the Office 365 host, the more you would experience latencies while performing document centric collaboration works.
Data Residency and sovereignty
This is another big challenge that you are confronted with while you are contemplating your move to cloud. As privacy and data residency requirements vary across countries, you would need to consider the jurisdictional rules of the country where your cloud service provider provisions their data centres. Therefore, by using SharePoint hybrid solutions you not only can protect your sensitive data but also derive the benefits of clouds for other business operations.
If these are the reasons hindering your migration strategy, then reach out to our experts for an analysis of your current business environment. We are a SharePoint Development Service Provider proficient at giving the right estimate for deploying SharePoint Hybrid Solutions for organizations tailored to their business needs.