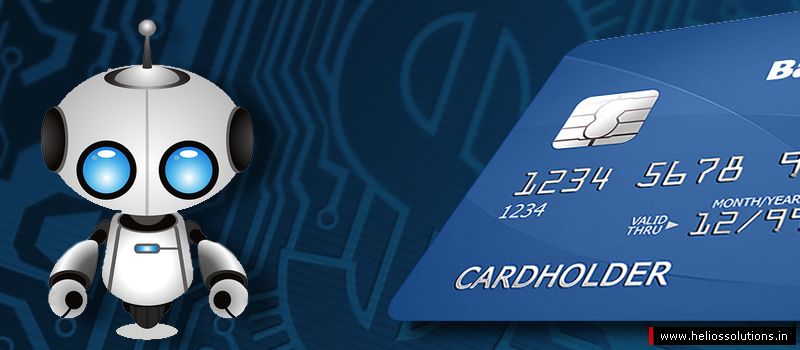 When was it last that you were standing in a queue in front of a teller's window in bank? Can't remember? Well, it' obvious! The Internet and smartphones have already reshaped our banking experiences, isn't?
That's not all. Gear up to witness more disruptive changes in the banking sector in this FinTech era. In today's post, we would put a glance on one such disruptive force – Artificial Intelligence powered chatbots for banking!
That's not all. Gear up to witness more disruptive changes in the banking sector in this FinTech era. New to this term FinTech? Well, it is a portmanteau, rather say, a blend of the words – financial technology. It is the innovative use of technology in the design and delivery of financial services.
In today's post, we would put a glance on one such disruptive force – Artificial Intelligence powered chatbots for banking!
What is a chatbot anyway?
A chatbot is a shortened form of "chat robot". It is a computer program that is either powered by rules or machine learning in order to stimulate human response to facilitate communication with customers.
They are conversational UIs that can help you not only with your chat by anticipating your next action but also with your day to day activities like ordering a cab, buying things online e.g. eCommerce chatbot, so on and so forth.
In this post, we are keeping ourselves confined to the banking sector and taking a look at the various roles chatbots are playing to reduce customer pain points and drive customer satisfaction to the next level:
Alleviate complexity of banking apps
Become your personal financial advisor
Detect and prevent fraud
24/7 customer service representative
Promote products and gather feedbacks simultaneously
Alleviate complexity of banking apps
Don't you hate your banking app? We all do! Traditional banking apps are struggling to keep pace with fast-changing customer expectations, mostly due to their complex UX. Therefore, progressive banks have turned to chatbots to simplify the overall banking experience of their customers.
1) Now you can do your banking transactions from your preferred channels like messaging platforms.
2) You can view your recent transactions, check balance or even transfer an amount without having to log into a website or an app, all with the help of a banking bot.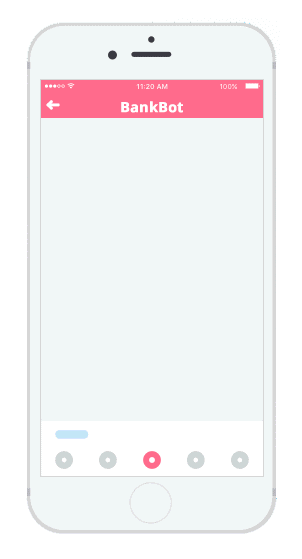 3) The bots will not only understand your needs but also the context. Yes, they will predict rather than react to you. Thanks to technologies like machine learning and natural language processing!
Become your personal financial advisor
What if you had a personal assistant to take care of your financial life? Your banking bot will not just help you with transactions! They will keep a track of your card transactions, analyze them to understand your spending habits and guess what, give you budget planning tips based on this data. Thus, it will help you to keep your finances under control.
Wondering how? Here are some of the tasks that your bankbot can perform:
Inform you about the state of your budget at regular intervals
Save you from missing important payments with timely reminders
Suggest you different savings plan
Make you aware of suitable and personalized financial products
Notify you about important and time sensitive information
Provide you with an investment portfolio update
Being an artificial intelligence software bots can easily connect to the internal systems in order to access your financial information. For instance, Bank of America has unveiled an artificially intelligent chatbot called Erica. It will leverage artificial intelligence, predictive analytics and cognitive messaging to handle sophisticated queries and help customers make smarter decisions.
Detect and prevent fraud
Neither you nor your bank can ever afford to lose the mutual trust. When a fraud happens, it's obvious that you would get skeptical about a bank's security practices and they would lose your trust. Therefore, fraud prevention is a critical activity in banking.
The good news is that a banking bot can effectively monitor and recognize warning signs of any sort of fraudulent activity. It will not only notify you on real time via your bank's messaging app but also advise you about the steps you should take for fraud resolution.
Here is an example:
Whenever you swipe your card, you get a notification right! What if you get a notification for a charge that you do not recognize? You would call the bank to enquire and contest the charge. And if your bank gets suspicious they may decline a charge by blocking your card attempt.
A chatbot, however, can make this a simple, real-time as well as pain-free experience; let's go through a bot-driven conversation to understand this: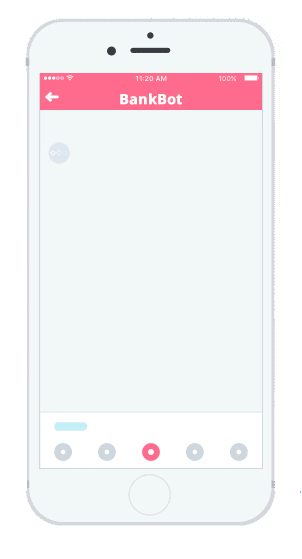 See, the problem could be sorted within a minute via a simple chat. Moreover, you would be saved from the hassle of calling your bank and contesting the charge and so on.
24/7 customer service representative
Today's tech-savvy customers expect their banks to provide personalized support and faster resolution to issues which probably may not be supported by a bank's website or app. However, leading banks understand that excellence in customer service is the key to competitive advantage. Hence, they are looking at chatbots to resolve customer issues 24/7.
When it comes to customer service, chatbots can act as an automation tool and also bring down cost dramatically.
You would no longer need to undergo the frustrating experience of calling a call center or searching help section on your bank's website.
Your banking bot can instantaneously resolve your issue with the right content as well as relevant answers by accessing the bank's knowledge base.
Promote products and gather feedbacks simultaneously
Banks often offer a wide variety of products and services. How about your banking bot delivering personalized offers, products and services based on your profile data or important life events? Hey, it's absolutely cool! Don't you think so?
Moreover, your bankbot won't be that pushy to annoy you with frequent messages. In case, you are not interested in the offers, you can text back "stop" to your bot so that it doesn't keep messaging you. It's that simple!
Thus, a banking bot would ensure that you never miss out on the products and services that are best suited to you.
Another thing is that bots are the best analytic tools. They would efficiently gather data about your specific needs and pain points. Based on these data, the bots as well as your bank would be able to provide you with personalized services.
Final words!
That's not all! Bots are still evolving and they are getting smarter, more intelligent and omnipresent as we are moving towards an AI first world.
Keeping pace with technological advancement, we at Helios are providing chatbot development services.
Are you alright with Bankbot handling your finances? Let's begin a conversation; please leave your comments below.