We are living in extraordinary times. The Coronavirus outbreak has turned the world upside down, and everything feels strange and uncertain. For most of us, it is like we are living in a nightmare.
While all industries have been affected by the COVID-19 pandemic, the education sector is experiencing disruption like never before and that too on a global scale – all the major entrance examinations have been cancelled or postponed and almost all the schools, colleges, and universities have temporarily close their doors.
In order to ensure that learning doesn't stop amid the ongoing crisis, education institutions have turned to technology i.e. to facilitate remote learning.
This article discusses the impact of COVID-19 on the education system and how technology can help mitigate that.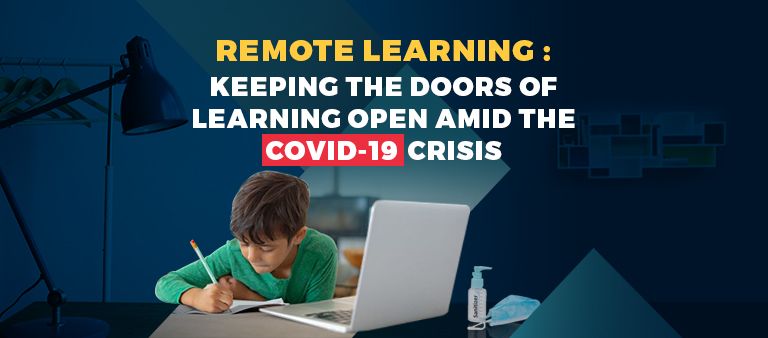 Impact of COVID-19 on Education System
Before the COVID-19 outbreak, the world was already dealing with a learning crisis, as a result of the rising levels of learning poverty. With the spread of the deadly virus, the situation has become much more complicated.
As of 13th April 2020, approximately 1.725 billion learners have been affected due to school closures in response to the pandemic. (Wikipedia)
According to UNESCO monitoring, 192 countries have implemented nationwide closures and 5 have implemented local closures, impacting about 99.9% of the world's student population.
While closures of education institutions seem to offer a logical solution to enforcing social distancing, extended closures tend to have a disproportionately negative impact.
Some of the most critical concerns include:
a) Losses in learning
As a result of the mass closure, students have lost more than one month of academic time. This means that they've lost a number of opportunities for growth & development.  The drawbacks are disproportionate for under-privileged students who tend to have fewer educational opportunities beyond learning institutes.
b) Increased dropout rates
Poverty, accessibility and availability are the major reasons of dropouts. COVID-19 outburst has created a sort of environment where all of these things are ushering. Also, it is difficult for many pupils to stay engaged and connected with the institution.
c) Students missing out the most important time of their day
Education institutions are hubs of peer-to-peer interactions and social activities. When they are closed, many students miss out the time that is essential to learning and development.
d) Parents facing challenges finding prolonged childcare
Amid the lockdown, every house has become a school and every parent has become a teacher. With this, most of the parents are struggling to facilitate good quality learning and care. This is especially true for parents with limited education and resources.
e) Increased anxieties of students and families
The unexpected disruption in education have developed anxieties among the students and their families. With exams being cancelled / postponed, students are worried about their academic routines.
Educate everyone, anywhere.
Develop a remote learning solution today.
Using Technology to Mitigate the COVID-19 Threat on Education System
To help mitigate the impact of the above challenges on the education system, many countries are pursuing options to utilize technologies to develop remote or e- learning solutions.
In fact, the World Bank is working in conjunction with education ministries of several countries to back their efforts in providing remote learning opportunities while education institutions remain locked.
Quacquarelli Symonds, a company that specialises in the analysis of education institutions around the world, have established an ongoing survey (of education professionals) to understand the challenges they face (during the COVID-19 crisis) and how they're embracing online learning opportunities.
According to the results of the survey, 50% of the education professionals say that they have already switched some of their courses to e-learning online. Furthermore, they predict that this number is only set to increase as the coronavirus continues.
Now, let's talk about the types of remote learning solutions and how to develop a remote learning solution to teach and grade learners virtually, thereby limiting the disruption of education.
1) Types of Remote Learning Solutions
Basically, there are two types of remote or online learning solutions:
a) Synchronous learning
This type of tool is used to facilitate learning in real-time. It involves interaction between the participants (i.e. educators and students) via the internet.
Here, interaction can take place through instant messaging, audio and video conferencing. Also, sessions can be recorded and played back.
E.g. a virtual class room is a type of synchronous learning tool.
b) Asynchronous learning
This type of tool allows learners to learn or complete a training at their own pace. There is no live interaction involved.
Here, a digital resources is accessible 24/7.
E.g. Wikipedia is a type of asynchronous learning tool.
Get Ready For The Era of E-Learning
Talk to one of our solution architects today.
2) Developing a Custom Remote Learning Solution
Depending on your requirement, you can develop a custom remote learning solution. Customization can be carried out by implementing the features that best suit the type of learning you want to deliver.
Some of the most important features are:
a) Creating a custom course
You can create and customize courses that offer subject-specific content. It can be enriched with all types of content: text, visual and audio.
Furthermore, you can also embed content from 3rd party tools that are available online, like YouTube, Atlas, Google Drive, or any other web content tool.
b) Offering personalized lessons
If you've identified your students' learning capability, their specific needs and interests, then you can offer personalized lessons to educate them better.
Personalized lessons allow you to craft a seamless learning curve with individualized trainings, instructions and problems to solve using the seamless user interface of an e-learning solution.
c) Implementing smart grading tools and annotation solutions
A smart grading tool allows you to easily access the students' work and track their progress by checking out the problem-solving process in real-time.
Once you get the whole picture, you can then provide valuable feedback with text or video comments, mark grades and share the details of how students have performed with their families.
d) Configuring data analytics
You can harness the potential of data analytics to gather valuable insights about students i.e. their key performance indicators.
Furthermore, you can dynamically tune the learning experience utilizing  the power of AI solution development.
e) Creating profiles for students and classes
You can utilize the data you've gathered and aggregated about the whole class and also about the individual student by creating a profile for them. It can be displayed through a user-friendly interface.
By means of a profile, you will get to know which students are struggling, why they are struggling, and whether they are suitable in the existing peer group.
f) Having an open & accessible knowledge base
The learning management solution that you develop must include a digital library that is accessible to your students anytime, anywhere.
A universal knowledge base must be maintained not only to satisfy the needs of students, but also teachers and other educators. It should consist of user-generated lessons & assignments, student profiles, study plans, etc.
g) Configuring the messenger functionality
This is the most important element of any ideal e-learning solution. In order to facilitate open communication between teachers, the education staff, students, their parents and other relevant parties, configuring a messenger is a must.
With this, you can deliver the latest news to all parties and also notify any party about a particular update.
The implementation of a technology based remote learning solution is opening up new avenues of learning for students of all ages and flipping the traditional concept of classrooms and in-person education by breaking the distance barrier.
In addition to offering a plethora of options to efficiently deliver education, technology is also addressing issues that are hampering learning and teaching amid the global pandemic. It can, therefore, be seen as a tool, a catalyst for change.
Helios solutions:
Bridging the Gap Between Educators and Learners
Remote learning has never been so critical to provide quality learning to students at home. Helios Solutions is at the forefront of providing e-learning services to facilitate remote learning.
Helios Solutions helps you cater to the varied learning needs of diverse learners. We think along with you to identify and understand e-learning needs, create strategy, craft storyboards, and develop solutions that best fit your needs.
With an exceptional quality in e-learning effectiveness and learner-appropriate strategies, we have set new standards in e-learning services across the globe. Here's a story about how we helped a Europe-based client develop a custom e-learning platform – Click here to view
Looking to build a custom LMS?
Helios Solutions can help.