The release of Drupal 7.36 features improvements and bug fixes and API (Application Programming Interface). Upgrading Drupal website to version 7.36 will extend its functionality and provide improvement in loading speed of the web pages.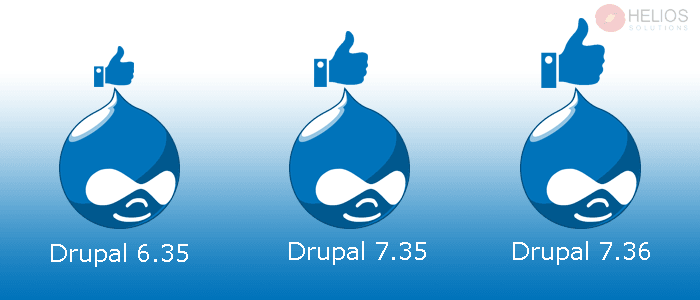 Drupal is a website Content Management System that allows an individual, business, community or enterprise to publish, organize and maintain a wide variety of content on a website. Drupal is used to build everything from personal blogs to enterprise applications. With its thousands of add-on modules and designs, it lets you build any site possible. Drupal is an open source CMS, released under GNU, which makes it freely available to anyone that wishes to use it. It is built, sued and supported by an active and diverse community of people around the world.
Drupal allows non-technical users to maintain a site, while allowing technical users to have the ability to deploy powerful solutions. Its architecture helps to facilitate Search Engine Optimization as well as scalable customization and enhancements through the use of modules.
Every new upgrade in version always has something new to add to its functionality like 7.36 did. Drupal 7.36 consists of many advanced features that help upgrade the web pages. The users now can easily download this latest version to have a fully functional website. The version comes with a wide range of features and functionalities that help build a powerful website to make the business run successfully over the web.
The major changes included in Drupal version 7.36
A new function 'user_has_role()' has been added to check the role of a user
A new variable 'file_public_schema' has been added that allows bypassing file download access checks.
Comes with 'javascript_always_use_jquery' variable, so that there is no need of jQuery on all pages.
'For' attribute has been fixed in Drupal version 7.36 to improve accessibility
This version features change in the 'lang' attribute
To make the private files inaccessible, Drupal 7.36 has fixed bug in the upgrade path from Drupal 6 to 7.
Missing language code 'hook_field_attach_view_alter()' has been fixed in this latest Drupal version 7.36 release.
The above mentioned are the new features added to Drupal 7.36
Get in touch with us If you want to Outsource Drupal India project and for more information visit https://www.heliossolutions.co/cms-development/drupal-web-development-company/