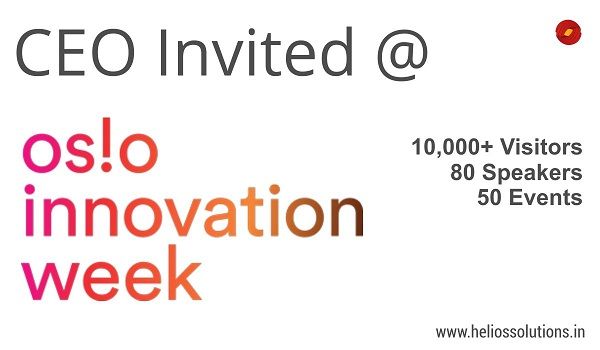 We are really proud to announce that Helios Group Company CEO Mr. Jigar Shah is invited to speak at Oslo Innovation Week. (Link: http://oiw.no ) – 27th September 2017.
This event is taking place for the 12th time this year in Oslo city of Norway in Europe. It has witnessed more than 10,000 visitors in the past year and has invited around 80 speakers to speak on various topics related to Sustainability and 50 events to explore! (link: http://oiw.no/program ) It will be great opportunity to learn new things, meet people and explore the possibility in technology and innovation.
Mr. Jigar will be speaking on Evolved learning for Smart Cities. This topic will highlight keys factors that will influence the resource development of any Smart City. He will be sharing insights and ideas on e-learning, interactive online learning and engagement in online learning.
He believes that resources are an important for any economy and thus for its states. And this idea, took him towards spreading awareness about the same. In these times of cutting edge competition and fast paced world, it is important for businesses and people to keep themselves updated at all times.
And when most things are becoming Smart, the learning has to be Smart too for this so called Smart World. Well, smart is just a word, but the story behind it is something he will be highlighting at this talk in Oslo.
We are glad that we have this opportunity to spread our ideas and our CEO who is a mentor for enterprises and startups will be helping us in achieving this. And we would like you to be a part of this eventful experience. So you can feel free to get in touch with us to attend this event in Oslo, Norway.
We at Helios, are geared up for Oslo Innovation Week, there are many speakers from all around the world who are going to talk about very interesting topics which will not just focus on Innovation but Sustainable Innovation.
For more updates on this event, keep tuned into our social media channels or follow us here. We will be sharing some insights from the event. Have a great day!