Good morning! Your Bluetooth connected coffee maker along with its companion app is brewing the perfect cup with just a tap of a button. It will also ensure that each cup tastes as good as the last one. After you have had your caffeine you need something to eat right? Don't worry your Bluetooth-enabled toaster with the help of its companion app that remembers your preferences, makes you the perfect slice. Now, need to get ready and make yourself presentable? Your app-powered smart mirror will not only show you your reflection but also display the time, weather and status messages from other Griffin smart home products; however, it will reveal or hide the info on demand. Are we being imaginative? Not at all! Thanks to the mobile app-powered Internet of Things (IoT) for making our mornings streamlined and also giving wings to our dream of smart homes.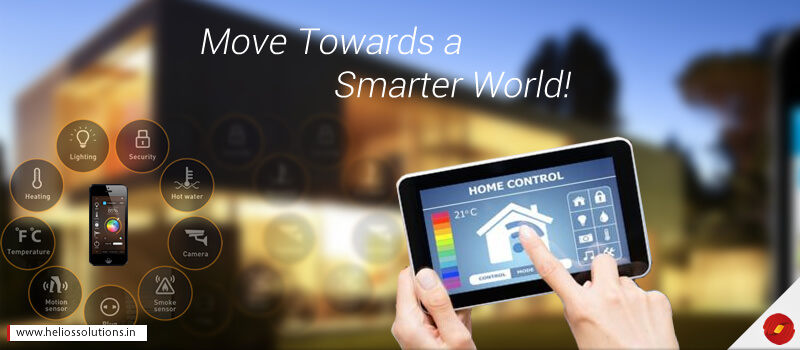 As the IoT connected apps are revolutionizing the world around us, Gartner predicts that IoT will transform more homes in 2018 and almost with 1 billion connected things. The bigger players in the industry including Amazon, Google, and Apple are all competing to put an intelligent virtual assistant in charge of your smart home. Hence, it is the right time for you to get in touch with our team of mobile app development experts and develop mobile apps for smart home devices. By being an early adopter you can get competitive advantage and stay a step ahead of competition.
See Also : Progressive Web App: The Future Of Mobile And Web App Development?
Read on to know how mobile apps and automated devices are sharing your daily chores responsibilities; you may even get an instant app idea and monetize it!
Smart locks: Now no burden of carrying your keys or fear of misplacing them. Your smart lock connected with Bluetooth or smartphone app can be programmed and you can open your doors and windows from a distance.
Intelligent home cleaning: You can remotely control via a smartphone app, your home cleaning with Samsung's POWERbot Turbo Robotic Vacuum Cleaner which has Wi-Fi connectivity. You can even create and feed a virtual map to direct the intelligent cleaner to pick specific areas to clean.
Brilliant wardrobes: Your wardrobe will not only hold your garments on hangers but will also press them when you instruct through the connected app. It will also sanitize your cloths and also inform you about the details of its operations by sending push notifications on your smartphone.
You must have already come up with an app idea! Get in touch with us to transform your dream app into a reality. We are a mobile app development agency and our experts are conversant with the leading edge technologies. They can guide you to make an informed and cost-effective investment.