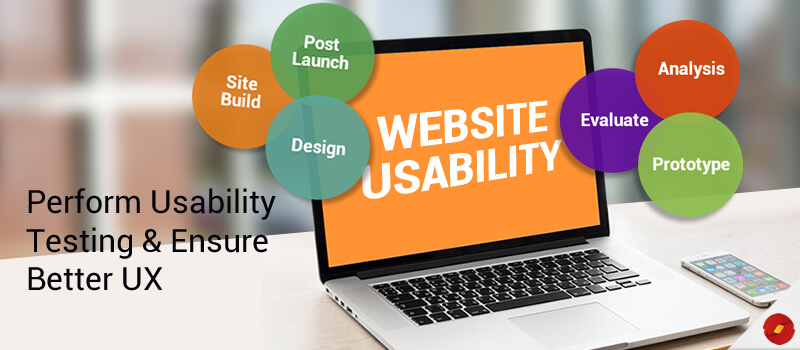 Is the purpose of developing your website being fulfilled? Is your website usability good enough? Did you ever perform usability testing for your site?
Being a web design company, we have been enabling clients to generate more leads and revenue with professional website design and development for more than a decade. This article is basically aimed at extolling the importance of usability testing for your website. Let's first understand what is usability, what are its components and why is it important.
What is usability?
The ease of using an object, in this case a website that enables the user to achieve their specific goals efficiently is known as usability. By improving the usability of your website you can keep your audience from defecting to the competition. Thus, it could help your website to get an edge over the competition.
What are the components of usability?
Usability is comprised of five components, as per Jakob Nielsen, co-founder of Nielsen Norman Group and a web usability consultant. Attempting to answer each of these five components would ensure that you bring out a functional product which would be rejoiced by the world. The five components are as follows:
1. Learnability: Learnability is how easy it is for a visitor to accomplish tasks in their first interaction with your website. Do they get frustrated? Does it hamper the rest of the experience?
2. Memorability: This component is about how easy it is for a user to reestablish proficiency in using your website after they haven't been using it for a while. The relearning time should be short if the design is intuitive.
3. Efficiency: The third component is about analyzing how quickly a user is able to complete tasks on your website once they are acquainted with the design. Are they struggling with tasks that appear fairly simple? Why is it taking long for them to perform the tasks?
4. Satisfaction: Satisfaction is about determining whether users find your design pleasant or not.  Do they come back to your website?
5. Errors: This component is about tracking how many errors do your website visitors make, the severity of these errors, how easily can they recover from them. Thus, it can help you locate the pain points in your design.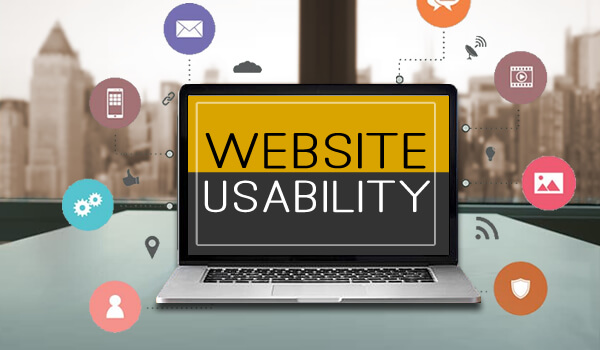 Why is usability important?
Usability is important because it enables your website to:
Deliver a better user experience which in turn helps create a positive and lasting first impression of your business as a whole.
Improve conversion rate by eliminating the barriers that prevent your customers from doing business with you.
Get an edge over the competition because your customers are more likely to return to your site rather than defecting to your competitors' if your site gives them a positive impression.
Reduce costs spent on customer support as users can easily deal with an intuitive site without any help from customer support representative.
Improve operational efficiency by empowering users to get their work done in an easy manner.
The importance of usability can be best understood by the words of Jakob Nielsen:
"On the Web, usability is a necessary condition for survival. If a website is difficult to use, people leave. If the homepage fails to clearly state what a company offers and what users can do on the site, people leave. If users get lost on a website, they leave. If a website's information is hard to read or doesn't answer users' key questions, they leave. Note a pattern here?"
Thus, a website that delivers a positive user experience which is one of the important aspects of a website can enable you to increase revenues multifold. Interested to find out how to fix mobile app usability issues then click here. The best way to ensure that your website performs well is to do usability testing.
What is usability testing?
Usability testing is basically a technique that is used to evaluate a website by testing it on users. To set up a usability test our web development experts build a scenario wherein a user who is using the website for the first time performs a list of tasks.
That user is then observed and listened to while performing tasks while notes are been taken down. Observing a user perform a task is a great way to test the usability of your site because you would come to know whether they are able to perform the task intuitively or facing some difficulties.
Categories of usability testing
Primarily, there are 3 categories of usability testing and they are as follows:
Explorative: It is often used in the early stages of website development to assess the usability of a prototype or preliminary design and also to know the understanding of users about the design.
Assessment: This usability testing category is used midway in website development for evaluating the technology of the website to determine the effectiveness, satisfaction as well as the overall usability.
Comparative: This is used to compare two or more website designs to assess the strengths and weaknesses of each.
How to do usability testing?
Well, usability rules are not something that is etched in stone. This is because what works for your competitors' websites and their customers might not work for your website and your customers. That is the reason we at Helios perform usability testing on actual website using real people.
Let's take a look at how we do it:
Recruit testers
We have our in-house testers who take care of internal applications or B2B applications. However, while building B2C website we often recruit testers who are similar to the audience of the website under development and have not had any involvement with this system ever.
Construct scenarios
We build tasks that are typical to the tasks the customers of our client would want to do with their website. For instance, if our client has invested in e-commerce website development then we would create scenarios around adding items to shopping cart or around checking out.
Record subtle cues
Then our skilled facilitators would observe the testers perform the task and also facilitate them in their attempts to do those tasks. They are also adept in recording subtle cues which often users give while they are unsure what to do.
Review the recordings
Once facilitators are done with their recordings our experienced web developers view these recordings. After scrutinizing the recordings they decide where the actual problem resides and then take steps to rectify it.
Provide recommendations
Often even professional looking websites have usability problems and they need to be fixed. So, once issues are detected by our developers we present our recommendations to the team about which website issues need to be fixed.
Where usability testing fits into development process?
Usability testing is an iterative process, in an ideal world, and it takes place many times throughout the development of an application.
However, you know that finding and fixing issues in the early stage of web development would be much cost-effective than doing it down the line.
Also, it is better to do usability often, that is, once or twice for each stage of development.
In case you have budget constraint then we recommend doing it at least once in each stage because it your investment is guaranteed to pay off.
For instance, if you are investing in custom WordPress development then an experienced WordPress development specialist would know whether it would be proper to choose a premium theme to get the basics right from the beginning.
This is because they can perform explorative usability testing with the prototype and help you make an informed investment. If you want to know in detail then please talk with our experts.
Wrapping up
By now you would have understood how critical usability is and usability testing matters. Can you read your customers' mind? Do you want to discover what users really do? Then get in touch with us with your website development requirements; our web development experts would love to present solutions that aligns with your objectives.
Was it an interesting read? We would love to know your views on this post; please be the first to initiate a conversation by leaving your comments below.