Due to the demand, the mobile apps have generated over the past couple of years, the number of app developers in the market today have become countless. However, there are both legitimate as well as illegitimate developers to choose from.
These steps will help determine the best developer for the mobile app development: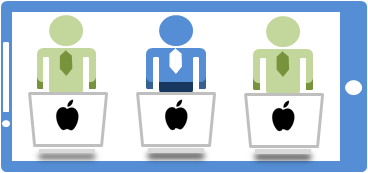 Consider the developers expertise:
A good Mobile App Developer should be an expert working with all the mobile platforms and not just one. It is vital to cross check the app development requirement and the Developer's Expertise, before handing out the project. The developer should be able to guide through the process of development and also should provide creative inputs based on the experience.
Check the portfolio:
It is good to dig a little deeper and ask for their portfolio and check the work they have done. Keep a keen eye on the aesthetic appeal of the apps, its user friendliness and its overall functionality; this would help to decide the developer right for the job.
Check for references:
Ask for the past clients the developer has worked with, this will get the idea about the developers working style and the kind of apps he has built and whether the client was satisfied or not. This will help in deciding if the mobile app developer is apt for the requirement.
Don't let the price influence you:
Every entrepreneur has its own budget; however, they should not let the price influence them. An important fact to always remember is always dependent on the quality of the final product. It is suggested to think clear and make a good investment instead of cutting corners.
Choose someone who can be closely associated with:
The developer might have all the skills required, but if he can't deliver good customer service, it would not be a good idea to hire him. The app needs to be updated throughout the whole developing cycle, hence it would be necessary for you to build a close relation with the developer.
There are plenty of mobile app developers in the market; however there is a scarcity of the good ones. It is suggested not to settle for the first developer you find, it is always good to search more, and this will give a clearer idea of what exactly the developer and the app should deliver. Social networking sites these days might come out to be handy to get a thorough background of the developer and his previous work.
Contact us for if you are looking for Mobile Application Specialist and we will help you acquire the best possible solutions to your requirements at https://www.heliossolutions.co/mobile-application-development/