Developers!!! There is something brilliant coming your way. Guess what, applications are taking a new avatar altogether. With the introduction of wearables and smart television, there is a need to build applications that specifically work for them, designed to work for them. Isn't it fascinating!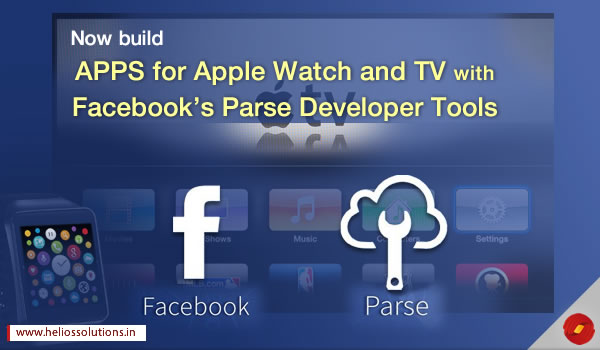 IoT in the new highlights – PRO IoT
Parse, a development platform owned by Facebook now offers developer tools for building such applications. Since the increasing demand among users for such gadgets is turning into a need more than a luxury leading to more users tomorrow. Of course a separate application needs to be made for such requirements. Thus, parse came out with the new watchOS 2 and tvOS software development kits for developers to explore the world of development of applications for Apple TV and Apple Watch features.
Let us see what these tools have to offer –
These tools let developers build on service's existing support system for platforms – iOS, Android, Windows and OS X. It also provides services for developers who wish to build only applications and not creation of systems for those applications. These kits were launched at Facebook's F8 developer conference; take a look at the key note stream: https://www.youtube.com/watch?v=DVu311G5qvI
Parse powering IoT
Facebook just went another level with the launch of Parse, their company in the year 2011. Since then there has been no looking back. Now, with Parse' product for Internet of Things (www.ibm.com/Internet-of-things ), you can connect your IoT devices to the tools using their SDKs which are fine tuned to work with constrained hardware environments like wearables. These kits expand on the IoT SDKs provided by Parse. Developers can build applications for hardware platforms and connect them to Parse's cloud, namely:
Atmel's SAM D21 + WINC1500
TI's CC32000
Intel's Edison
Broadcom's WICED
https://parse.com/products – Check out Parse Products
Enabling Push Notifications:
With Parse's development kit, it becomes easier to provide with Push Notification system. It has the ability to manage the system across platforms, store and sync data in the cloud, manage user logins where it is optional to build a system for it. As said earlier, you can build only an application without building a system for those applications to run.
Smooth Login for TV:
Having over 800 million active app device combinations, Parse now wishes to offer a more polished and convenient tools for developers.  With the tools for tvOS, it is easier for users to log in to the application in their Apple TV, availed by the SDKs for tvOS. The tools allow users to also log in using social media networks directly by entering a code on the device.
Accelerated Performance:
Introduction of these tools has accelerated the performance of Parse products for IoT.
"Definitely, I think we are very focused on providing the greatest developer experience, and that of course involves supporting the latest platforms," he said in an interview. "I think the cadence that you've seen is an excellent indication of what's to come and how often we release things. And I'm super-confident that we'll continue to be on top of all the latest operating system releases and providing support for them". – said Product Manager Supratik Lahiri.
What makes Parse Tools Special?
The new tools and many more that are to come are equally positioned to help existing Parse developers to take advantage of the new platforms and is also attracting application makes who wish to build easily specifically for Apple devices.
More than 60,000 developers have built applications using Parse Products
The development platform serves 2 billion API calls every day
IIlys Sukhar at Facebook's F8 developer conference explained the advantages of the tools with a few very interesting examples of works built with Parse SDKs:
A farm-to-table growing system that lets farmers remotely control their equipment with an application (Freight Farms)
A wireless smart home speaker that syncs music, lighting and more (Musaic)
A smart BBQ smoker that can sense when meat is perfectly done (Trignis)
(Source: F8 developer conference)
Hosted by the name Facebook, you have to be sure of its solutions and tools. So all those developers' outs there, this is your chance to explore your skills to the maximum and build amazing applications for IoT – the next big thing in the technology world.
If you are a business who wishes to reach out users on their IoT devices, then you must consider development with Parse Tools. At Helios Solutions, we have a trained team of Parse Mobile Application Specialists who will ideate, conceptualize and implement robust solutions for your business idea. Fill in the form to get an estimate for such application: https://www.heliossolutions.co/connect-with-us/ and get a price unmatched as we are an Outsourcing Mobile Application India! Wait up, there is more, you also get a custom project manager to look into your project exclusively. Come back for more in IoT to https://www.heliossolutions.co/blog/