Initially, the first point of contact between eh restaurant and its customers was a printed menu. However, today the restaurant is more likely to make its first impression through its website. Most of the foodies would look for the website before actually booking a table and visiting the website.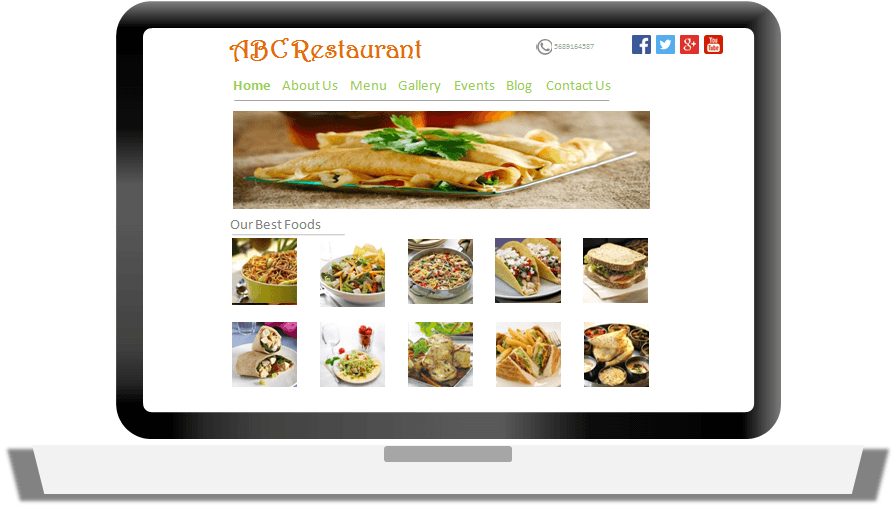 Therefore, there are few important points to consider before designing a restaurant website:
Restaurant overview:
A basic introduction explaining what the restaurant offers, is a must. Thinking, just the name is self explanatory is wrong, people want to know more the restaurant and would like to see how well it is described in the website. Every restaurant might have few unique selling points, mentioning them in the website would be a great idea.
Menu:
Food is what is being sold. Restaurant's mouth-watering menu should be its influential and unique selling point. Let the words paint the picture here, and make sure not to scan the paper menu into an annoying PDF file. It is recommended to invest in digital menu, perfectly designed to complement the physical one. This is the page that people would want to bookmark.
Photos:
It is true that the picture speaks a thousand words. Show in the images what has been described in the menu, and make the images elicit and hard to ignore. Include photos of the restaurant, staff, and the dining room. The food might be the star, but the experience is the whole package.
Reservations/Contact info:
This area can be a deal-brake in true sense. The easier it is to book a table and find the contact details on the website, the happier will be the customers. Find an easy to find contact numbers, but also consider options like email bookings or requests via a form on the website. Also program in live reservations through services like open table.
Follow the above mentioned points and create an appealing website that attracts more foodies.
If you want to develop Website for your business then hire Website Development Specialist or visit https://www.heliossolutions.co/web-application-development/