It has become very important converting a traditional desktop website into a responsive one. The power of Responsive Design comes in the ability to provide visitor's the information they desire. Providing users access to the site on the device they choose is like an opportunity to hold their attention for longer. Capitalizing on the mobile market can catapult the business onto new levels of profitability and brand recognition; however, to achieve this website must have the most important mobile-friendly functions.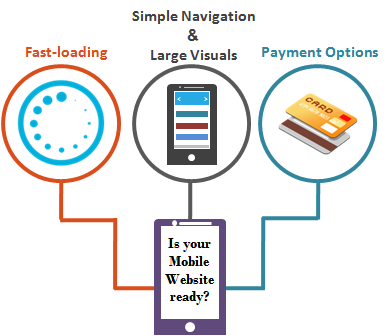 Tips for Mobile-Friendly Website
Fast-Loading:
A website can have everything right, however if the load time of the website is more than 30 seconds, it will result in losing a lot of visitors. A responsive site will load the page's navigation and content before the rich media. This will help the visitor to at least determine whether to wait or to jump straight to the service or product page.
Simple Navigation:
Small screens require simple user friendly navigation, providing the most important information. The navigation is what takes the user from one page to the other. It should only consist of the important content that can help attract the users. Drop-down menus are a very convenient way to structure complex content.
Large Visuals:
Attracting viewers by displaying beautiful content prominently is a great way to bag on site views. Showing good images and visuals can to send across the message the business requires to, is a great way to communicate. However, it is also important to optimize the images or videos to load faster than usual to not let the visitors leave the website.
Payment Options:
Payment option should be a two step process. Ensure the site remembers the user, after the first login, this makes it easier for the user as well as the site owner to recognize the transaction. This will save a lot of time and have the user to come back for more. Following the above mention points can help capitalize the responsive website.
Contact us for if you are looking for Responsive Design Expert and we will help you acquire the best possible solutions to your requirements at https://www.heliossolutions.co/front-end-technologies/