WordPress has yet again amazed us all. Elating customer experience has always been their forte. This time they have come up with an application for all the Mac users. Yes, you are not dreaming, it is for real. WordPress took themselves to a new standard altogether.
WordPress has always been the most preferred platform for bloggers and among the most accepted platforms for website development. Today, more than 74 million websites are using WordPress.com. The revamp has definitely improved the wordpress.com web experience also. But the Mac users get exclusivity with the launch of the new WordPress application.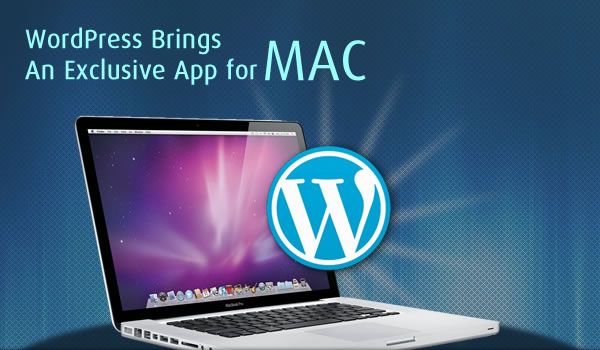 Overview of the App for Macintosh –
With new WordPress Mac app, you can publish to websites hosted by WordPress or self-hosted blogs using the open source platform. The developers say that it has shifted from primarily being PHP-driven to primarily JavaScript and API driven format. It is a mirror to the WordPress web application and of course the fastest and most streamlined experience. It lets you function well with no other browser tabs to distract you while working. So, gear up to an application which ready for Apple Macintosh users.
See Also :- WORDPRESS 4.4 CANDIDATE RELEASE, THE WAIT HAS ONE MORE STEP TO GO!!!
Optimized Tools
With the new WordPress App for Mac, you have an exclusive application which helps you focus on your content and design. It offers publishing and site-building tools with features that could speed up, secure and simplify site administration usage. The admin settings offer automatic back-ups and plugin auto-updating.  The access to publishing and tools is important to build amazing websites, thus WordPress built the open source by coding it on GitHub, so you are availed with a code to work which is powered by www.wordpress.com . Visit the link to download: https://developer.wordpress.com/calypso/ .
This application offers a similar user experience, so that you don't have to learn something new to use. All you get are advantages with the revamped tools. It offers JetPack plug-in, access to heading tools for websites. It also comes with hosting features to speed up development process and enable developers with ease in usage where they get plug-ins and extension library at their disposal.
Convenience in Building
Gone are the days when you were sitting with your desktop and awaiting for the internet to work speedily. With the application in place, you can build, design and create websites for business, professionals and hobbyists, have a customized experience.
WordPress App for Mac has something extra ordinary to offer. A new way to make the most of the good and enjoy the development process with WordPress. Here, we talking about 'DISCOVER'. You can find it in your reader, online and in the application. https://discover.wordpress.com/ – visit the link to learn about Discover. You can use the application without the browser and offers OS X features like full-screen app mode, system notification badges on the icon and navigation with OS X key commands.
The fluid design of the application avails much convenience in using WordPress as it has new API integrated. So, please your audience with a wordpress development. For more information, talk to the WordPress Experts.
Wrapping Up
When it comes from WordPress, we trust it blindly. It is considered as the most easy open source platform for eCommerce or any business website development. Some features are still not accessible like configuring and managing plug-ins. But you will soon have an access to them. It offers an amazing Content Management System that allows admin features like no other.
 So what are you waiting for? The new app is waiting for you to explore. Download the WordPress for Mac app now: https://public-api.wordpress.com/rest/v1.1/desktop/osx/download?type=dmg – A direct link.
If you are looking to development on the newly revived WordPress open source, we can come to your rescue. We are known as the WordPress Specialists in our Country and are into Outsourcing WordPress Development India. Get amazing websites at the most affordable prices with us. Talk to the techminds at Helios Solutions, we have native project managers from France, Germany, Netherlands and Norway to help you figure it out. Follow us on LinkedIn, Twitter and Facebook for regular and interesting updates on technology.