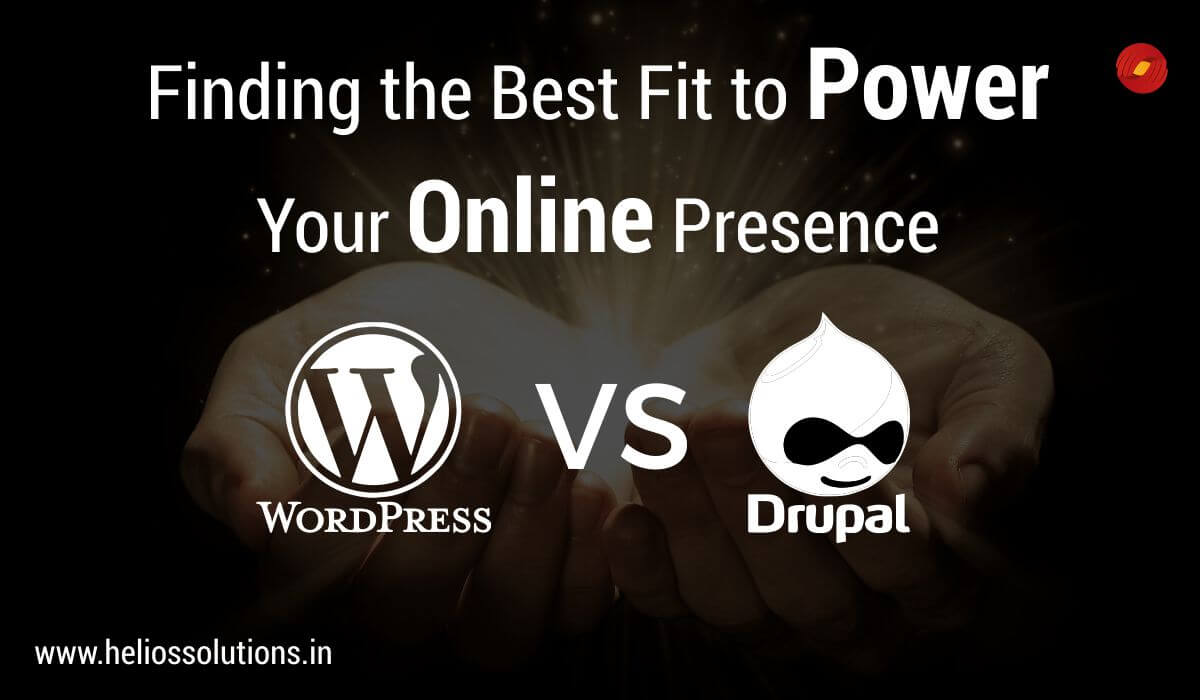 In this era of digital transformation, having a meaningful and profitable online presence is a business imperative for every business. And CMSs are playing a vital role in empowering businesses to realize their online venture.
However, picking the right CMS for your business is a daunting task as you are spoilt for choice. In this post we would discuss about two popular CMSs, WordPress and Drupal and help you find your best fit.
What factors should you consider while choosing a CMS?
Being a web development agency, we make an attempt to thoroughly understand the project requirements prior to recommending a particular platform. Here are some of the essential determining factors to enable you to decide your good fit:
The level of complication of the architecture and taxonomy.
The number of contributors.
Requirements of workflow and publishing flow.
Level of skills among contributors and administrators.
The purpose of the website – intended to sell products or display information.
Do we need to create a complex architecture?
Key differences between WordPress and Drupal
Let us take a look at the primary differences between these CMSs based on the following criteria so that you can align your needs with each one and decide which one suits your business the most.
Ease of adaptation – WordPress is way more flexible when it comes to design and an easy pick for non-CMS experts. Whereas Drupal is quite a bit more robust in terms of backend customization and can also function as an API or decoupled architecture.
Drupal allows you to customize specific roles and permissions easily as it has a better core, however, when it comes to development and maintenance, it is a bit more expensive compared to WordPress.
WordPress site, on the other hand, is easy to pickup and manage even by non-experts.
Functional capability – Would you appreciate if certain features are not working leading to an overall impact on the user experience? Not really right! It is the same with your end-users too.
Many Drupal developers have pointed out that between Drupal vs. WordPress, Drupal is the more complex one and this complexity also promotes advanced functionality.
For instance, you need multiple content types on your website; Drupal has these features built in. Moreover, it has advanced user permissions too. Thus, you can customize your site as per your own requirement and the good thing is that your Drupal site is equipped to handle huge traffic as well as content.
WordPress, on the contrary, is not that efficient in handling huge traffic. However, it is more suited for businesses who want to take the easy route and customize their site using free WordPress theme.
If you do not want to be left feeling compromised then you can opt for our Drupal development services and get an elegant and feature-rich site developed.
Security – This dimension is the most effective differentiator between these two CMSs under discussion. Drupal is the most sought-after CMS in the government sectors. For example, the official websites of the government of USA, France and New Zealand are built on Drupal:
This speaks volume about Drupal security as this platform is built upon strict coding standards and provides tools that ensure secure coding practices.
Furthermore, it has a rich community of more than a million developers, trainers, designers, coordinators, strategists, sponsors, etc. working together to make sure that there are no vulnerabilities in the platform. In case, any security loophole is reported, the security team can deal with it as promptly as possible.
WordPress has not yet entered this security arrangement yet. WordPress in itself is not vulnerable but if you fail to choose the WordPress plugins judiciously then you might end up with a serious vulnerability prone to exploits.
SEO-friendly – Search engine optimization is critical to the success of any website that wants to rank on search engines. Furthermore, it is also necessary for pulling people to your conversion funnel.
The online space is highly competitive and you would need to stand out among millions of competitors. Both Drupal and WordPress are built with SEO in mind.
There are many plugins that would enable you to bring out the true SEO capability of WordPress such as Yoast or All in One Pack. These plugins not only make advanced SEO easier on WordPress but also give a boost to your optimization efforts.
Drupal too has the best SEO capability out-of-the -box. It comes with numerous modules to help you with your SEO activity and web statistics tracking. Unlike WordPress, Drupal is equipped to create customizable meta tags and title based URL nodes for your website automatically. Moreover, it also supports Google Analytics integration, RDF and advanced SEO features.
The main difference between the SEO capabilities of these two platforms is that your Drupal SEO would pay off depending on the expertise of your Drupal developer to leverage the full potential of SEO modules.
Our team of WordPress development experts can easily design and develop sites for small and medium sized businesses whereas Drupal is the preferred platform for enterprise level organizations or government institutions.
Wrapping Up!
Prior to determining which CMS to choose for your business, you would need to fully understand what exactly you want to do. This might seem to be trivial but we think this is the most significant thing to consider.
You should not begin with the thought that I want to use this CMS unless and until your organizational requirement indicate that you must use Drupal or WordPress. Rather you must start with questions like:
What is the purpose of building this site?
Who will be using this site (from the perspective of visitor and admin)?
What would the site be doing – sell things, publish content or provide information?
Where this site would be hosted?
Who is going to maintain it and how?
Once you have all the answers, only then you should move forward to decide on a CMS.
Which CMS is powering your website? Would you like to add other criteria for choosing a CMS? We would love to hear from you; let's start a conversation now!