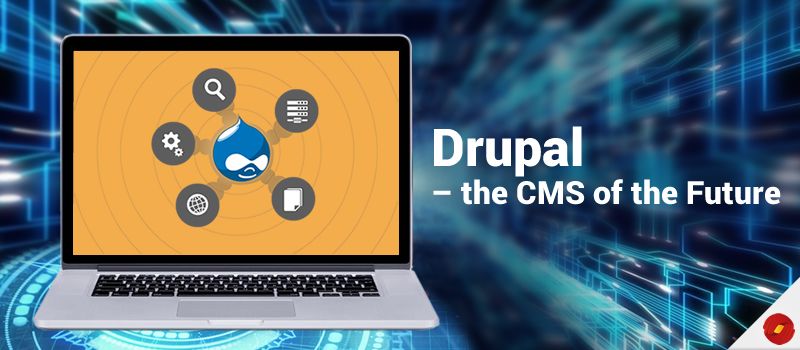 The web is evolving continuously and so does the expectation level of consumers. Today's digital landscape is witnessing mass consumption via multiple channels. Consumers want you to deliver the answers they are looking for through their desirable medium. Being an experienced Drupal Development Company we can affirm that Drupal enables you to go beyond the traditional Content Management System. It is constantly evolving to become the CMS of the future; to find out how please read on.
Why Drupal for your business?
Listed below are some of the features that make Drupal the perfect fit for businesses:
Security
Security is of paramount importance for any business website; this is because security breaches not only sabotage your brand reputation but also erode trust of your customers. By installing security modules you can rest assured that your site is protected. Moreover, you can take care of the new security patches directly from your security panel.
Professional themes
The availability of huge collection of fascinating themes allows Drupal web development experts easily align to business-specific needs of clients. Moreover, developing enterprise-grade websites becomes quite easier leveraging Drupal customized themes.
Vibrant community support
The Drupal community boasts of over 3000 active developers who strive hard to take Drupal forward by being constantly involved in coding, building and testing. The immense support offered by Drupal almost multiplies with each release. Besides, you can acquire information on Drupal technology from various online forums.
SEO-friendly
Drupal features advanced SEO modules which help in enhancing the online visibility of your website. They basically function as catalysts to facilitate the visibility of your website content on top ranks in searches. Furthermore, it allows developers to work on URL's without spending much time.
Drupal 8: Keeping pace with tech innovations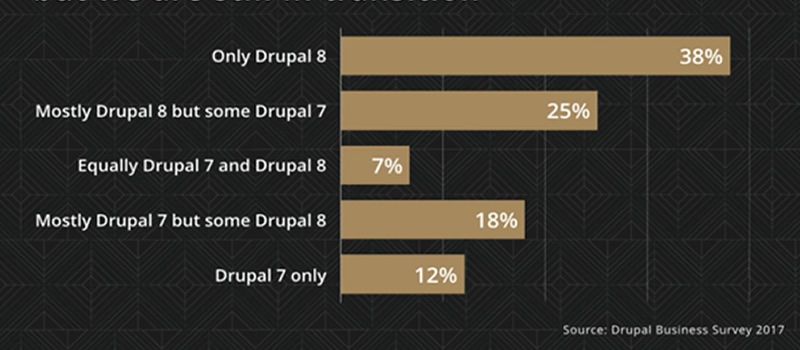 Drupal powers some of the extreme traffic bursting sites like GRAMMY awards and NBC Olympics, massive government web portals like White House, educational institutions websites, big enterprise web portals like Pfizer and LG, and many others.
To take their glorious journey further, the community has updated the platform with their latest and feature-rich release Drupal 8. Here's some of it amazing features:
This latest release of Drupal empowers enterprises to streamline their workflows and drive values.
It allows creating great digital experiences that is just beyond your imagination.
It has something for everyone attached to the CMS in order to publish content online and deliver digital experiences even within the organization.
Its intricate features would help you win the hearts of IT professionals, content managers, decision-makers, web programmers in your organization.
Our team of Drupal Development Specialists considers that Drupal 8 will serve as a catalytic agent for any enterprise striving to achieve digital success.
The image below also depicts that many enterprises have adopted Drupal 8 and many are migrating to the latest and feature-rich version of Drupal.
Evolving constantly to enrich user experiences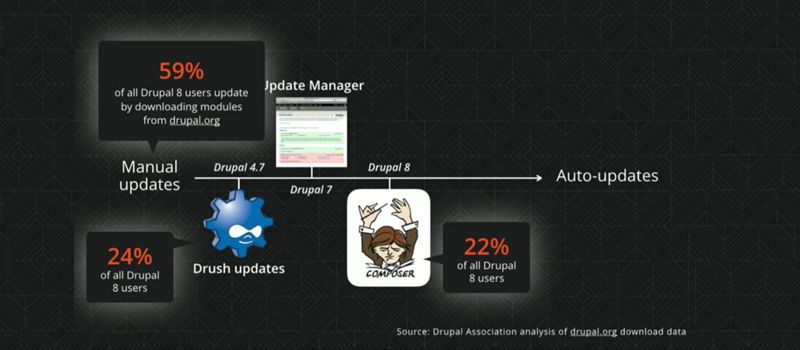 With news of data breaches and hacking often hitting headlines it is critical for you to keep your Drupal CMS updated. Content Management Systems are often soft targets of hackers who use exploit codes available online to take advantage of known vulnerabilities.
Outdated versions are more prone to cyber attacks as they expose the vulnerabilities of websites. In order to address this issue the Drupal community issue new releases that fixes severe vulnerabilities.
The CMS is slowly yet constantly evolving in the path towards making updates and maintenance easier. They want to fix the issue of difficult and expensive updates. They are shifting from manual updates towards auto-updates and some of the milestones are depicted in the figure below.
Broadening horizons by expanding technology stack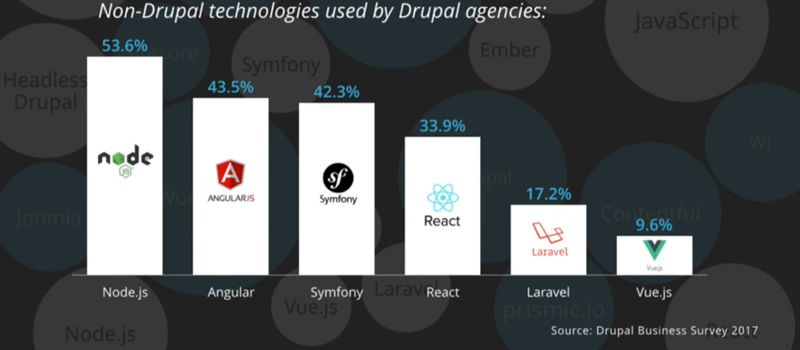 Data from Drupal Business Survey reveals that many Drupal Web Development Agencies are using non-Drupal technologies to create rich experiences as well as expand their reach. As shown in the image below, many are using modern JavaScript frameworks which substantiate the fact that web developers are also keen on using JavaScript.
The need for multi-channel publishing as well as the shift of websites to more interactive web applications suggests that decoupled Drupal should leverage client-side frameworks in order to stay relevant in the changing CMS landscape.
We have already discussed about decoupled Drupal in our previous blog post, to find out more about it please click here.
In the past year the web service APIs of Drupal have progressed significantly and now Drupal community would allow developers to use their JavaScript framework of choice instead of being opinionated about which one to use.
The founder and Project lead of Drupal, Dries Buytaert has officially proposed adding a modern JavaScript framework, specifically React, to Drupal core.
Now let's move on to the important initiatives for the future of Drupal.
Future initiatives to make Drupal more appealing
You can imagine how the future of Drupal would take shape from the following recommendations that Dries Buytaert made in DrupalCon Vienna 2017:
(1) Invest more in headless Drupal (API-first)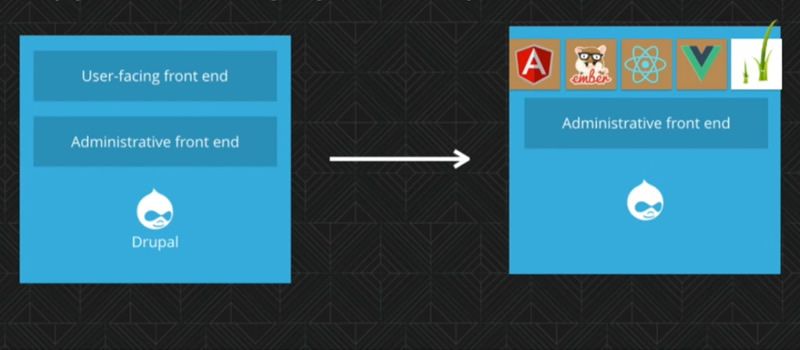 Decoupled architecture and headless Drupal are undoubtedly going to play pivotal roles in the future of Drupal. So Dries suggested that you keep investing in Drupal's API-first initiative. You should at least expand Drupal's web service APIs and adopt JSON API as your standard. Besides, you would need to analyze the ways of providing API consumers more access to and control over Drupal's capabilities.
(2) Embrace JavaScript framework of your choice to front Drupal
Now developers would have the flexibility to embrace and use any JavaScript framework they like for front-end development of Drupal-powered applications. You can build front-end applications on top of Drupal with Angular, Ember, Vue, React and others. This is undeniably an awesome feature.
(3) Improve Drupal's own administrative user interfaces with a JavaScript framework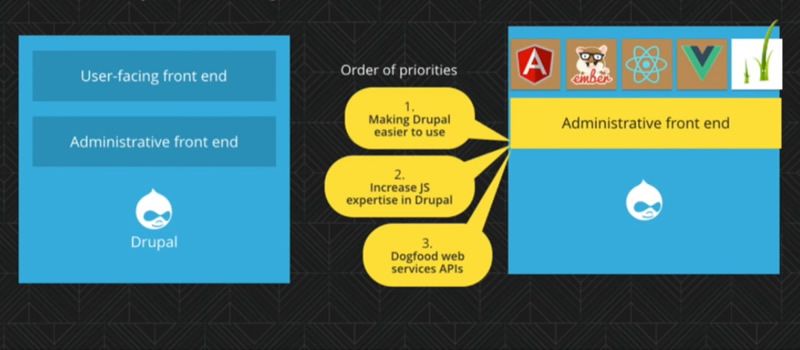 JavaScript is great at creating lasting user experience for website users; hence Dries suggest that you can leverage JavaScript for that without abandoning your stable base of PHP. For that you would need to move relevant parts of your PHP code to JavaScript. He believes that these user experience improvements in turn would benefit Drupal's authoring and website building experience.
Your content modeling, configuration tools and content listing would become more application-like as well as faster with a JavaScript framework. This is because you can now use instantaneous feedback instead of submitting forms subsequently. Moreover, you can dogfood your own web service APIs by using a decoupled administrative interface.
(4) Begin with redesigning and rebuilding few features
You can pick one or two features and rewrite their user interfaces using a JavaScript framework of your choice rather than rewriting the whole of Drupal's administrative user interfaces. This would enable you to learn more about the advantages and disadvantages of using that particular JavaScript framework.
If you need to change your approach or the framework and even allow you to dogfood some of your own APIs. Rewriting few features won't be that painful even if you need to revert back the changes.
Is Drupal your optimal choice?
Many businesses rely on Drupal to power their online presence; what about you? Why not talk with our experts? By now you are already acquainted with its top-notch features and the future initiatives of Drupal camp to make it more appealing and relevant in the years to come.
What's your say on this post? You know we love to hear from you; so please do not forget to leave your comments and be the first to initiate a conversation.