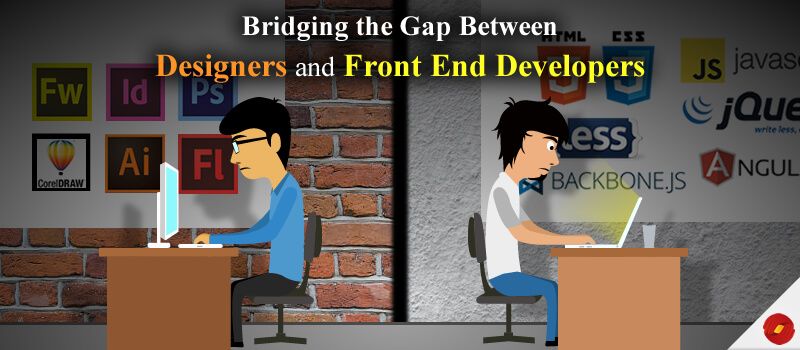 The importance of design in the tech industry is growing more than ever and designers who understand how to work within the development constraints are highly appreciated.
At Helios, we are able to produce best web development solutions that exceed our clients' satisfaction as our designers and front-end developers work in a congenial and cross-collaborative environment.
Here are some powerful lessons that we have learnt during our more than a decade longer professional journey as a web development agency. Following them you would be able to bring your UX/UI designers and front end developers on the same page.
How to create a cross-collaborative environment?
Empathy
Firstly, you as a designer would need to have a proper understanding whether it is feasible to build your product. The guidelines and standards of your chosen platform is the apt point to start with.
From the very start, your design must be based on the basic UX principles. Having knowledge of coding language would be an added advantage.
Therefore, striving to learn one would be a positive step towards bridging the gap between designers and front end developers. Then you would be able to see and think building each component from the perspective of a developer which is very important for empathetic understanding.
Well, you need not know how to build a product from scratch but having knowledge of coding can help you make much more informed design decisions and also help you better communicate with front end developers.
Organization
Make sure that your design comps and layers are plainly named as well as well-organized in order to make the developers' work easier. While you cut assets keep in mind to name them appropriately for the given platform.
For instance, one of the rules for naming Android assets is that you should not use capital letters, not even in extensions. Using proper naming conventions ensures that the finished product is exactly how you want it to be. Moreover, it takes away extra work from developers; hence they can focus on building better features.
Keeping designs consistent would ensure that the work of front end developers is not obstructed down the road. Therefore, make sure you check your work umpteen times to avoid the aforementioned situation.
Making an annotated document whenever necessary would eliminate the scope of any doubt from the perspective of developers. Also it is important to establish effective communication with your front end development team.
Thus, spending your time wisely and efficiently would also ensure that developers' time is also saved from getting wasted.
Remember not to get your point across by relying on word-of-mouth; rather depend on prototypes and interaction animations to eliminate any room for misinterpretations and make sure that the final product aligns with your vision.
Communication
It is important that communication across the teams i.e. between designers and front end developers happen right from the beginning instead of happening only during handing off designs. This is because when you work collaboratively from the very start, you can create a better product.
Thus, it is highly significant that you constantly communicate with the front end development experts and respect their opinions too.
In case, you are doubtful regarding the design of a feature or how a transition would work then immediately consult with the developers. Honestly admit that you need their advice and learn from them how to approach your problem from an analytical and technical perspective.
Here at Helios, we make sure that our designers and front end developers invest adequate time in each other even outside the realm of the project. This enables both the teams to build confidence and trust with each other.
Thus, whenever a front end developer says "No" to any design, the designer understands and believes that it didn't come because the developer is leaving work early that day. It is rather because the design is not feasible and it cannot be done. So, the designer designs another version based on the inputs that the front end developer provides.
What is the main difference that hinders the path of cross-collaboration?
The main challenge that we have encountered in establishing collaboration between our design and front end development team is the way with which each team approaches problem. As design is user-oriented, designers mainly focus on people and user experience whereas development being solution-oriented, front end developers mainly focus on eliminating features that are not going to be the part of the solution.
In fact, the approach of each team is right in the context in which they operate but in order to bridge the gap you would need to make the cross-functional teams to communicate more often beyond the project realm.
What should front end developers do to bridge the gap?
In the early part of the article we have mostly mentioned about actions that designers must take. Now, let us discuss how developers along with designers can also take initiative in making the line blur that exist between both the teams.
Give feedbacks proactively
Often front end developers have experience in wireframing, visual design and prototyping. In such cases they can share their valuable insights with designers. Even if they are not experienced they can make a point to provide feedbacks timely and proactively.
Your feedbacks as a developer on regular basis would save your project manager to handle your clients' expectations more effectively, in case you are suggesting a change in design.
Review specs or prototypes thoroughly
If you deviate from the approved design in the later stage then it could be a risky and costly affair. So, our team of UX/UI designers recommends developers to review the notes and specifications early and suggest changes as early as possible. This would ensure that you can deliver a product which is as per the branding guidelines of your client and eliminate last minute disappointments.
Clarify your doubts by asking questions
Although it appears obvious but often miscommunication is the norm in the workplace. So, you as a developer can avoid last minute design requests by asking good questions. If you think you are not good at asking questions then you can ask your designer friends to come and perform informal reviews.
Try to learn how users interact with your product
Our front end development experts recommend that you should involve in some research process in order to empathize with the users. Insights gained from user research would provide you with thorough understanding of why you need to work collaboratively with designers.
Finally!
If you want to develop a profitable product then you would need to get everyone on the same page. Before you get started with front end development keep in mind that you too can play a significant role in design because design is co-creation.
Did you find the tips useful? What else do you think we can do to bridge the gap between designers and front end developers? Please be the first to share your valuable insights with our readers by leaving your comments below. You can also begin a conversation with us!