Its 2016 and probably the year where mobile phones and tablets are making their run for glory in every field they are put to use. From layman to tycoons, vast majority of them have mobile phones to use as their daily driver. Now, do you have business to run ? If yes there might be something useful you need to add to its DNA and that is Mobile Apps Development for your own business.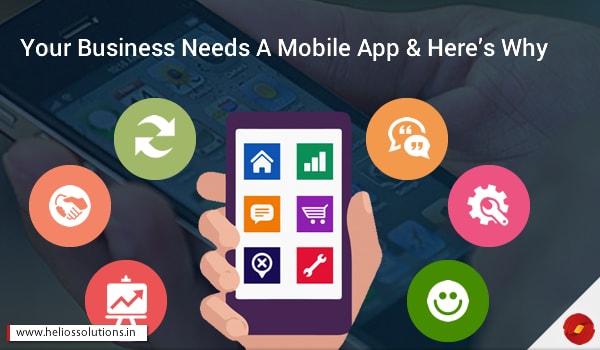 A survey done by Canvas (Data Collecting & Sharing Platform) shows us that,
33% of organizations used more than 5 business applications in 2014
70% or organizations built and deployed a mobile business app in a day or less.
Some of the popular feature of mobile apps were

Image capture 56%

Signature 52%

Workflow 23%

GPS 22%
Some key surveys showed that organizations have used multiple mobile apps. Manual processes were converted into mobile apps and that helped them saving money. Work orders and inspections were mostly used by mobile apps.
So it seems like building a mobile app isn't a bad idea after all by looking at the survey. They give businesses a certain robust boost to run more efficiently and effectively. But to understand it in a more certain depth way, there are few reason which might be handful for building an app for your business.
The Sales Chart
If you see the numbers going higher and higher that means you are doing something right in your business. Now how does the mobile app helps you to grow the sales numbers and make it more constant? Well, there few things that might just be right for you. What the app does is, it helps the customer to browse things easily and make his checkout convenient. With that they can use it from anywhere and anytime and that does gives Sales a boost it needs. With the app, company can be in touch with their customers by offering them discounts or give promotions of different products or even some upcoming events.
Effective Customer Experience
Making everything available under  their (Customer) finger-tips, customers will be more engaged and will be married to the idea of building an app for them which does help improve their overall experience. With that being said a good track record of customer and their feedbacks can help tweak certain things to make the app run effectively and with less complications. Loyal customers can be rewarded well for their favors which indeed is a good sign of running the business smoothly.
Adapting To Changes
Competing in a market where it is run by mobile devices, business owners need to adapt to that trend and make a stronghold. Understanding the technology running around them, small businessman can market themselves by building apps and implementing them in a way that increase their chances of running it efficiently and help the business as well.
Every recipe has its secret ingredient and for every business owner he has to have those ingredients. With the App that is built, it must have certain characteristics as well :
Feedback:

It is important for a business owner to know how the app is doing. With a feedback feature added into the app, customers can report about lags or bugs or even give suggestions and when necessary criticize as well. Users will have a sense of appreciation and their involvement in the company is welcomed.

Customization:

If users are stuck with the same old color and fonts and if they can't do anything about it, your app is in for some trouble. Users should be giving the authority to tailor the app according to their tastes and preferences, which indeed help the app to evolve in a way.

Simplicity at its best:

Throwing away every possible feature and making it more complex can just kill your app. If users cannot make their changes quickly instead they have  to overcome unnecessary features that might completely ruin their experience. Instead make things simple. See what they really want and only include those things, which will in return do the app a favor of being effective.

Alive when Offline:

If users cannot move a single thing being offline or with a weak wireless signal, it is equally frustrating and disappointing. Build in some key features that can be run and interacted with, when offline or with a weak connection. It will certainly make a positive user experience.
So keeping in mind that Apps can offer more unique features and can be developed more than your usual web site. So business owners can target their audience who live more on their Apps, which in return will help evolve the business for its own good.