As a business, today everyone is concentrating on improvising their business structure. One of the aspects that need the most attention is becoming mobile friendly. Your business IT infrastructure needs to be flexible, extensible and scalable.
That are too many jargons, let us simplify it for you. All we mean is that you need to make sure that all your web applications and software solutions need to work across browsers. This is important due to new innovations and technologies like cloud based solutions, mobile devices, IoT and emerging innovations like machine learning and Artificial Intelligence.
Small devices and screen sizes are creating a demand for new kind of browsers and thus, being prepared for the future also becomes a part of the plan when you talk about cross browser development.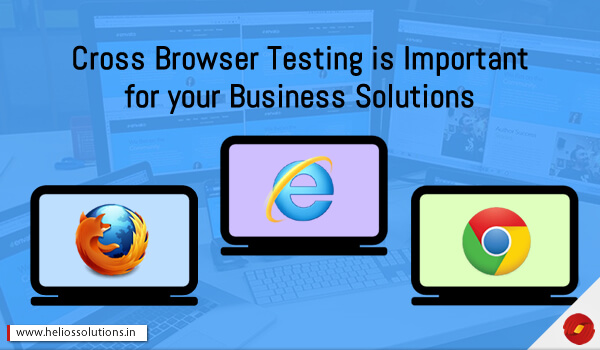 But currently, to consider the main browsers like Chrome, Mozilla, Firefox etc. they display the browsers differently and they are also constantly evolving with the advance in technology and passage of time.
Every browser vendor focuses on several features and those features work only in their browsers.

It is important to fine tune your web solution to meet the requirements of these browsers and offer user friendly browsing experiences.
Let us first understand the concept of cross browser testing.
Cross Browser Testing
As the web development specialist at Helios Solutions explain;
"A website is made of different components and browser deals with those components. And there is a range of browsers that comprise of client components like AJAX requests, Applets, Flash, Flex, JavaScript files etc. This defines how different browsers will have different handling approach. Cross browser testing is a process of testing websites or web applications across multiple browsers which involves checking compatibility, testing client side and server side behavior."
See Also : Top 10 HTML/ CSS3 Front End Development Frameworks For Faster Web Development
Importance of Cross Browser Testing
Conducting cross browser testing for websites or web applications is very important. Earlier cross browser testing was only done for the most complex projects, but now a days considering the current trends in technology and new innovations, it has become a necessity for any web solutions. It has become essential for web solutions to run smoothly across browsers. Here, we are talking about mobile and web browsers. And in the coming times, one will also have to consider other devices and the upcoming browsers for those devices since the advent of IoT – Internet of Things.
If in case your website or web app is not compatible for the major browsers, then your business or organization may be lagging behind in competition and might fail to offer quality user experiences that the competitors may be offering. Gone are the days when you tested websites for the desktops, the technological advances demand web solutions to be compatible across desktop and mobile browsers. Therefore, it is important that a web solution build must be developed keeping the modern browsers in mind. Only, then can you reach out to the users of both kind – the ones using the desktop and the ones using the mobile browsers. You can also opt for a responsive design where your website is developed to work across multiple browsers availing optimal viewing for all types of browsers. To go responsive, talk to web development experts.
Process of Cross Browser Testing
At Helios, our web development experts and software development specialists conduct cross browser testing strategically. It starts with basic thought process of questions like:
Step 1:
What, Why, How, Who, When & Where
Step 2:
Testing Checklist
Step 3:
Selection of Browsers (if required for traditional browsers also)
Step 4:
Test of Components of Each Browser
Step 5:
Check all features in modern browsers for desktop and mobile
As a web developer or quality tester, you can always look for tools online for cross browser testing. There are many tools and techniques available online that can help you test the browser compatibility of your website. If you are a web development expert working by yourself or you are a small web design agency, then it should not cost much. Also, you can opt for Outsourcing web development India to get the most affordable quotes for web development projects or solely testing processes.
Web Development Experts Offers Cross Browser Testing
When you hire web development expert for a web development project, you can be rest assured. As a good expert will always offer expert solutions that consider cross browser testing as one of the essentials of the development project and the requirements is in a way implied. Moreover, they also suggest features that can be incorporated keeping the future innovations in mind. And generally, a web development agency these days will offer a responsive design for your website. If you are looking for some help in cross browser testing, you can always get in touch with us.
Hopefully, this was a useful read in some way. It is important that your website is tested for all the browsers and devices so that your users get great browsing experiences.