If you are thinking that the online payment gateway is just about facilitating your customers to pay you then you might be wrong! We have been empowering businesses with Ecommerce Website Development solutions for more than a decade; our experience speaks that payment gateways can help drive business success or slow it down.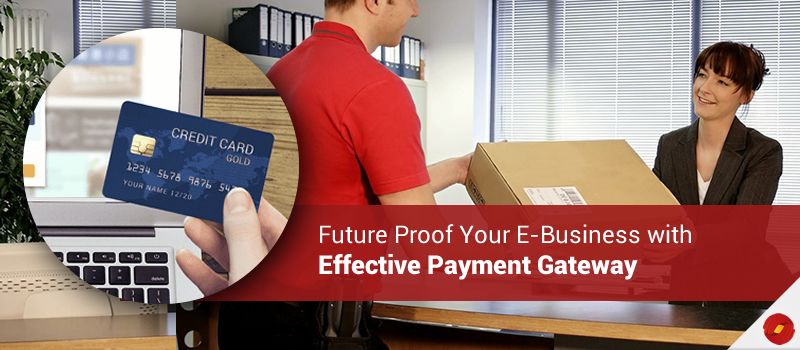 What is a payment gateway?
A payment gateway is an e-commerce application that uses secure internet connection to process, verify and accept or decline credit card processing or direct payments on behalf of e-commerce merchants. To ensure that the transaction info passes securely between the shopper and the merchant, payment gateways encrypt sensitive information such as credit card numbers.
As online shopping involves anonymity as well as distance, payment gateway provider utilizes advanced verification and encryption technologies to ensure legitimate transactions between payment portals and the front end processor or acquiring bank.
How do payment gateways work?
Payment gateways facilitate the transfer of transaction details between a payment portal like website or mobile phone and the payment processor used by acquiring bank.
Here's a detailed step-by-step guide to show how payment gateway works: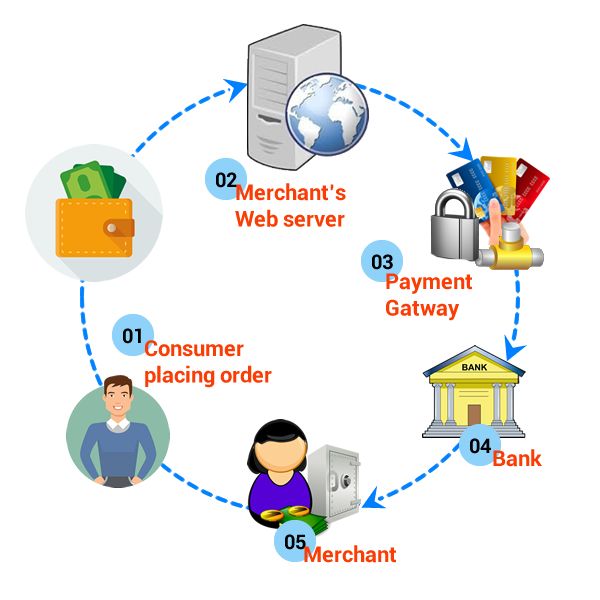 Step 1: A customer places an order on website by pressing the call-to-action button like "Submit Order" or "Buy Now".
Step 2: The web browser of the customer encrypts the information that has to be sent to the merchant's web server via the SSL (secure socket layer) encryption.
Step 3: This step can be broken down into three parts for better understanding:
The transaction information is then forwarded to the payment gateway by the e-commerce merchant. This connection is also SSL encrypted.
The payment gateway in turn forwards the transaction details to the payment processor that is used by the e-commerce owner's acquiring bank.
The transaction information is now forwarded to the card association (e.g. MasterCard or Visa) by the payment processor.
Step 4: The entire process in this step takes almost 2-3 seconds, however, for the sake of better understanding this step is subdivided into three parts:
The bank that has issued the credit card receives the authorization request and sends back a response code to the processor. The response code not only determines the fate of payment (i.e. approved or declined) but also defines the reason of transaction failure (such as insufficient funds).
The processor receives the response code and forwards it to the payment gateway.
The payment gateway then forwards the received response code to the e-commerce site where it is interpreted as a relevant response and relayed back to the cardholder and e-commerce owner.
Step 5: The e-commerce owner then submits all the approved authorizations, in a "batch", to their acquiring bank for settlement via their processor.
All of the approved funds are then deposited to the e-commerce owner's nominated account by the acquiring bank.
From authorization to settlement to funding, the entire process, usually takes 2-days.
Why is it important for your business?
These days credit card fraud within e-commerce businesses are quite frequent and often make headlines. Payment gateway can help mitigate this and ensure that data of customers are encrypted and secure.
Besides credit and debit cards, payment gateways also allow e-commerce owners to process alternative online payments. Your audience would love to visit your site as most of them are already familiar with the technology. Moreover, it demands very little maintenance.
Hence, it is of utmost importance to get e-commerce payment gateway solutions to optimize your business. Here are few more valid reasons to get one:
Reduce fraud
It is highly crucial to diminish fraud but if you try too hard then it you could end up losing business. This is because if you as an e-commerce business owner reject too many sales conforming to stringent fraud rules then few legitimate transactions also might get rejected.
Striking the right balance between fraud protections and providing seamless shopping experience can positively impact customer trust and minimize shopping cart abandonment.
Streamline the path to data security compliance
The new versions of the Payment Card Industry Data Security Standard are even more comprehensive and demands lot of validation requirements. It becomes quite challenging for e-commerce business owners who are far behind on the PCI compliance curve. Meeting tougher security requirements could mean spending more time and money for them.
In such cases payment gateway solutions could streamline the data security compliance process for them.
Help make informed decisions
With a payment gateway you would make data-driven decisions as you can easily access reports on settlements and disputes. Thus, it would not only speed up business decisions but also enhance operational efficiency of your e-store.
Seamless chargeback management
With a payment gateway investigation and data-gathering processes are simple, precise and easy to follow. Thus, by improving chargeback management it contributes to business success.
Easy integration with alternative payments
Our e-commerce development experts suggest that your e-commerce website must have alternative payment options to minimize the risk of turning away potential customers. They say that your payment gateway solution should easily get integrated with new payment types to facilitate new ways for consumer payment.
You can always help your business grow with latest payment innovation. To find out click here!
You can expand internationally
As e-commerce customers in different countries rely on different payment methods you can use a payment processor that has established global ties. Choosing such a payment processor would help accelerate your plans of international expansion. Thus, you can cater to the needs of your international audience seamlessly with a payment gateway solution.
Want a payment gateway for e-commerce business? Talk to our experts now!
Methods to keep online transactions secure
The security of payment processing on your e-commerce website is crucial to establishing trust with your customers. Here are some technical details that ensure security of your payment gateways:
Payment gateway is mostly carried out via HTTPS protocol to protect the sensitive personal details of customers in the transaction process.
Signed request is typically used in order to validate the request of payment page result; this is maintained by hash function wherein the parameters of an application are confirmed by a "secret word" which is known to the payment gateway and e-commerce merchant only.
Additionally, the IP of the requesting server is also verified often in order to validate the request of the payment page result.
Moreover, Virtual Payer Authentication (VPA) is also increasingly implemented as 3-D Secure protocol by many card associations to include additional layer of security for online payments.
Now it's your turn
Have you embraced e-commerce payment gateways yet? Don't you think that you are missing out on potential business?
Reach out to us – an Outsourcing Ecommerce Development Firm and optimize your e-commerce business for success.
What's your say on this? We would love to hear from you; please be the first to leave your comments below.