Today, more than 25 % of websites online are powered by WordPress, why? The prime reasons are because is free and open source, very easy to develop and deploy and of course because it is compatible with other frameworks. Backed by a huge community, WordPress offers a very convenient and robust Content Management System that allows a laymen to easily function on their website, edit and deploy, thus such a popular CMS. It is one of the most accepted and used open source till date.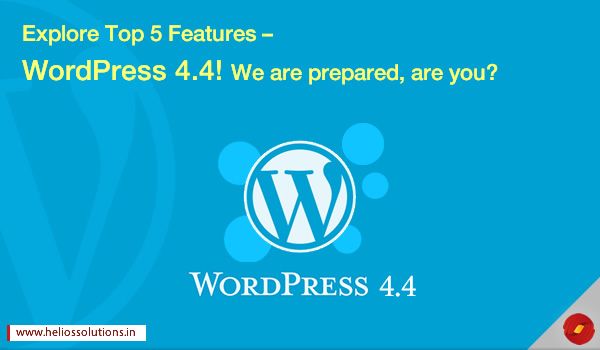 Moreover, if you are not using WordPress for the website, you may be using the same to upload your blogs. Yes, uploading blogs with WordPress offers extreme ease where anyone who writes can create her/his own blog and make it look amazing with WordPress. If you wish to upgrade, outsourcing wordpress india can be a good choice.
WordPress Gets Even Pleasing! WordPress 4.4 is Exceptional!
Bends it with Embed
For years together, we have been embedding content on various online platforms with the help of oEmbed. The good news is that WordPress has adopted this feature in the new upgrade – 4.4. allows embedding content anywhere on the website. This new function performs easy embedding for posts namely –
Internal Posts/ Uploads
External Posts/ Uploads
All you have to do is paste the URL in your editor, it is automated to render like a twitter embed. Take a look :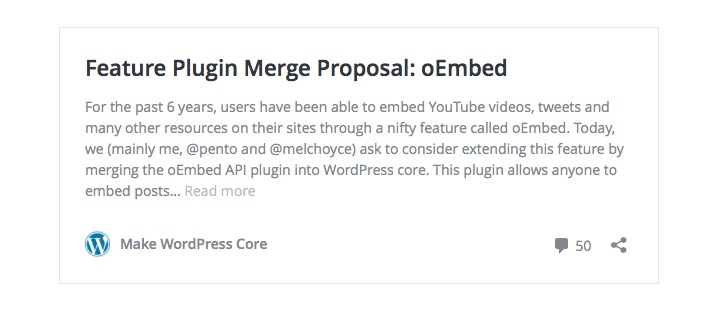 If you wish to control the width or height of your post, then you can create a short code for the same. Something like this will work for you –
&

#91;embed width="720" height=""]http://wp.me/p1lTu0-ggv[/embed]
Or visit this link: http://wpsites.net/web-design/change-content-width-for-embedded-media-conditionally/
Also, if you are willing to embed your post in your other websites or platforms then you can hook them in with a theme or using a code you can hook them into a specific post.
Sounds pleasing right? But still if you decide to discard the feature. Here is how you can uninstall it the feature – https://wordpress.org/plugins/disable-embeds/
Beam of the Theme
WordPress is blessing its users with the ultimate beam of the new theme for the coming year. It is called 'Twenty Sixteen'. With an open source platform that offers more than 29,000 plug-ins; now brings a very modern and amazing theme for your website. It is designed especially for the traditional blogging ways which turns out to be pretty amazing. It is well-suited for showcasing optional sidebars, custom color options, default color schemes, grids, overflow displaying large images and an ability to add introduction before posting. It can make your blogs organized and appealing. https://wordpress.org/themes/twentysixteen/ – Check out the link for the demo. Click on the activate button and you can get started now!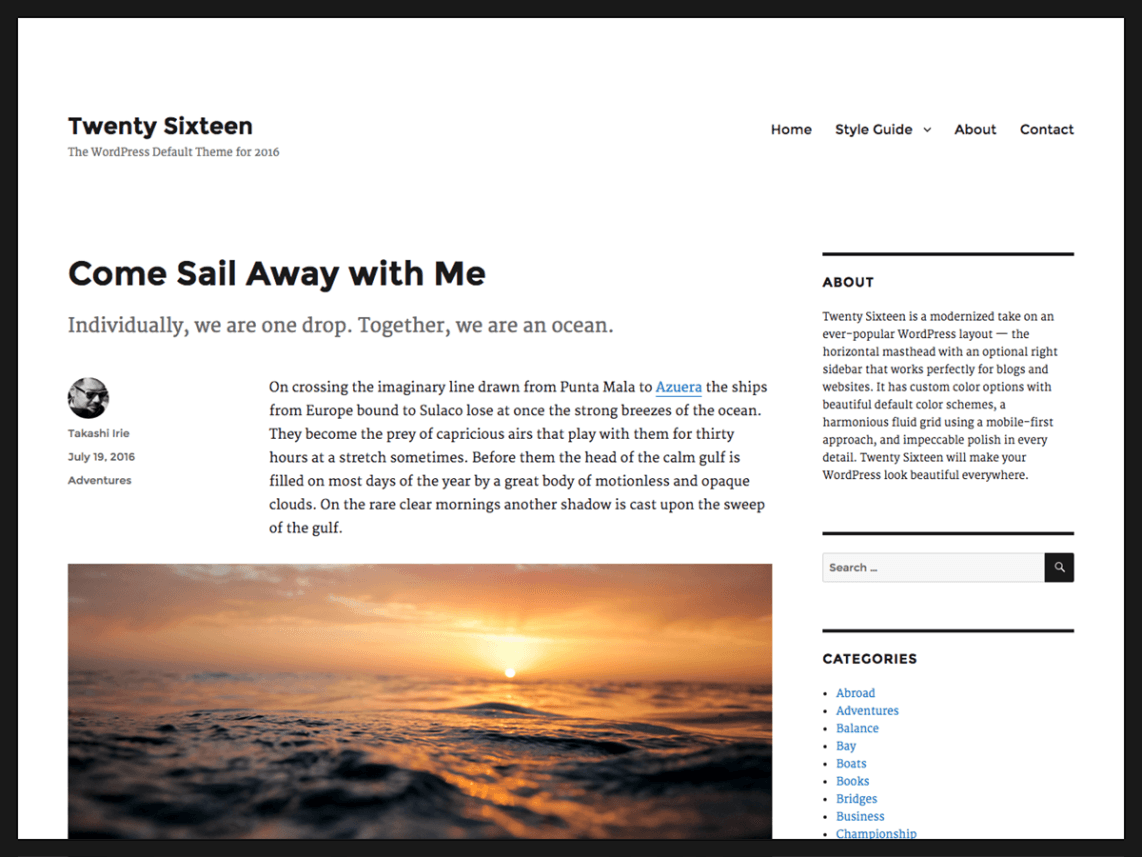 Now, that is a Steaming Theme!!!
Core offers REST API & Taxonomy
 The WordPress Core has much to offer with the new upgrade, but what is in for the developers? – The integration of REST API infrastructure and Custom Term Taxonomy Meta. This enhances the whole experience of development with WordPress. This is good news for WordPress developers, this feature enables WordPerss with an API that handles the routing, argument handling, JSON serialization, status codes and also creation of custom REST API endpoints (http://v2.wp-api.org/extending/adding/) – See how you can add endpoints to your WP application.

So now, website builders can create their own APIs for mobile or desktop applications. Moreover, the core also offers taxonomy which allows customization on each category. With this feature, you can add a custom field to showcase the post's featured image on each category.
Rest it with the best!
Commenting Gets Better
Comments on your blog are like gemstones, they are important as they lead to some conversations, review, suggestions and you come to know where your content stands. A few rearrangements have been made to the comment form in WordPress 4.4. Now, the comment field is displayed first and then the name and other details are asked.
This will encourage commenting and reviews as users will be spared of taking too long to comment or it being a tedious process, it gives the chance to quickly say what they look forward to. The issue of commenting behavior to be different is being met with this feature. On the backend, this feature is presented by WP_Comment object which allows output of comments in a more object-oriented way (OOP).
Lets those comments shower!
 Images be like Responsive
With more people now accessing Internet on mobile phones or tablets, it becomes important to become optimal for viewing images and content across multiple devices, ultimately using a responsive platform. Due to screens growing larger, designers must work with larger images, this leads to slower pager loading times. This feature thus contributes in making WordPress work faster as well as avails optimal viewing experience for your theme.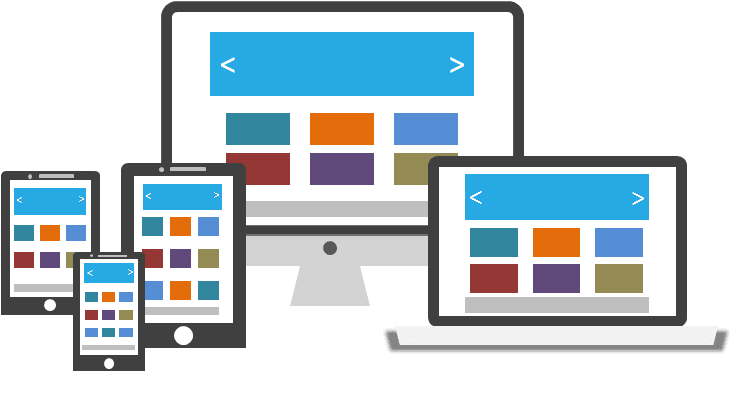 There are few other additions like two more attributes for the images:  srcset and sizes. This feature enables the images with post thumbnails, photo galleries and other features to be viewed in appropriate size according to the viewport. Responsive images make uploading with WordPress even better as now the main issue of images not being responsive is resolved with this feature. So enjoy using WordPress 4.4
Now, please your audience!
Things you must know before you select WordPress Open Source:
More than 60% of all websites worldwide using a CMS application are powered by WordPress.
WordPress related keywords Score 37 Million Searches per month
The New York Times, CNN, Mashable, and eBay all run their blogs on the most popular CMS in the world – WordPress.
29,000 WordPress Plugins and growing daily
Of the top 1,000,000 sites in the world, the number of business sites (most popular with WordPress) powered by WordPress is five times the number of WordPress-managed news sites (least popular with WordPress).
Akismet Is the most popular plug-in
WordPress now powers 18.9% of the Web, has over 46m downloads, according to founder Matt Mullenweg
A small byte from our Sr. WordPress Developer :
"The best part of the new version is the responsive images feature where you need not write an extra piece of code to create images work in responsive devices. Moreover, sharing is made easy, all you have to do is insert the embedded shortcode. I feel this time, WordPress has got many developer friendly changes into REST API, terms and comments section. Overall, it is good release for both – users and developers".
If you wish to let our team of WordPress specialist to develop an application or website for you, then be rest assured that you won't be disappointed at any point. Our team has geared up to the new upgrade in WordPress 4.4 and if you are willing to upgrade to the new version, then simply fill this out for us https://www.heliossolutions.co/connect-with-us/ . We would love to be a part of your progress through our solutions.