In this digital era, just everyone looks for automated process that reduces labor and allows Smart Work. Automation is on the rise where most businesses are optimizing their operational efficiency through enterprise mobile application. And in the coming years, the demand of enterprise mobile app development will exceed.
These applications automate business processes and allows work force to track multiple transactions and exercise greater control over the business activities. It helps in elating employee performance and motivates them to perform better.
Even developers and programmers globally are making efforts to improve these applications. But the catch is good resources and planning before you go about Enterprise application Development. Let us understand how you can benefit from Enterprise Application Integration and what it takes from the Enterprise Development Experts at Helios Solutions.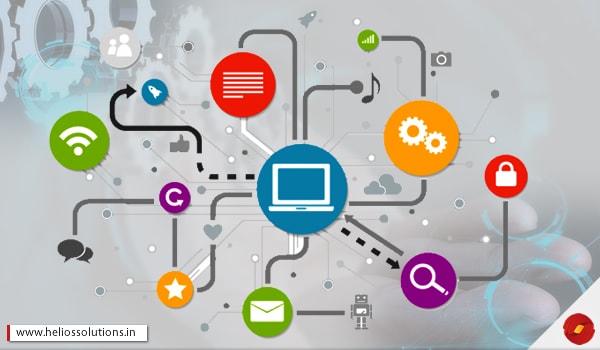 Enterprise Application Integration – In a Wider Spectrum
Known as EAI is nothing but the methods that incorporate the data to flow from one program to another in an enterprise application. So it can accommodate all different IT solutions in one system. This provides ease in functionality which is already automated through those IT solutions but now it works from one place.
Enterprise Application Integration mainly includes the following subjects:
Marketing Communication
eCommerce Optimization
Resource Planning Software
Advantages of Enterprise Application Integration
Better Data Availability & Management
Enterprise Application Integration provides consistency in data processing and enhances file transfer eradicating manual data processing.
Convenient System Maintenance
It will enable your business with integrated systems that automatically handle user requests and also handle your team with notifications on tasks.
Save Time & Cost
As everything is automated, businesses can concentrate on their core activities. Using various integrated systems, you can easily launch a campaign and also see analytics. This in turn saves your resources and thus cost. And because most of your operational aspects are taken care of, you save time and optimally utilize the saved time for other important tasks.
See Also : What To Select – Native Apps Or Hybrid Apps?
Industries that Benefit from Enterprise Application Integration
eCommerce / Webshops
Logistics & Transportation
FinTech & Banking
Telecom & Mobile Communication
Manufacturing Industries
Information & Technology Companies
Recruitment Agencies
Which are the Challenges?
Scalability: The Integrated Enterprise App must be scalable and must offer flexibility with the other integrated systems. It should be good enough to maintain the IT infrastructure of the business.
Data Integration: Having smooth data integration is one of the major challenges. It is important that the data management protocols are streamlined across the system.
Inter-operability: Business application should use different programming languages and operating systems that can be connected via standard interface.
Things to Consider Before Enterprise Application Integration
Enterprise Development Expert
Enterprise Application Integration needs expert knowledge as it requires expertise in bringing different solutions together and integrates the same in one system. It requires a specialized set of skills and thus it is recommended to Hire Enterprise Application Development Specialist.
Keep Goals in Mind
You need to select the model of Enterprise Application Integration carefully and this will mainly depend on your company size and the business goals.
Flexibility
It is important to develop a solution that expands for the innovations in the future. The Enterprise Application development must be highly scalable across systems and devices where it should suit the other integrated systems.
Alas, that must be a heavy read. But you don't have to worry about taking these decisions. You have us to take care of your solution and get you through this process of development absolutely hassle free. Get in touch with us:https://www.heliossolutions.co/connect-with-us/