In this mobile first generation, the users are able to access information from anywhere, anytime. Certainly, this is the age of connected people and connected minds. It is easy to track, locate and communicate with so many kinds of mobile devices and advanced technologies for them. And today, businesses across the globe are indeed making the most of it.
Enterprise mobile apps industry has seen a growth in the recent times as it has proven to be very beneficial for increasing the operational efficiency of the employees and workers. Enterprise mobile app development experts are infact developing new ways to make these apps interesting and interactive.  It offers real time information, great control and accessibility along with high security.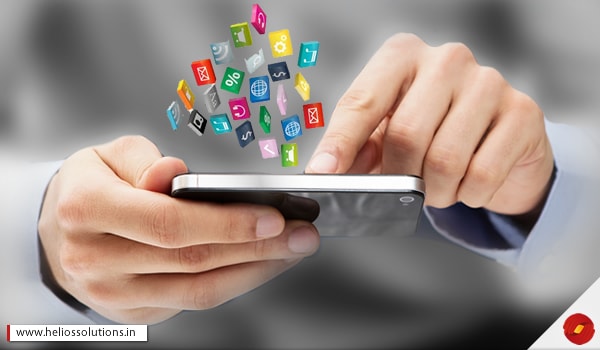 If you are a business that is struggling on the managerial and operational level, then considering a mobile app can really improve the productivity of your business. Well, not only managerial and operational functions but it also drives motivation and engagement with the help of gamification features and targets set on the mobile app.
Let us explore how you can turn your works into Smart Workers with Enterprise Mobile App.
Highly Secured
A mobile app for the enterprise can offer secured ways of being connected for information sharing. When an employee accesses the corporate information, the organization does not always have a control over such activities. For this reason, a mobile app platform can be very useful. Where the organization can monitor who is accessing what and when and can control the accessibility at various levels to safeguard the company's confidential data.
See Also : Strategies For Making A Best Selling Mobile App
Real Time & Cognitive Capabilities
In this fast moving world, everything being automated, It is important that your business keeps up to the trends. Here, you employees require up to date information at all times for greater insights into the work. For this reason, the mobile app comes handy. It offers access to the latest information and a cognitive capability that helps them increase their efficiency. Through this they can improve on the job role over time and also provide assistance to fellow employees. FYI  – The statistics say that 65% of decision makers in an enterprise check their mails on mobile device.
Prepare for Future
 If your mobile platform has a strategy that includes an effective mobile development cycle of design and development, then the application shall include the performance factors for the upcoming technologies and innovations. It is essential that your Enterprise app has support for multiple APIs and micro-services, so that you are covered for the future advancements.
Capturing & Sharing Data
When your employees are using their mobile devices to access data, they can easily save and gather important information while working. Because it is mobile, the collection data is faster as it happens in real time! The sharing of data is also easier, so taking approvals and feedbacks while working on field becomes much easier. And thus, management of work in faster and productivity increases.
Reduces Costs
With the help of an enterprise mobile app, you can expect your business to save some bucks. This happens in two ways. Firstly, due to the use of mobile app for functioning, there is greater engagement of the employees in tasks and projects and this leads to higher efficiency. This finally leads to saving of time, efforts and resources. And thus, the cost is reduced.
And secondly, in the coming times when use of paper will be scratched for business functions then mobile apps will be substitute the paper records. Therefore, maintaining records or cost of hiring for recording information will be reduced. Live data will dominate and business processes will be automated. Moreover, Outsourcing mobile apps development India can also offer reduced costs of development of enterprise mobile app solution.
Our team of enterprise app development experts delivers high end solutions that are not dependent on any system. They ensure that your mobile app includes features that work in the interest of your business by understanding your business model and goals. We work towards optimizing your business operation by getting in your employees shoes. Talk to our experts and get an enterprise mobile app for business today!