In these times of cutting edge competition between businesses and organizations, everyone is looking forward to increase their efficiency and productivity. For this reason, more enterprises and companies are opting for mobile apps.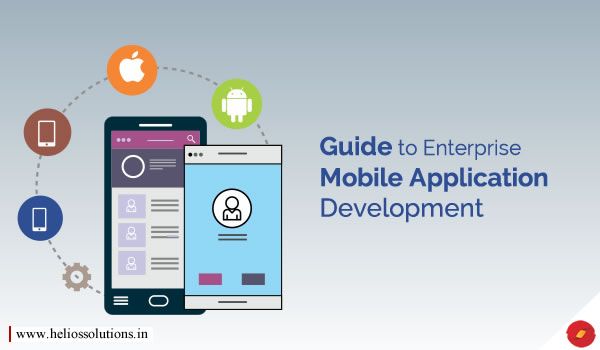 Enterprise mobile app optimizes the operational functioning of enterprises and optimizes the performance of the work force. When business processes are automated, time is saved and cost of production is reduced. For this reason, we have prepared this point as guidelines for conducting enterprise mobile app development with the help of our enterprise app development specialists.
Enterprise Mobility Statistics:
33% of large enterprises are planning to build enterprise app stores
By 2016. The number of enterprise applications that optimized for mobility will increase by four times.
64% of decision makers read their email on a mobile device
35% of large enterprises will leverage mobile application development platforms (MADP) to develop and deploy mobile apps in 2015.
(Information Source: www.mlabs.com)
Keep User Experience on Priority
When you are talking about enterprise application, user experiences are still a matter of concern. You need to analyze the target audiences, their background and their need for having an enterprise mobile app. Knowing their expectations is important to gain further understanding of heir requirements like the look and feel, loading time, feature etc.
Study Company Background
When you are developing an application for use within the enterprise, it is important to conduct research on the company's background to understand the company's goals and ideas. This helps the enterprise app development team to analyze their needs and meet the requirements by keeping the goals of the company in mind.
Prepare Strategies
Once you are done with the research, it is important that most of these things, the abilities that send people out with their understanding of various kinds. Go step by step, prepare a requirement blueprint and initiate the process of making a definite structure to the mobile app. Consult the mobile development experts for the technology stack and explain the solution brief to the solution architect. Prepare the strategy of development and post development aspects.
Get Clarity with Estimates
Make sure that you have got the estimates checked with enterprise development specialists. It is important that you account the right number of hours and leave scope for last minute changes. Keep your terms and delivery conditions clear. It is important that you communicate with your client for the same and get a legal contract signed before you proceed with the process of development.
Businesses are exploring new standards by improving their operational functions within the organization with the help of Enterprise Mobile Apps. These apps are optimizing the efficiency of the organization resulting in faster growth. If you have an enterprise, then you must consider having an enterprise mobile app and see your growth graph reaching new heights.