There were doubts when Google launched Android Pay last year. But contradicting the predictions, Android Pay has managed to impress just all Android users. The platform started to do better just after three months post release proving predictions by the critics as wrong.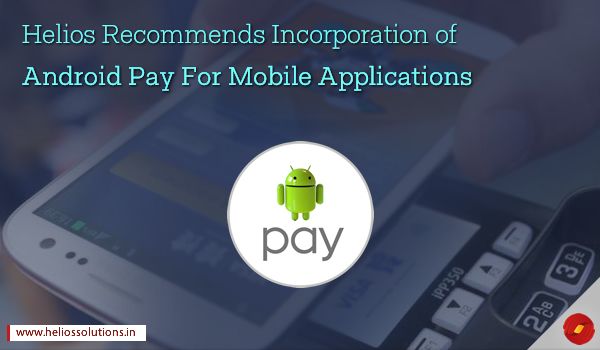 According to the Android survey, more than 1 million locations in USA are now accepting Android Pay as a mode of payment. It is increasing becoming the preferred gateway in eCommerce websites also. Considering this climb, Google constantly is trying to improve on the platform and has some good news for Android applications.
Android Pay for Applications
Android pay is a virtual wallet which is compatible with your Android device. With the help of this platform, using your device you can pay for purchases with a simple tap via the NFC contactless payment system.
Near-field Communications (NFC) is a short-range high frequency wireless communication technology
Pay. Tap. Done
This platform will now enable in-app purchases. Now while Android mobile app development, you have the option of including Android Pay and enhance the usage of apps in Android phones. This feature will aid in elating user experience offering ease and simplified processes for payments through applications.
Earn Incentives
Also Google announces incentives for such incorporation in applications. So now enjoy incentives on accepting Google Pay in store. The corporation also highlighted a point where it predicts that more users will be accepting Android pay in the coming year for users to speed through mobile check out. Isn't it amazing!
This helps in not only giving your users speed while using android applications but also avails users with a customized experience of using an application on a Android phone making them feel privileged.
There is more! Google is going another level to attract more users. It is offering discounts in select apps as an incentive. Applications like Handy, Fancy, Instacart, Prinitcular are among the ones who are strongly supporting this technology where Android Pay is becoming as an implied option of availing payment gateways. Ask Android Application Specialist now.
Going Global
Google is making efforts to avail this service to users across the world. Soon, you will have this service in your country where businesses will be able to avail this to their users through integration of this brilliant technology. As said by the Corporation, in the year 2016, the payment platform will be availed for users in Australia. The company is closely working with financial institutions like ANZ, Westpac to bring Android Pay to  Australian MasterCard and VisaCard holders. After such tie-up's, people in Australia can expect to use Android to be a payment gateway with most of the Android applications. It is being said that post launch, merchants like McDonald's, 7-Eleven and Telstra will be including Android Pay.
It's all good with Android Pay
Android Pay has many more functions than just making easy payments through phone. It stores your gift cards, loyalty cards and special offers right on your phone. They have also announced that eventually over the next few days, they will be adding more features like bank options, store locations making it extremely convenient for users to pay with their Android phones using Android applications. In fact it is said to have giving competition to Apple and Samsung in their category of Payment Platforms.
If you wish to stand ahead in your competition, consider including Android Pay in your applications for Android. It is new, thus not many development companies have yet developed with this technology. You must take a opinion from the Android App Experts at Helios Solutions. How it is better as 'Outsource Android App Development India' is anyway very very cost effective in comparison to developing the same in your home country. Hire a dedicated Android App Developer to get started! We look forward to explore this technology platform with you.