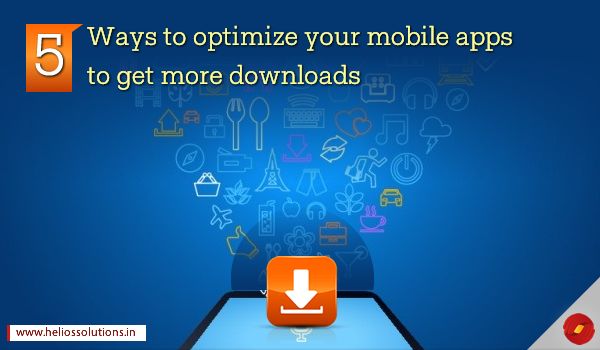 Is your mobile application lost in millions of applications in the App Store? Or are you facing the challenge of making your users download your application? We understand and thus we have come to your rescue. To help you out of this problem, we have curated a list of things that you must follow to get those downloads and ratings for your mobile applications.
See Also : HELIOS RECOMMENDS INCORPORATION OF ANDROID PAY FOR MOBILE APPLICATIONS
But before we give those five magical tips, we need to understand ASO – App Store Optimization. Yes, we hope you have across this term, if not let us explain it to you. Just like how you have Search Engine Optimization, there is method to optimize yourself for your mobile applications search too.
What is ASO – App Store Optimization?
ASO – App Store Optimization is a process of optimizing mobile application on various application platforms enabling them to rank high, increase their visibility and top the search index in a particular category. It is process of improving the visibility of your mobile application (Such as Android, iPhone, iPad, BlackBerry or Windows app)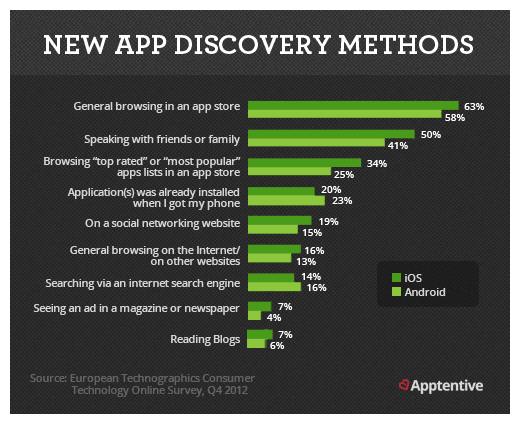 Survey Credit: Apptentive
Why you should go for App Store Optimization?
Browsing on a application or searching an application at the App Store is one of the most common ways of finding new apps by users. The higher your app ranks the more chances of increase in the number of downloads. Optimizing your app at the app store is important to meet the challenge of getting your users to download your applications for which its needs to be found. The more you are visible , the better. The ranks improve thereby increasing downloads and thus revenue generation for the stakeholders.
5 Sure Shot Ways for ASO
1. Icon Design
The first and foremost thing to account before you launch your mobile application is that you must select your App Icon Design carefully. The icon will be the projection of your brand and will be placed at all those places you try to drive engagement with your target audience. Make sure you don't include any textual information like names or tag lines, as it is not really visible on the icon at the app store. Also, try to keep a consistency in the color of your icon and the colors used in your brand creation or on your website.
Your icons have to convey the brand message, at one glance your user must have an understanding of what you may be or what you are about. Also, it needs to designed from a holistic purpose where it can be used for marketing and advertising needs. At the same time its has to be appealing. Ensure that it is created in multiple sizes and contexts, so that it is compatible with menus and screens. Take a test with A/B test your icons on Google Play's experiment tool: https://support.google.com/googleplay/android-developer/answer/6227309?hl=en and give your users a better experience with your brand. You can do a lot more with Google Play's 'Experiment'.
2. Selection of Keywords
Having keywords to optimize your search is implied if you are optimizing yourself on the app store. But having the right keywords is the important aspect. Selecting the right keyword is more important than having keywords at all. As if you miss out that one bit, it will not result in that refined search of your brand name on the app store.
Choose the right kind of title and description. And make sure your content includes trending or the most used words. It should be easy to understand and simple to read. App title can have around 255 characters but exceeding that limit will be too much to read. For iPhones, App titles view is only until 25 characters. Using one word gives you more refined search results. Try and include keywords in the App title. The first three lines of an App's description appear in the preview, so makes so that bit is extremely impactful.
Toots for Right Keywords:
AppTweak
Sensortower
Google Adwords Keywords
Planner
3. Neat  & Tidy ScreenShots
There is a section after your App description where the screen shots of your mobile application are visible. Many users judge the usage or the benefits looking at those screenshots. So you understand how important it is. Present them in a neat fashion, with good readability and background design where your screen shot stands out. Take the most important and relevant screen shots for display that highlight the USP and the main features of the mobile applications. Using one line desctiptions for your screen shots or captions could be good idea for better and quick comprehension. You got only few seconds to impress, so make sure you are putting up the best on the store. You can also optimize your application by using Google Play's 'Experiment'.
 Tools To Test ScreenShots:
Frame
Launchkit
Placeit.net
4. A Descriptive Film
Videos and images work better than text. The trends are also following that, Apps like 'Think' and many more have availed users with a descriptive film about their application which explains usage and benefits. It attracts users and helps lazy readers (which are many in number). Please your users with a video that enhances the understanding of your application features. This video is visible in the preview before download, so make sure your preview banner is well designed and well thought. These videos are linked to your YouTube channel, so you can get to know of the number of views for your descriptive film.
The more are the views, the better your rankings. You can also list your app on various app stores like Amazon App Store, Soc.io and AppBrain. You can optimize this video by posting them on Facebook, twitter and other social media networks for preview. This aids helping your potential users in your assessment.
5. Deep Linking
Deep linking is one tool which is working wonders for optimizing yourself online. Firstly your app needs to be found and then downloaded, which can be a major decision for many users where space in a phone is a factor. So when you use deep links, Google indexed you better. You are in the good books of Google which is extremely important.
So what are deep links?
A deep link is a URL , when clicked takes the user to a specific location in the application for further browsing. It acts like a guiding tool. Conditional deeplinking is the where user is either send to the App store or opens the application directly if it is installed already.
This kind of linking helps in getting more click through rates. It heightens the chances of you being visible. You can also link one of your apps to your other applications. Using Google's App indexing can help you app content appear more relevant and refined for better search results.
There are few Myths about App Store Optimization which we would like to clear:
Keywords are not that important
Change your title often to adapt to high ranking searches
It is all about the ratings
As long it is on the store people will find it
Descriptions are unimportant
Few Statistics:
More than  63% of app customers browse in app store to discover new apps – Source: Apptentive
58% of Android App Users look for new applications at Google Play – Source: Apptentive
Android Users are more likely to have discovered a new application via web search, which accounts for 3% of downloads versus just 2% for iOS – Source: TechCrunch
A full of 12@ of all daily active users are looking for apps on a daily basis. And a whopping 50% of these DAUs (daily active users) search for apps at least once a week. Source: Ankin Jain, Head of search and discovery for Google Play.
Summing Up
An a Mobile App Development Company, we know what it takes to build apps and optimize them in the best way. We follow this process and send the app for optimization post development so that you get maximum number of downloads. Our dedicated SEO team has a bunch of ASO experts who specifically look into App Store Optimization. We know the tricks to make your application visible to all your users. Wish to how good we are, talk to our mobile app specialists and understand how we can optimize your application for you. Hire mobile app developers at Helios Solutions and develop apps that not only work good but are optimized for the App Store. We hope this blog helps you top the search list on the App Store. Keep tuned for more, until then Keep It APPY!!!