Like social media lingo or fashion trends, there are ever changing development trends too. With technology being updated every minute and frameworks having such huge developer communities, developers need to keep up in the race! Especially when it comes to mobile application development, it is important for developers to keep in pace with the trends to offer the best solutions to their clients.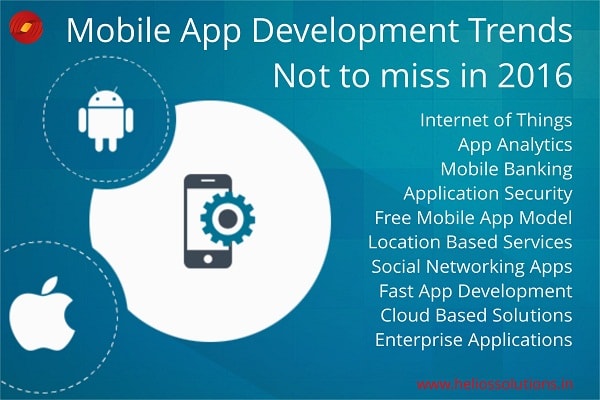 We are a Mobile Application Development Company in India helping businesses with our IT solutions for more than 12 years. With our experience, we have created a very useful list of trends for developers and coders across the globe.
10 App Development Trends for Developers to Follow:
1. 2016 is about IoT (#Internet of Things)
IT professionals and techie's all over the globe say that 2016 is going to be the year for Internet of Things. With the latest Wifi that connects IoT, there are many more things to come! The year 2015 saw many developments in IoT, from Connected Cars, Smart Phones, Personal Computers to HealthCare Wearables! IoT is reaching new heights.
Supporting Statistics:
By 2020, the Internet of Things (Internet connected Things) will reach 50 billion, with $19 trillion in profits and cost savings coming from IoT over the next decade. (Source: www.cmo.com)
By 2025, the total global worth of IoT technology is predicted to be more than $6.2 trillion. Where the value of devices from Health Care is estimated to reach $2.5 trillion and Manufacturing a whopping $2.3 trillion. (Source: www.cmo.com )
IoE created $19 trillion of value at stake for companies and industries. (Source: Cisco)
The convergence of machines, data and analytics will become a $200 billion global industry over the three years. (Source: GE)
Make sure you are updated with the latest in technology to develop for IoT (Internet of Things)
2. Systematic Analysis is Prime – App Analytics
With mobile applications, the next big challenge is to survive the cleaning of applications by users, to be able to always stay in their phones. For this you need to always offer them new things, have attributes that make you evergreen. Be something that does not want to be removed. Many users tend to remove application after a period of time to replace it with the new applications. In this case, there are high changes of your application being removed until you are Facebook or Whatsapp. No offense, but that is the reality. You need to engage them, indulge them! To make them loyal towards your application, app analytics comes to your rescue. It will give you a data of how the users are interacting with your application. Depending upon the analytics, you can understand what kind of improvisation is required or which area needs work. Analytics are your informers of how acceptable your idea is! So trust them and keep on improving your user experiences.
Advantages of App Analytics:
Drives ROI over every aspect of performance
Helps in gathering accurate data to efficiently serve your users
It helps in marketing your application by focusing on user behavior
Lets you track individual or group achievement of marketing goals from the conducted campaigns.
Give you insights on issues and areas for improvement and retention.
App Analytics is your Savior
3. Go Mobile with Banking – Mobile Banking
You have heard of eCommerce that changed the way we shop! Similarly, we now are heading towards an era that is about mCommerce. Interesting isn't it? Mobile banking is becoming the next thing among online shoppers availing convenience in payments anytime anywhere. Mobile banking lets you make transactions faster with many added benefits where it acts like virtual money for you. Every eCommerce portal now avails users with mobile payments. It is becoming a 'must have'. Thus, developing with mobile banking options should be priority among services for any mobile applications development agency. Among development, the most trending operating system for mobile applications are iOS and Android, consult iPhone App Developers and Android App Developers for more information.
Supporting Statistics:
9.6 million log-ins to internet banking a day – 10 % increase in the year 2015 in U.K. (Source: www.statista.com )
Customers using mobile devices to check their current accounts were more than 895 million times in 2015 and more than 427 million brand interactions took place in U.K. (Source: Research by CACI for BBA shows)
More than 44% of respondents used banking apps more than once a month (Survey – www.statista.com )
Mobile Payments are now the 'Virtual Wallet'
4. Safety is Priority – Application Security
With the number of hacks increasing and more cyber crimes taking place, people are somewhere fearful of making online transactions through banks. Users shopping online are constantly looking for safer and better options for payments. Also, a lot of personal information is being shared on various platforms, basically wherever a user log's in. But mobile transactions can be very secure so why do hacks happen? According to Garter, more than 75% of mobile applications haven't taken security measures.
Thus, businesses across the globe are trying different technology solutions in order to give an experience which is safe and sound. Security is become one of the severe issues when it comes to online transactions. Therefore, it becomes developers to come up with solutions that can better security in mobile applications. As discussed, more people are selecting mobile payments these days, thus heightening security for these mobiles applications becomes a prime aspect for businesses availing such applications. It is important that you keep up with the latest in app security.
Ways to safeguard your mobile application:
Secure the Code
Secure the Device
Secure the Data
Secure the Transactions
Secure against Threats
Secure through Testing
Secure using Security Solutions
5. Give it for Free – Free Mobile App Model
Anything given for free is generally taken and the masses are game for it. Mobile applications are more usable than mobile optimized websites. A user can take a look at your application from anywhere, anytime. This is the biggest advantage in comparison to websites. It is more user friendly than mobile optimized websites
Three Approaches – Mobile App Model
1 – It is ideal to keep your application free of cost initially, once you have gained a certain number of audience or users who are regularly using your application, then you may consider charging for such mobile application. As said earlier, it is a major task to get a user to download an application at first, so may want to avail them for free. As what is given for free is generally taken and accepted easily. Here, you might want to come easy ;)
2 – Another approach could be the evergreen approach – 0.99 approach! You can charge that for the whole app or for few add ons to the mobile application. It is observed that users easily justify paying at least that price, but consider the behavior of your target audience or the kind of business in order to charge such a price. They need to find it worth it!
3 – You have yet another way out – The Trial Offer – Approach. Here, you can avail your audience with a free trial version like software applications. If they like the application during the trial period or you manage to please them during that period, they will automatically pay to have it.
6. Availing with Location Tracking – Location Based Services
A location-based service is a software application for an IP capable mobile device that requires knowledge about where the mobile device is located. They can be query based to provide the end user with useful information. For instance: "Where is the nearest ATM?" Also, they can be push-based features where it pops a notification or deliver coupons, messages to customers who are in a specific geographical area.
The management mechanism includes location aware caching, data dissemination or pre-fetching and is still evolving with the passage of time. It has its drawbacks as it is only useful if the information accessed is location-dependent which means that the piece of information accessed is depended on user's location. Here, the efficiency is crucial because there is no metric to measure the location dependency of information in its management mechanism until now.
Offer Location Based Services to customers, Make them feel elated!
7. Get Social – Social Networking Applications
We do not really have to say much here. We all are aware of social networking applications that do not leave our phones. Applications like Whatapp, Snapchat, Facebook, YouTube, Instagram are a must have for masses. Developing a social networking platform in the form of an application can be very beneficial. Develop something extraordinary and see it going viral! So if you have the nerve to create an application that beats other ideas, then social networking applications are the most revenue generating application form.
Think of Social
8. Speed is trending – Fast App Development Process
With so many competitors, everyone is the race to getting ahead. Promising faster development processes results in standing ahead in competition. The time gap between the app idea and the launch of the application has to be well thought. It is this time when you have thought something, there are high chances that someone is already making it or its already made. To stand out in these competitive times, it is important that you make sure you utilize your time optimally. Now, the success of your application depends upon the speed of development as you do not wish to miss opportunity to please your customers. Let you application reflect some character and speed. Also, ensure the size of your application for speed in downloads, your customers should not be disappointed at any level. You will need an expert to do the job for you.
Talk to Mobile App Experts!
9. Cloudy is in!  – Cloud Based Solution
In this virtual world, the demand for cloud based solutions is every increasing. Also read: https://www.heliossolutions.co/blog/tech-news/helios-recommends-cloud-computing-start-ups/ Thus, cloud based applications are also much in demand as it is a convenient option to operate. It is important to provide your clients with this service as the need for the same is always going to grow. Recommending your clients to have cloud based solutions as it is a win win situation. It is easy to develop and deploy and businesses can feel highly secured using cloud based solutions for mobile app development.
Supporting Statistics:
80% healthcare brands are using cloud based application today. (Source: Forbes)
83% of IT executives report using cloud based solutions to develop applications. (Source: Forbes)
Popular Applications that use Cloud Apps
Twitter
Dropbox
Google Drive
EverNote
Salesforce
Box
10. Enterprise Prime Need – Enterprise Applications
With businesses focusing and investing to better their IT structure, from the very small business to a big business, all are looking at having an IT structure that easier their operations and functionality. Enterprise applications also help in saving on hiring employees as many tasks can now be performed with mobile applications. It is becoming as one of the prime needs for enterprises. It could be for their internal communication or for the employees who are on field to upload their work or update the enterprise. Enterprise application is an emerging trend in 2016. If you are looking for an enterprise application development, click here: https://www.heliossolutions.co/connect-with-us/
Supporting Statistics:
By 2017, 25 % of enterprises will have an enterprise app store. (Source: Gartner)
61% of workers report working outside the office at least part of the total time (Source: Citrix)
3+ devices are used daily by an employee for work activities (Source: Citrix)
The number of devices managed in the enterprise increased 72% from 2014 to 2015. (Source: Citrix)
More than half of the world developers are mobile app developers and they are following these trends in order to avail the benefits. If you are one of them, consider following these trends. Offering iPhone app development services and Android app programming should be your prime development modules since its demand among the masses. If you are looking for mobile application development agency, outsource mobile app development India and get solutions at the most competitive prices only at Helios Solution – Your Trusted Partner for Mobile App Development!