Since the whole buzz about cloud based apps is taking over the IT world, it has been much debated for many reasons like security or its features etc. But what is the biggest benefit of using cloud based solutions apart from its features is that you have expect big returns this year! Now, that is what is a business set up about. https://www.heliossolutions.co/blog/tech-news/helios-recommends-cloud-computing-start-ups/ , a link to understand the core features about cloud based solutions.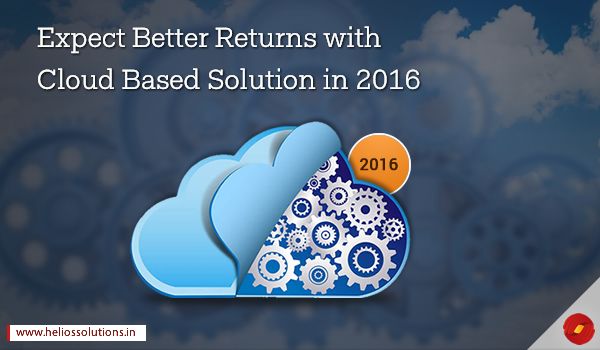 According to the survey conducted by Appain, a report published suggested majority of the respondents believe cloud based applications C(70%) and enterprise mobility (61%) will provide the top returns to in 2016, with 87% saying enterprise mobility was critical to their company's profitability.
See Also : WHY BUSINESSES ARE MOVING TOWARDS HYBRID CLOUD COMPUTING
Important Facts:
(Fact Credits: Appain Survey by Harris Poll)
90% see enterprise mobility as the critical function for customer engagement, competitiveness and operational productivity in 2016.
73% say their companies are planning to mobilize the entire organization.
Telecommunications (40%), financial services (36%), manufacturing (34%) energy and utilities (32%), transportation (32%) and retail (31%), were cited as the industries most likely to adopt enterprise mobility in 2016.
59% say they will increase their custom application development budget in 2016 regardless of company revenue.
Top drivers for custom application development in 2016 include efficiency (56%), security (53%), speed (48%), operational productivity (42%) and customer engagement (37%).
43% indicated it takes their company three to six months to deliver a new application to their business.
64% cited agility, speed and application security as obstacles.
Companies with higher revenue ($100Million+) are significantly more like than those at lowe (33% vs. 22%)
86% are concerned about security in both customer applications and security in pre-packaged applications.
Available at all times:
Companies can optimize services by offering 24 X 7 services through the cloud anytime anywhere. Cloud based services allow companies to offer on-demand support to customer where businesses can also choose services depending upon their requirements keeping the customers demographics in mind, offering them a customized and personalized experience.
What you need to consider before selecting an agency?
There are a few things that you need to ensure before you move to a cloud based solution:
You must ensure that the selected cloud solution meets the organizations objectives and business processes.
It needs to be reliable and accessible where the agents get full time and real time access to customer data so that you don't lose contact with your customer while undergoing this change.
Security is the important aspect for organizations that carry customers' personal details where you must inquire about hosting decisions like hosting the servers, type of security and location of the server. The cloud provider must be an established source which is trustworthy and applies security policies & strategies for data recovery.
Push – Start Development with Helios Solutions
Cloud based solutions are yet a new technology to be explored by many. Thus, not many have gained an expertise in cloud based solutions. We are a development company in India providing cloud based solutions to businesses in Europe. We look forward to have exicitng projects where we can provide promising solutions where we are training a team especially for cloud based solutions.
Because it is Outsourcing App Development India, it is highly cost effective in comparison to your home country. Also, if you are looking for web solutions from a website development specialist for cloud based apps, all you have to do is talk to the app development experts at Helios solutions by filling in this form: https://www.heliossolutions.co/connect-with-us/