Most of our Android/smart phones have Google Applications that are just lying in our phones. Most of them are in-built so can't help but have them. But it's time that you explore these applications in your phone, here is why?
Google has brought new interesting features to Google Apps. These features are just going to make your experience elated. Lets see what are these new features: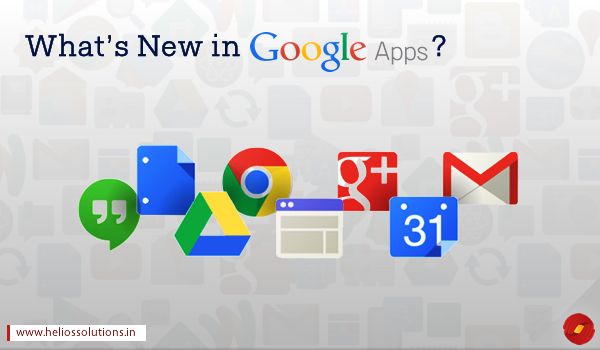 See Also : 5 WAYS TO OPTIMIZE YOUR MOBILE APPS TO GET MORE DOWNLOADS
The New Feature: Comment Easily and Quickly
While we are on the go, there are times that we find it tedious to comment in Docs, Sheets or Slides. Google Apps has now launched a group of features that will make commenting better  on web or on mobile, so that you can work with ease.
All you have to do is highlight the text or hover over to the commenting icon on the corner of the page, click there and you can quickly make a comment in that area.
Instant mentions in Google Docs, Sheets, Slides
You can easily mention colleague's name of a company name without adding + or @ signs before their names. Simply writing the name or email address in the comment section will show you a list of suggested contacts. Now, send notifications within a flick of an eye. This feature is available for use on the web or mobile (For Android and iOS)
Now Google Apps now lets you move from one comment to another comment in some other document. So swipe you way through documents, sheets or slides and comment easily.
Work Anywhere – Anytime
Google has always pleased its users and maintained consistency in offering new features every time with every kind of service they provide. Yet again, they are offering the latest version of the Drive iOS app for better content previews. The new version includes features like
This version offers a 3D Touch to preview a file or folder and take common actions before even opening or sharing the file. This feature is available for iPhone 6S and 6S Plus only)
You will now be able to access the support for Google Apps in Hindi, Indian English, Canadian, French and Chinese (Hong-Kong)
Other Features:
Increased control of sharing notifications in the Google Drive Android App
More formats, languages and filtering in Docs, Sheets and Slides Android Apps
Smart Suggestion for Google Calendar, available in more than 30 new languages
Very Convenient – Simple to Use
With Google Apps, now you can easily organize your folder and files. We understand it is so important to stay organized at work place. Google Drive will help you stay organized. The Drive has been added features for more controlled sharing. Searching for documents or folders is also very easy.
Features:
Search Results or times can be viewed in the Drive
You can also see the option of 'Add to My Drive' – clicking this option you can add files to the drive
See Top Results with a mix of files that are relevant and recent documents where you can see what you have been working on recently
Google Apps have always made work easier. With these mobile applications, you can easily work while you are on the go. It not only lets you stay organized but easies out your operations too. Many enterprise applications are now integrating Google apps in their applications where it enhances their work process.
If you are looking to develop an enterprise application that eases out your operational activities, then you must have a word with the project managers at Helios Solutions and have an understanding of how an enterprise application can help you. We are Helios Solution, experts in Enterprise Application Development, talk to the experts and get the best of IT solutions.