Healthcare is one among the top ten biggest industries that has experienced tremendous growth over the years. It is not surprising that this sector has been peppered with massive data breaches time and again. Data reveals that the number of people affected from such attacks has skyrocketed to 3.5 million in June this year.
Even though healthcare organizations work in a strictly regulated environment, cybersecurity and confidentiality are some of the most pressing challenges that they are confronted with today. The rising rate of breaches and cyberattacks has forced them to assess technology from a return on investment perspective that analyzes two points:
The potential value that their organization may gain from solving a problem;

The probable complications that could occur due to security loopholes.
Moreover, the necessity to check digital tools against stringent healthcare laws, such as HIPAA regulations, leaves organizations with limited options which in turn makes them look for IT consulting services.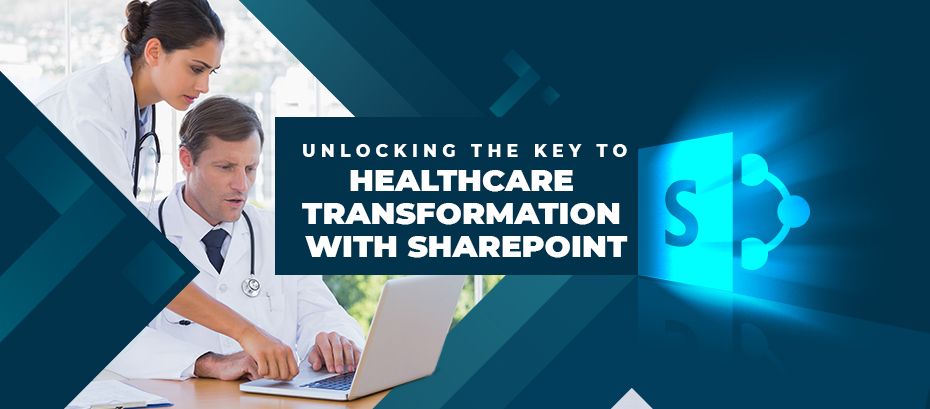 As one of the leading SharePoint development companies, we would like to share our insights, why we consider SharePoint for healthcare a reliable solution to help you deliver better patient experiences as well as streamline your organizational processes.
If you are considering a healthcare management solution for your practice then you are on the right page. This article will be covering the following points:
Major challenges faced by the healthcare industry

Why choose SharePoint for healthcare management solution?

How Helios Solutions can help you achieve healthcare transformation?
 So, let's put a quick glance at the major challenges faced by the healthcare industry and how SharePoint can help you address those issues.
Major challenges faced by the healthcare industry
Some of the challenges plaguing the healthcare industry are:
Shortage of staff

Analog manual processes

Operational inefficiencies

Limited access to medical records

Communication gap among patients, providers & payers

Lack of collaboration among caregivers, vendors & partners
To address all of the aforementioned issues, your healthcare management software should help automate workflows, offer a centralized repository for document management as well as bridge the existing communication and collaboration gaps.
Therefore, by choosing SharePoint for healthcare management you would be able to minimize the costs currently incurred in improving operational efficiencies.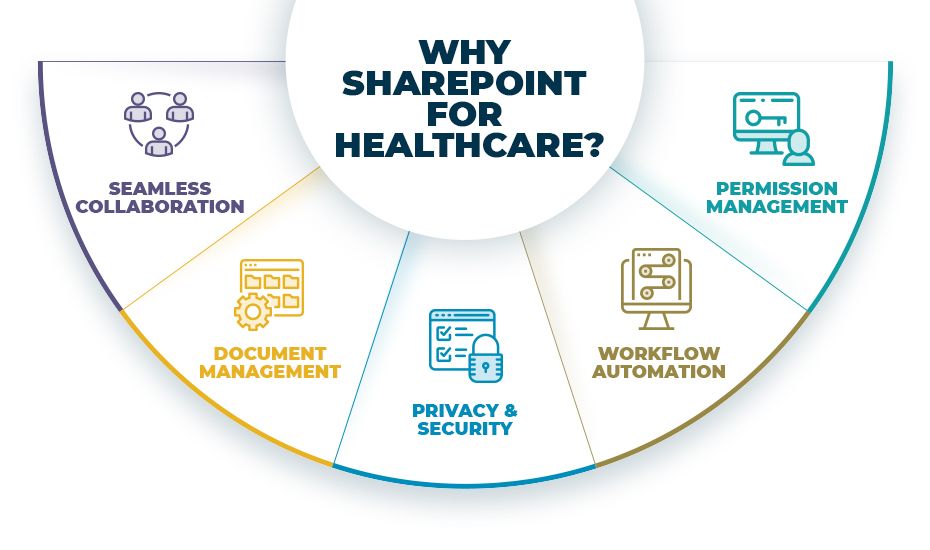 Why choose SharePoint for healthcare management solution?
Here are some of the valid reasons to use SharePoint for your healthcare solution for optimal patient care:
Seamless Collaboration

Workflow Automation

Permission Management

Document Management

Privacy & Security
Seamless Collaboration
SharePoint allows you to build an intranet for your employees so that they can collaborate seamlessly from any device. It also enables you to design and develop portals for your patients in order to communicate with their physicians and access information as well.
Thus, SharePoint in healthcare helps you to create a collaborative approach to patient care through secure information sharing with your treatment partners. This is the key to growing a patient-centered and value-based healthcare system endowed with the capability to resolve some of the greatest challenges humankind is facing today.
Also SharePoint allows customizing dashboards for different stakeholders based on their unique requirements and therefore ensuring optimal user experience for them.
Planning to use SharePoint for your healthcare project?
Elevate your patient support with our SharePoint development experts!
Workflow Automation
Manual registration processes, paperwork, filing and storing documents usually consume twice the time required to actually meet a patient. Don't you think it wastes your patient's valuable time?
SharePoint, renowned for its document management & collaborative ability, effectively addresses this issue by enabling create documents like admission or consent forms and contracts using templates and clause libraries.
It also helps you streamline tasks, enforce regulations and enhance collaboration within the organization. By allowing tracking of processes anytime, anywhere from any device, SharePoint workflow automation enables you to establish effective communication and improve efficiency in your processes
Therefore, SharePoint healthcare solutions help save your time wasted in manual processes and at the same time enable you to utilize that time in serving and elevating patient experiences.

Want to build a digitized healthcare facility?
Talk with our SharePoint consultants today!
Permission Management
SharePoint allows creating a safe and secure environment by enabling you to restrict or limit access, upload or edit of important documents. User Permissions feature of SharePoint Security Management allows you to assign roles and ensures that your documents are managed in a safe manner.
Worrying about privacy and security could drain your time, money and resources. So, you can reduce your burden by choosing SharePoint for healthcare solution. The best thing about SharePoint is that its compliance features support HIPAA requirements and regulations, thus, making it the ultimate choice for healthcare management.
Document Management
Ensuring security and traceability of healthcare documents is a pressing issue healthcare organizations are facing today. Document management system in SharePoint can help healthcare practices to maintain a centralized repository to store various types of healthcare content such as, reports, physician notes, prescription, scans, etc. for quick and easy access.
Enterprise search feature in SharePoint will enable different stakeholders to find content easily through keywords or full-text search across integrated systems.
Moreover, it allows administrators to disseminate information in a valuable manner by offering differentiated content to defined groups within the organization.
It also helps to elevate patient care by enabling the sharing of patient's information in a secure manner from and into an integrated system.
Privacy & Security
Taking into account the pressing needs of privacy and security across the healthcare domain, Microsoft developers have designed compliance features in SharePoint. Organizations can rest assured that health information within SharePoint is properly protected and secured.
Also SharePoint has a smart feature, Advanced Security Management, which is designed to detect sensitive information while data is uploaded and also send alerts to end users or block the process if necessary.
Therefore, it is easier for healthcare providers to maintain integrity and security of electronic Protected Health Information (ePHI). In addition, it helps setting up retention policies for documents and hence ensures that the healthcare documents are deleted after 6 years of their creation as required by HIPAA regulations.
How Helios Solutions can help you achieve healthcare transformation?
Every healthcare facility has its unique requirements; with our SharePoint consulting services we can help you design the healthcare solution that best fits your practice.
From simple document management application to complex healthcare portal for patients, providers and payers, we can help you with custom SharePoint development to achieve your unique healthcare goals.
We can also help you integrate your SharePoint healthcare solution with other applications and tools that are already in use at your facility. With SharePoint automated workflows, real-time dashboards and reporting, we can help you simplify your existing business processes and improve your operational efficiencies.
Do you want to create and deliver better patient experiences? Are you already using SharePoint in healthcare? We would love to hear from you; be the first to begin a conversation by leaving your comments below.