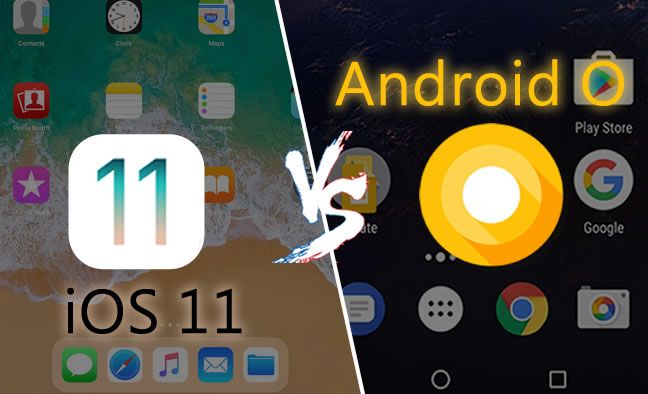 Since the tech giants Apple and Google have unveiled the features of their latest and most awaited operating systems at their respective larger than life events, the web and social media channels are abuzz with the debate of "iOS 11 vs. Android O". 
In case you were too busy to follow the events at WWDC 2017 or take a look at the new features of iOS11, no worries! We have a detailed blog introducing the most important and interesting features of iOS 11, just for you.
In today's post we are going to draw a comparison between the two leading contenders in the operating system space, iOS 11 vs. Android O, in order to assist you in choosing the winner.
Are you excited and ready for this incredibly interesting exercise? Let's do it together, then!
Here we are outlining some key new additions to iOS 11 as well as Android O. It's time to see which one manages to win over your heart:
Nailing it with AI
Google is empowering users for an AI first world with the new AI-powered features on Android O.
You can now copy a Wi-Fi password while you focus your phone camera on it; no need of typing the password.
Attention-based notification sorting is really a very smart feature among the Android O new features which means your notifications are not a mess anymore. Leveraging AI, this OS would implement sorting of notifications into hierarchies as depicted in the figure below.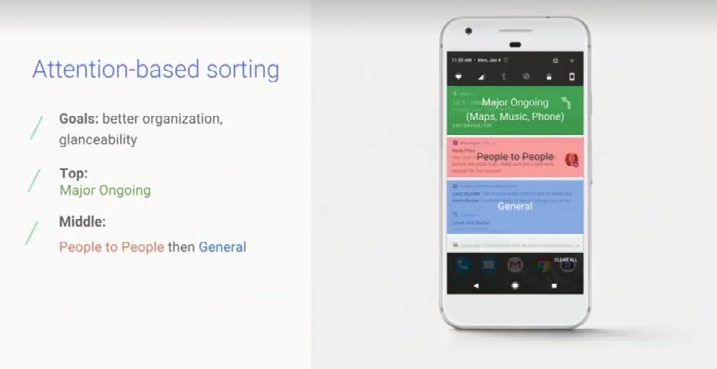 The notifications will be classified into four main categories as per their importance – Major Ongoing, People to People, General and By the Way.
Text selection is accompanied with smart tools in Android O that suggest contextual actions.
Apple also has its say on AI and is utilizing the same to make Siri Smarter than ever before.
Siri – the virtual assistant is leveraging deep learning techniques to learn user preferences and offer new features accordingly.
Once iOS 11 rolls out, the devices running on it would get AI powered Photos app capable of sorting photos based on time, date and events.
Our team of iOS developers is excited to build next-gen apps for iOS 11.
Native screen recording
Did you ever want to brag about your gaming skills? Or record an interesting webinar? Apple has read your mind and offered built-in screen recording feature. Now you can record a video in your iOS 11 device with a single tap.
Android already has this native screen recording feature since Android 5.0 version.
Peer to peer payment system
Apple's iOS 11 is gathering praises from everyone for making payment easier than ever. Yes, iMessaging app includes the latest Apple Pay feature which means you can just pay with a message.
Google's Andriod O, on the contrary comes with a basic texting app lacking the peer-to-peer payment system.
Multi-tasking screen mode
Now you can shrink a video or Google maps navigation into a floating thumbnail (picture-in-picture mode) in your Android O devices so that you can view it even while doing other tasks.
iPad users, on the other hand, are enjoying this feature since iOS 9 version rolled out.
Virtual personal assistant
As mentioned above, Google Assistant is a lot smarter now and makes a leapfrog to surpass Siri with Google Lens. The latter uses machine learning to identify objects.
Our Android developers are eagerly waiting for the final release of Android O so that they can develop some high-end applications leveraging these features.
They are anyway having a great time exploring the Android O developer preview.
Although, Siri has got some decent updates, it would get a tough competition from Google Assistant which has come to iOS now. Both the assistants are trained to respond to typed in queries. And yes, Siri now has a male counterpart!
Advancements in AR and VR
In terms of advancements in the VR sector, Google is killing it with Google Daydream feature and affirmed that the Daydream app is available on Android O.
In the AR field, however, Google Tango is expected to get tough competition from Apple's ARKit developer platform. Only time can declare the winner, till then just wait and watch!
Better battery life
There has been various software refinements brought to Android O with the intention to make boot up times faster, app load times quicker and improve battery life as well as performance of the device running on it.
Apple, on the other hand, is more focused on design, security and features and hence you would not notice any significant difference in performance while you migrate from iOS 10 to iOS 11.
Security issues
When it comes to security, Apple undoubtedly holds the edge as it controls both the software and hardware along with a highly secure OS. With its closed source-code policy, Apple is managing to remain secure always.
Therefore, iOS 11 would certainly be more secure than Android O and feature less number of inherent bugs in its system.
Finally: Which operating system is getting an edge over the other?
Versions of iOS and Android keep rolling and being a Mobile App Development Company, we have been keenly observing the new developments and innovations in each OS for more than a decade.
We conclude by leaving this question on your part to answer. So, what's your say on this? We would love to hear from you; please leave your comments below and be the first to begin a conversation.
Hope you had an interesting read!