Microsoft announced that they are launching a new mobile app for the customers using SharePoint. The main motto of the company behind it is, to being SharePoint powered intranet portals and the content to user's smartphones as well as their tablets.
More importantly, the app for now is only exclusively available for iOS, which means it will only work for iPhone and iPad users. The SharePoint App will be available later this year for Android and Windows platforms, Microsoft said.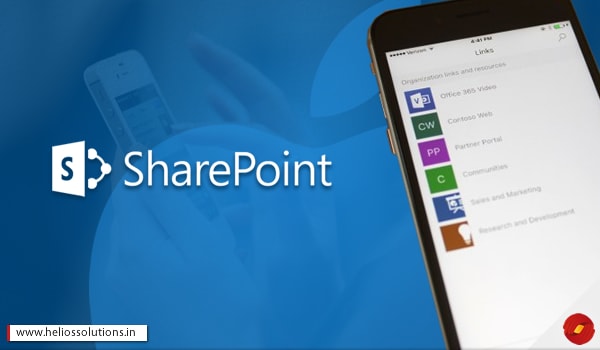 Microsoft said last month that, they are working on a specific app, when they surfaced their plans regarding SharePoint and its possible future. SharePoint is used by more than 200,000 organisations, and often regarded as identical to "intranet". Here is a quick view on Intranet- "the internal portals businesses that normally run behinds the firewall, where the employee of the organisations share various news, participate in different projects and more".
The only thing that SharePoint lacked was having a modern touch to it; by making its content for the business users on any given device they preferred using.
Microsoft claims to put "intranet in your pocket" with the help of its new SharePoint app. What this will do is, users will be have an access to the company's news as well as announcements, various sites, content and much more from their smartphones. For now, the app works with SharePoint Online in Office 365 or SharePoint Server 2013.
SharePoint app features a Sites tab. It allows you to visit the SharePoint sites that you use frequently. It gets easy for you to see your recent activities and files, and allows you the access to these files, pages and different contents on those given destinations.
The SharePoint app also works with the other Mobile apps that are powered by Microsoft. Take for example, when you desire to use an office document in the app, it will launch only the compatible Office mobile app.
There is also a "Links" tab that allows you to see the entire list of the sites as well as portals of your company. And People tab allows you to through the list of your colleagues and also view their profiles.
And lastly, one of the key features the app offers is of "Search".  It allows you to discover resources by keyword and the filter results done by the sites, files and also people. It also offers you "content recommendations" that are powered by Microsoft Graph.
Here at Helios Solutions, our Sharepoint Development Specialist work with great amount of dedication in delivering the most satisfactory results to our clients. If you have a business and are willing to run SharePoint on iOS, now is the time to choose Helios as your right partner.