WordPress is like the most popular content management system today facilitating effective and efficient web development that gives the scalability to expand the functionality to unlimited ends. WordPress CMS can help create and maintain websites with utmost ease.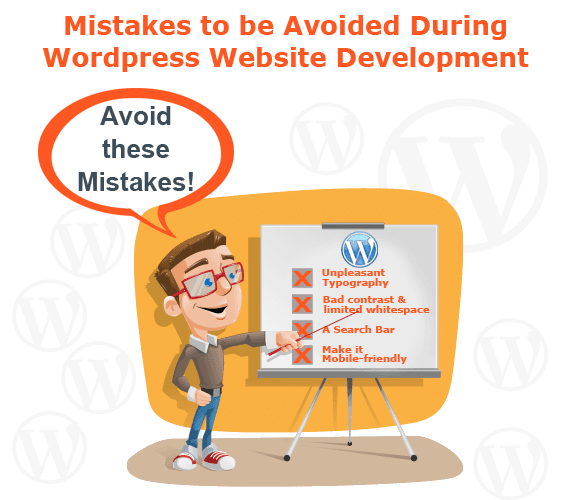 To ensure its optimum performance, there are few factors to consider while designing a custom WordPress site:
Unpleasant typography:
There are number of fonts available today, however it is advised to use them considering the websites objective. Also remember to choose fonts that don't make the site appear cluttered. Consider the site's overall theme and decide the fonts. For instance if the site is professional make sure to use fonts that are simple and subtle whereas for sites that are casual, use fonts that are little creative.
Bad contrast and limited whitespace:
White space is an important element of any website, without it the site looks cluttered. Hence, it is always advisable to add enough whitespace where required to avoid frustrating users with too much information, images and other graphics cluttered in one page. Including white space helps users focus on the most relevant information.
Also integrating poor color contrast between the background and the fonts ruins the website visually. Ensure to choose simple colors that add to minimalistic appearance, while ensuring easy readability. White background and black fonts contrast is always a good combination.
A search bar:
A visitor who lands up on a website looking for particular information will always look around for a search bar. However, if the users are unable to locate one on the website, it is only going to frustrate   them and make them leave. Therefore, it is important o include a search bar on the website that is easily accessible and directs the users to the content effortlessly.
Make it mobile-friendly:
Today with the increasing demand of smartphones and tablets, the increased number of internet access is being made from mobile device. Users prefer using their smartphones to search the internet for information as well as make purchases. Hence, this has made it mandatory to create website that is mobile optimized or responsive to get the most out of the users and boost sales.
Above mentioned are the mistakes to be avoided.
Get in touch with us if you want to hire Freelance WordPress developer for your Website Development Project and for more information visit https://www.heliossolutions.co/cms-development/wordpress-development/