The impact of usage of smart phones is now prevalent among the youth. The mobile application is just another thing that helps the masses to communicate with each other from anywhere or anytime.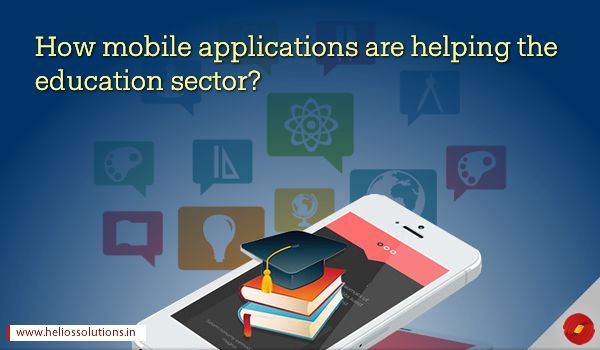 With the changing trends and new innovations in technology, even how we teach has changed and thus is making a difference in the most amazing way. Technology has enabled teachers to teach their students in a more effective manner where concepts like eLearning, smart classrooms and high tech systems are enabling better learning experiences. Contributing to this, eLearning is encountering a direction with the mobile application in picture where teachers are exploring the new ways of learning which are very interactive and entertaining too.
Benefits of Using Mobile Apps for Education
Convenient & Custom Experience
With mobile apps, the most advantageous element is the ease that a user experiences in communicating, buying, observing directly through a device on their palms. The user also experiences a much customized feel while using a mobile app. With students, this proves like a very good mode to communicate and send across the desired message. Today, students are dependent on smartphones for texting, social media and also learning. And thus, school strategies are resorting to techniques of technology that involve of using a mobile app.
Any school or university has their own uniqueness catering to their vision, culture, procedures etc. To meet these requirements, a mobile application can work wonders and aids in keeping these aspects alive. Such apps can contain features like the facilities of the college, lecture schedules, assignment durations or even campus navigation.
Social Interaction
There are arguments if students should use mobile apps for education. But experts like Rose Luckin, Professor at the University of London feels that " Preschool or Kindergarten age children who complete activities on a smartphone or tablet and then repeat the process to show their parents engage in important "talk time". Experts say that such technology can help in reinforcing the lesson or skill that they have learned but also create engagement between parents and the students. It also helps in opening up to the peer groups and being social creates more awareness among students resulting in better performance.
Speed & Timeliness
Generally, students at graduate level or even at school level struggle to meet the assignment deadlines. Even for the toddler's parents, it is sometimes difficult to keep a track of activities assigned to the them. Such mobile applications come handy for reminders, schedules, updates on fees, notifications on campus activities and also help in meeting the deadlines for assignments or thesis. Also it becomes a channel to communicate with alumni's or the faculty for queries and suggestions. Complaints and feedbacks have faster actions and it makes a student's life in the campus extremely easy.
eLearning through Mobile App
eLearning is slowly being adopted by educational institutes worldwide, from a kindergarten to a university, every kind is taking a step in this digital direction where we can expect brighter future and less pressure on students while learning.
If you are an education expert or an educational institute, then you must consider having a mobile application to avail students with a better place to learn with the help of technology. Also, it can be a great thing for faculty communication and handling operational activities. Talk to our Mobile Application Development Experts and get the most cost effective development option as you will have a chance to Outsource Mobile Development India with Helios Solutions.