A coding language is much appreciated if it allows ease in development process for coders. There are so many scripting languages today, each suiting to various arrangements of coders. Talking about competition, PHP language has always been in the race for most coders globally. Now, you have a improved version of it, we know this has been awaited like forever but finally it's here, let's have an understanding!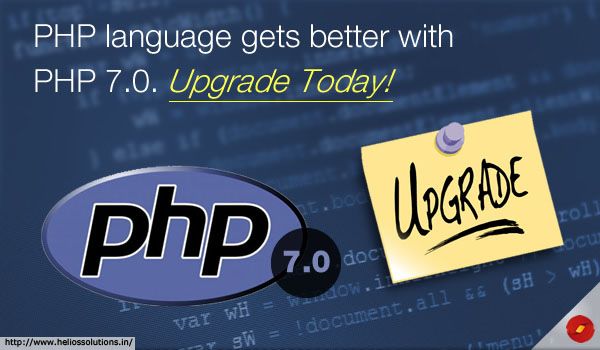 PHP is a scripting language which is a powerful tool to develop dynamic websites. It is one of most used scripting languages. It is also one of the most widely accepted coding languages by developers across the globe. We are a bunch of PHP experts who are extremely well-versed with PHP and can work wonders with your website. It allows easy and easy programming. The ecosystem and solutions around PHP have matured to make it strong contender for driving standardization within corporate IT. And if you are looking to build your IT structure then we recommend you to outsource PHP development for better results.
See Also : – SYMFONY 3.0 FRAMEWORK – THE NEW VERSION RELEASED!
Key Features:
Supports development using other frameworks

Frequent updates enable bettering development

Convenient to develop, maintain and deploy

Different open source CMS available with run on LAMP servers
PHP& brings you –
Better Back Ward Compatibility
With PHP upgrade, what coders can expect is a better experience with PHP scripting language. The upgrade is more or less about what can break your code and what is that you have to do next. It is not certainly backward compatible with your current coding. So upgrading it will avail your website/application with back ward compatibility. Talk to the open source development specialist!
Developers are Loving It
PHP scripting language is not only among most preferred language for coders and developers where biggest of the websites today are built with this language. Adding to its already existing advantage, PHP7 has also resolved the issue of having emoji as a variable name, it now offers many amazing emoji as a variable name but also reliably use it as a string internally. PHP has gone next level with this update, know more with the website development specialists.
Last but not the least – The Fastest Language!
PHP is a language upgrade, all the developers and coders are very excited. PHP 7 brings you new and improved features where after 20 years of its existence, it is finally enabled with internal Abstract Systax Tree for static analysis. PHP has always been very consistent due to its uniform variable syntax that breaks everything naturally. Thus, you are availed with a faster and better development process.
So we are guessing you should not be waiting around here, send us your requirement  at https://www.heliossolutions.co/connect-with-us/ for upgrading your website or update your application at the most affordable prices. We are a bunch of PHP experts who are extremely well-versed with PHP and can work wonders with your website, hire PHP framework programmers. Tell us your stories and share your thoughts on the update, comment below to have a healthy discussion, we would love to have one!