Everybody is now aware about responsive design. Professionals working in online marketing are focused on the peripherals of the website such as content development, email campaign design, creating links etc. In fact, if your website is not designed with responsive approach then online marketing efforts might not give you expected results. In this post we are trying to convince you about implementing responsive design for your business website.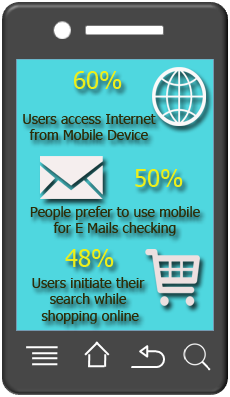 Before going to the details of responsive design, let's have a look at the mobile statistics
60% of users access internet from mobile device
50% people prefer to use mobile for emails checking
48% users initiate their search while shopping online
All the above statistics clearly means that a big portion of online marketing material is consumed by mobile users. People with smartphones or tablets are comfortable with their devices for reading, chatting, social media visiting through their mobile phones. If you look at the Google analytics page of any website which is already mobile-ready then you will come know that number of mobile users visiting the website are growing at high rate and in near future, they are going to cross the desktop users. I think, above two reasons are enough for you to understand importance and necessity of having a mobile friendly website.
How does it help you – Your website designed on the basis of responsive design treat all its visitors the same. The device from which the request is sent does not matter and all users will get the same experience. Some business owners are still running separate websites for desktop and mobile devices. Maintaining both the websites with consistent contents is really a hard task and when not done correctly can result in major discrepancy. In addition to this the experience for desktop and mobile customers might differ a lot and brand establishment could be difficult.
Following are the points that explain how Responsive Design can help your online marketing strategies –
Search Marketing– Landing page links appearing in search results should take the user to appropriate pages rather than the homepage of your website. This is possible only when your website is optimized for device screen sizes. This can be achieved with responsive design method and users get exactly what he is looking for.
Content marketing – with a responsive website your mobile visitors will not find it difficult to read the long content updated at latest times. They can also effectively use social media buttons given on your website for sharing latest contents.
Social Media Marketing – People love to browse through social websites from their mobile devices. They can click on the promotions you shared on social networks and purchase your products right from their smartphones.
Email – If your email campaign has used responsive template, then the email is properly seen on mobile device screens too. User can clearly read email content and after clicking the link in the email, reaches to a responsive design website which fits well in his device screen.
With Responsive Website Design, you will never lose a customer only because your website is not properly seen on their mobile devices. Your marketing efforts by all the above four ways can attract customers towards your website and then the website can take care of them to convert.
Contact us for if you are looking for Responsive Design Expert  and we will help you acquire the best possible solutions to your requirements at https://www.heliossolutions.co/front-end-technologies/