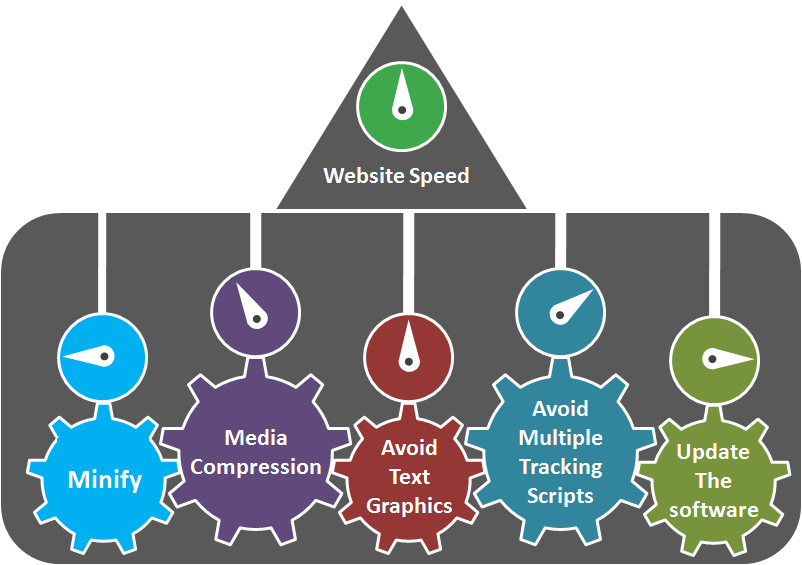 A slow loading website can do a lot of damage to the online marketing efforts. The customers won't convert, the brand will be damaged and worst of all and the entire sale will be lost. A single website is competing with the entire internet for the customer's attention. Even a millisecond matters when it comes to page load time.
Let us have a look at how to optimize a site for speed:
Minify:
Minification is a process known to remove all the unnecessary clutter on a website that makes the site's loading speed slow. This will help remove the unwanted characters and the white space from the JavaScript and CSS code that hinders with the site's load time. It makes the file size smaller and improves the speed of transfer.
Media Compression:
Medias like video and images should be compressed to offer a smallest file size at the best possible quality. Images should be compressed to PNG, JPG and GIF formats while the video uses the H>264 standard for compression.
Avoid Text Graphics:
Some sites are required to have texts in a form of images to make it look attractive or due to the theme it uses. However, it is important to remember that a text in the form of images takes up a lot of web page size and is also not very useful for SEO. Therefore, it would be ideal to use the text styles in CSS and keep everything in text format instead.
Avoid multiple tracking scripts:
It is clever to keep a tab on sites traffic stats; however it is not advisable to use multiple tracking softwares to avoid hindrance with the site's page load time.
Update the software:
It is advisable to keep updating the site's CMS software if being used. Hence keep checking for the software updates regularly, but never load this on the live website. Keeping the site updated with new versions will definitely help with the sites' loading time.
Following the above mention points will help improve the website's loading time and help increase conversion and revenues.
We are professional Website Development Agency in India specializing in the creation of Website Development Services to small, medium and large sized businesses around the globe.
Do get in touch with us if you want to know about Website Development Specialist and projects in more details  at https://www.heliossolutions.co/web-application-development/