Web typography is basically the fonts integrated in the web pages. Typography is one the major aspects of website designing, as it has a direct impact on the sites visual aesthetics. Besides investing all the time in creating designs, one should also focus on the web's typography. Without the site being clean and readable, visitors won't even bother to stop by.
Here are few tips to deal with typography while designing a site: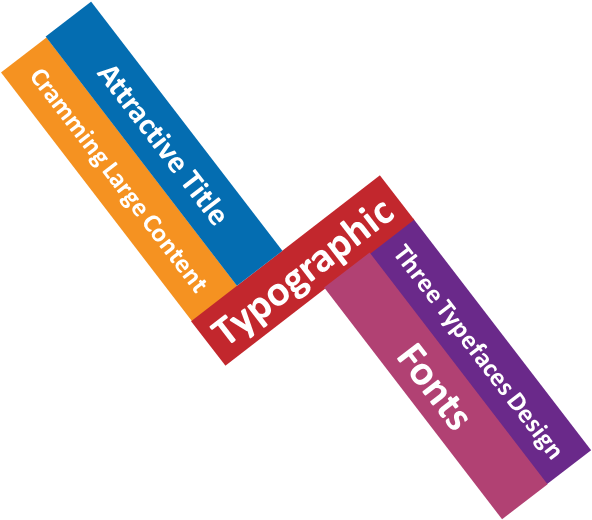 Use Only Three Typefaces Per Design:
Using three typed faces may allow visitors to observe the site and read the content correctly. More than three typefaces will make the content look messed up and so will the website. This might sometimes make the visitors leave the page thinking the paragraphs are not related.
Make The Title Attractive:
The title is the first thing that draws the visitor's attention, if the title is catchy, the visitors would not hesitate to go through the rest of the article. This means it is vital to highlight the Headline in order to grab the reader's attention, and the best way to do so is by increasing its font size.
Avoid Cramming Large Content In Limited Space:
For good readability, it is better to avoid cramming large amount of information in limited space. Instead provide the content enough space, so it looks neater and is easier for the readers to grab it. Also, not to incorporate excessive space, that will make the content appear disjointed and unrelated.
Use Fonts That Are Compatible With The Screen:
Various types of fonts are available over the internet; however some of these fonts are not a good fit for the websites. For this reason it is vital to carefully select the fonts. Various tools are available to check the compatibility with the browsers.
Choosing a typeface for the website can be very tricky because of so many options available. Deciding after utmost evaluation is the key.
We are leading Website Development Specialist in India with proven competencies in Outsourcing Website Development India. The company has achieved expertise in design and development of website.
Do get in touch with us if you want to know about our Website Development Specialist and projects in more details https://www.heliossolutions.co/front-end-technologies/