One of the hottest IT buzzwords of yesteryears, Internet of Things (IoT), has been transforming industries and is set to be worth $1.7 trillion by 2020 (as per IDC).
Gartner predicts that by 2020 there will be 25 billion connected IoT devices or "things"; these billions of devices are already creating unparalleled visibility into a business leading to streamlining of operations, increased efficiency and improved workplace safety.
Therefore, it's obvious that most of the enterprise-size organizations are incorporating IoT into their businesses at a faster pace. As a result many companies are looking for an IoT development company to bring beneficial disruption into their organization. Does that sound like you? Great, you're on the right page!
Why choose .NET for your next IoT app development project?
If you are wondering, with so many powerful technologies around why .NET, then do stay tuned, for the .NET that we are going to talk about will change your perspective about .NET. In this article, we would like to talk about the top three reasons to choose .NET in order to future-proof your IoT initiatives:
1. Realize the full potential of IoT with machine learning framework ML.NET
2. Leverage the large, vibrant & open source .NET ecosystem
3. Address security & scalability concerns with Azure IoT libraries for .NET
Realize the full potential of IoT with machine learning framework ML.NET
The alarming pace at which connected devices are increasing, there should be some system in place to handle the colossal amount of data emitted by these devices.
A study published in the International Journal of Distributed Sensor Networks proposes to develop a context-aware system in IoT using Bayesian probabilistic model.
This system can help transform raw sensor data into knowledge by collecting, modeling and reasoning the context to infer new knowledge for the connected devices.
In the coming years, when collecting and analyzing data from billions of sensors will not be feasible, context-awareness will become crucial in deciding what data need to be processed.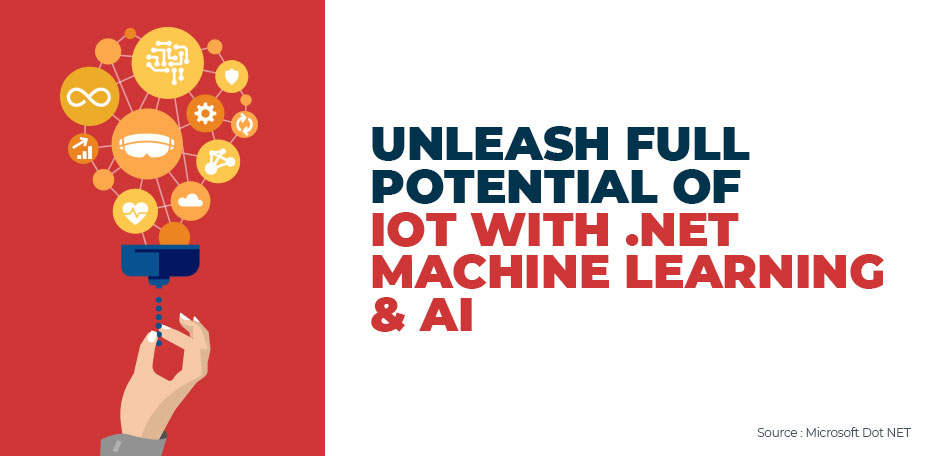 ML.NET, machine learning framework specifically for .NET developers, allows you to leverage a library called Infer.NET for running Bayesian probabilistic programming to bring context-awareness in your IoT applications.
Thus, the "intelligent things" in AI-enabled IoT devices will be able to provide businesses with real-time data and feedback with predictive, prescriptive and adaptive capabilities.
Looking for AI-enabled IoT solutions for your business?
Hire .NET developers to build intelligent custom IoT apps.
Leverage the large, vibrant & open source .NET ecosystem
In today's fast-paced world wherein change is the only constant, it goes without saying that adaptation is the key to survival. We at Helios Solutions understand this better; we gave serious consideration to this thought and worked really hard to achieve a comprehensive brand makeover.
Few years back, Microsoft also realized that they need to modernize their platform in order to grow and that the help of community was critical to succeed; thus began .NET's open source journey.
Since then the .NET platform has undergone tremendous transformation and has evolved to tackle the needs and challenges faced by contemporary businesses.

Choosing an IoT platform based on your business needs and opportunities can be difficult. Your IoT consulting partner can help you in your search by taking care of the key factors to consider including network connectivity options, protocols, device & data management features, deployment & scalability, and security.
Universal Windows Platform (UWP) extends the .NET platform to develop apps for IoT devices running Windows 10 IoT Core. It offers native support for Raspberry Pi & other single-board computers such as MinnowBoard MAX, DragonBoard 410c, and more.
Planning to implement IoT solutions for your business?
Hire .NET developers to advance your IoT initiatives.
Address security & scalability concerns with Azure IoT libraries for .NET
The sheer volume of connected devices and data often pose several challenges for businesses such as security, scalability, need for resiliency and minimizing downtime and others.
Therefore, enterprises and organizations seek cloud support and Microsoft offers Azure IoT platform and IoT accelerators that .NET developers can leverage to deploy applications in the cloud using few clicks.
Microsoft Azure offers flexibility, interoperability, security and analytics which are crucial for IoT app development. No wonder, this platform is considered one of the best enterprise-grade platforms suited to IoT specific needs.
Furthermore, security concerns are one of the major roadblocks hindering IoT adoption among organizations. Azure effectively addresses this issue by providing security-enhanced communication channel facilitating bi-directional communication (send and receive data) for IoT devices.
Therefore, to leverage Azure IoT accelerators or Azure PaaS services for quickly realizing your IoT projects, hire .NET developers.
Harness the power of .NET to enable IoT success
IoT is becoming a critical tool for business success as more and more companies are realizing the benefits of this technology such as increased efficiency, yield and quality.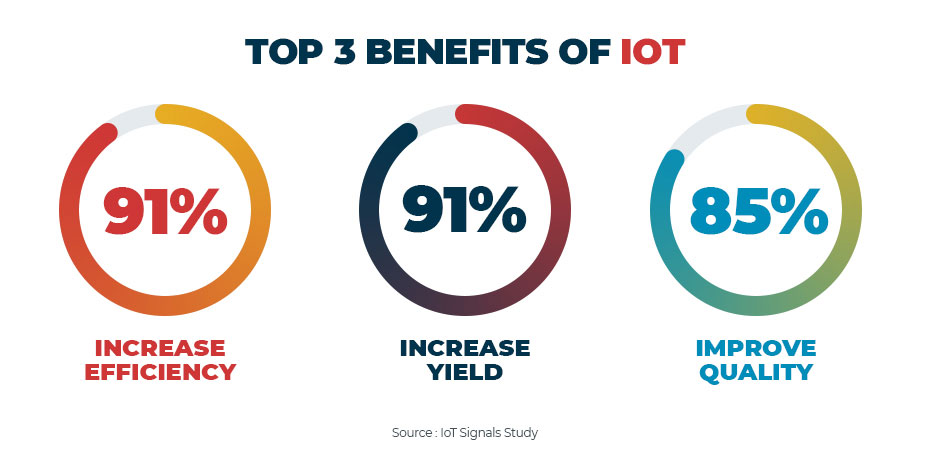 Despite industry innovators and early adopters realizing these IoT benefits, this technology also brings its own set of challenges; lack of talent and training is one of them.
The ever-growing open source .NET community actively contributing to the ever-evolving .NET platform could be a potential solution for talent shortage hindering IoT adoption.
As the future of IoT is converging towards AI, .NET machine learning and AI framework enables you to utilize your existing .NET skills to develop and integrate ML into your IoT applications without any prior ML experience.
Those of you who are still skeptical about building IoT apps with .NET, we would like to encourage you to explore this new and evolved platform. It's literally different from what it used to be; thanks to the open source community.
So, where does .NET stand in your roadmap to IoT success? Are you going to integrate .NET in your IoT strategy?
Please feel free to begin a conversation by leaving your comments below; we would love to hear from you!