WordPress and its growing popularity need no introduction. It is considered to be the best Content Management System (CMS) out there without a doubt. Certainly WordPress has very strong blogging roots these days and its branches are reaching out to almost every possible field, to capture more of the market share. Though WordPress is the preferred platform almost everywhere, there still lies a doubt whether it will ever remove the skepticism of the enterprise companies.
If WordPress is to succeed in Enterprise, it has to offer a lot in terms of security, being reliable enough and avoid any vulnerability that could possibly expose the entire system.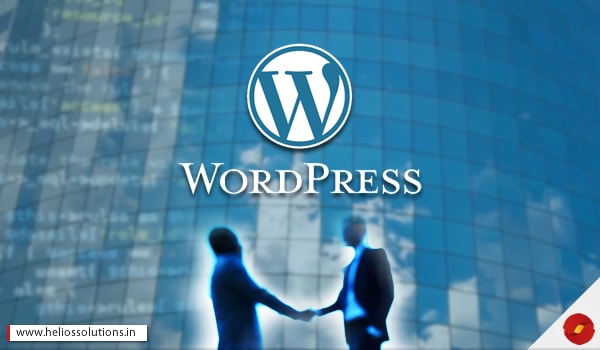 Now, let us learn about the advantages that WordPress has, that could clearly make a strong case for it (WordPress) as to be accepted by the Enterprise Companies.
Being Open Source:
WordPress has stick to its roots of being an open source since the very beginning. Many of the sites, from small to the bigger ones are powered by WordPress, and it is certainly has the stature of high profile, when it comes to big projects.
Open source has taken its time for the enterprise clients to have faith in it. Of course without the help of projects such as Android, Linux and various others made the clients believe in them and that certainly changed the entire scenario by bringing in the modern web we see and use today.
Last year in April 2015, Black Duck Software did a survey about the open-source adaptation. According to the survey, for operational matters 78% of respondents totally rely upon open source. Around 66% of the developing software is built upon the roots of open source.
The word for the day clearly is Adoption of WordPress by Enterprise Companies. Look for the wider merits it has to offer and not whether it is proprietary or not.
Beyond Blogging:
WordPress has certainly moved beyond by just being a blogging platform. For that matter, larger base of enterprises still believe it to be a blogging platform and that has done more damage to its reputation amongst the enterprise companies. The amount of development WordPress has shown over the years should be known by enterprise companies rather sticking just to their area of development.
Small and medium businesses are very well aware of the maturity and recent growth of WordPress over the years but still many of the enterprise IT departments are not conscious enough to understand its growth and to make the best use of it.
WordPress has enormous themes and plugins to offer and thousands of businesses worldwide are powered by it. WordPress is surely a multipurpose platform and it has been dominant in being one. With the success of WooCommerce, it is totally dominating the E-Commerce.
Again, talking about how it has moved beyond its blogging roots, big names like The New Yorker and Wired are one of the prime examples on how WordPress has moved beyond their shadows of just being a blogging platform.
Backed by the Best
Many of the WordPress users know that the company behind WordPress.com is Automattic and certainly the powerful contributor of the WordPress Foundation. But since 2005, Automattic certainly reached some greater heights and with a valuation of $1 Billion.
With over $50 Million a year, it is certainly the most loved IPO gossip and by regularly taking over other companies, it certainly is a part of being just another notorious company.
But you cannot ignore the fact that, Automattic is nothing short of big time commercial player, that also provides a financial backing and high stability which is always welcomed by the enterprise audience.
The Arrival of Rest API
 WordPress's total dependence of PHP codebases has always been the weapon that backfired and with corporate IT setting discarding its use, it has certainly hurt WordPress in plenty. Development teams have not shown any interest in PHP based solutions, even with the integration of the third party apps to support it.
The arrival of Rest (Representational state transfer) API has certainly changed everything for WordPress and it to have prompt interactions with developers from any background, WordPress is totally full fledging on the application framework.
For enterprises, it does promise to be integrated with the current systems, with cleaner and much convenient efforts to maintain. This will surely open up its core for the programmatic world.
WordPress is Secure
One thing that has always been the concern for WordPress is about its security. It has been the soft target for many of the wicked online elements for fairly a long period of time now.
But things have certainly changed today. The core of the WordPress is more secure than ever and you can rely upon it. The WordPress Security Team has approximately 25 experts (half are the employees of Automattic), who always keep a close watch on heart of the platform to make it more secure.
WordPress core is definitely more secure than ever and of course plugins and themes have their own security concerns, but these can easily be dealt by enterprise companies that are used to in-house security procedures. WordPress Development Specialists have constantly shown a growth of improvements in WordPress's security.
To conclude, WordPress has reached new heights over the years. Its next growth would definitely come when enterprise companies would begin to adopt it. With that being said, WordPress is surely about to crack the market very soon.
If you are an IT enterprise company and still not sure whether or not to choose WordPress as your platform, Helios can help you make that decision. We have an amazing team of WordPress Developers who only believe in delivering in best solutions for your company.