Are you running a café, or do you own a retail store like a giant super market or are you in the business of grooming people? Then you must know there is a solution for all of them that can simplify operations and increase your efficiency. A Point of Sales system that enables business owners and its employees with ease in functionality and has revolutionized the way businesses operate.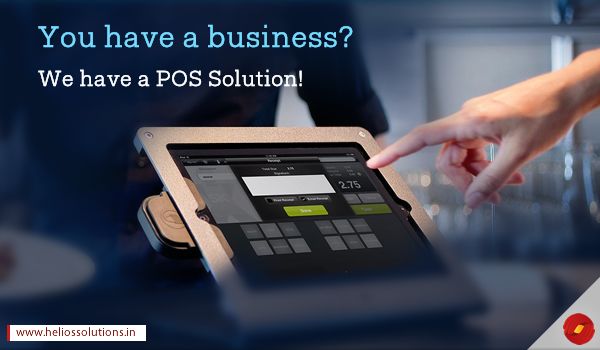 Especially, since this system is now enabled for the iPad, it has become even easier to conduct transactions, assign work, keep accounts and maintain records. Integration of a POS system is now the part of the IT infrastructure for most of the businesses worldwide.
POS system catering every kind of business!
POS for Retail Stores – Enhancing Retail Management
Planning for retail operations is one of the crucial tasks, there goes a lot in to in like cash handling, safety and security, scheduling of task and much more. POS system comes to the rescue of retail managers, simplifying most of their tedious tasks. A specialized POS system suiting to your business requirements can be integrated with your system. It provides with faster services and keeps employees happy! Ask your software development specialist and define the specific features for your personalized POS system.
You are availed with customized functions like:
Matrix Inventory: This feature uses identifiers like size and color for tighter inventory management.
Customer Relationship Management: This feature analyses the customer behavior.  It allows business owners or your employees to keep on the operational activities, track customer history and purchasing trends.
Employee Management: A retail store can have busy hours and then few wee hours as well. Not all times you are going to need the huge number of staff's attention. Thus, this feature enables you with a function to allow extra staff during busy times and reduced staff during slow times to control payroll.
Intelligent Reporting: Daily reports are a very important aspect for a retail store as you need to know the daily status of good and purchases in order to plan the upcoming days and requirements. This brilliant reporting system consolidates the numbers that you will give you an overview of all the operational activities.
Retail Management gets interesting!
For detailed understanding on retail POS system, visit this blog:
https://www.heliossolutions.co/blog/software-development/retail-merchant-pos-system-must/
POS System for Restaurants – Culinary Industry Management
Good food pleases everyone but the experience gets better when you are provided with faster services. It always counts in creating an experience with your customers visiting your café or a restaurant. You must focus on a holistic perspective, not just good food but make them feel treated. Yes, with a POS system, you can also efficiently manage your ingredient inventory level in real time. Other features like customized table layouts and ordering can aid in providing a smoother experience.
Table Layouts: Business owners or the restaurant managers can create and manage from the management console that comes with the POS system which can be customized according to your needs.
Tableside Ordering: Taking orders and placing the instructions for those orders gets faster with this system. It allows your wait staff to take orders from the table without really having to go to the table and then going to the chef to tell him/ her about the order. Now this becomes really smooth with the Tableside ordering.
Till Management: Recording orders is extremely convenient. This feature enables the manager to keep the register error free even with multiple numbers of managers or users.
Restaurants Owners, A chance to please your customers!
POS System for BAR – Enabling System
Bar is a junction where many things are happening at once and sometimes to keep a tab on things becomes difficult. Not only that but it constantly requires your employees i.e. your bartenders to perform better, faster and efficient where entering orders is also suppose to be taken care of. There are so many aspects to be taken care of. Here, POS integration with your IT structure at the bar can really ease our operations. See how-
Ingredient Inventory Management: The most challenging part of this industry is the track of drinks poured and maintenance of stock. This feature tracks every drop poured and enables the manager with the information on the requirements of restocking. Also, it record if any irregularities are noticed and notifies in case it does.
Mobile Ordering: This makes it really easy! Your customer doesn't really have to stand in the que for placing an order. While they enjoy themselves, they can get their drinks on their table by placing an order on their mobile services. This feature plays an important role in creating an experience for a visitor.
Let them enjoy without much hassle!
POS for Salon Services – Grooming & Salon Management
Management of Salon or spa comprises of many intricate operational activities. From appointments to handling customer behavior, a POS system can be really helpful. Helps you stay organized and keeps your employees happy! There are aspects like rate card, changing trends, introduction of new trends and styles, schedules and service times etc.
A POS system can avail your salon business with the following operational solution:
Appointment Scheduling: With this feature you can not only schedule but also get reminders to prepare before the beginning of seating. Also, you clients avail transparency as they get online access to scheduling and can select from the available slots.
Email & Text Confirmation: In today's busy world, we need to have reminders as so much is going on in our lives at once. You are enslaved to our reminder app in the phone. Similarly, this feature reminds customer of their scheduled appointments.
Time Blocking: Keeping your employees happy and satisfied while working under you is one of the team management tasks and is very important for any kind of business affecting its performance thereby. The feature allows team management efficiently where you can manage the breaks and lunch times with legal guidelines and also keep a track of holiday and leaves taken.
Customer Service Provider: This system feature enables your business linking with your employess for the specific service assuring the right person for the right job while keeping prices, commission and times constant.
Filtering Capabilities: This feature lets you view appointments by date or individual employee.
Let grooming and comfort go hand in hand!
Other Industries: Yogurt Store or Pizza Place
There are other businesses like yogurt store or a pizza place for which there is a specific kind of POS whose demand has been increasing. It is now selected by most of the outlets in order to make their operations faster and accurate. From delivery tracking to specifications in a order, everything can be taken care by your customized POS system.
For Pizza Place owners, following are the feature enable by POS:
Half Pizza Specification
Delivery Management
Auto Caller ID – Creation of Customer Profile
For Yogurt Outlet Owners, following are the feature enable by POS:
Always on mode (works offline)
Scale Integration for Connectivity
Multiple Tare Values for multiple product weighing
Loyalty Programs
Having customized POS can result in providing a customized and personalized experience for your customers too. If you are looking for a company who can develop a customized POS system, then you must take advice before you do so. At Helios, we don't just develop; we consult before providing with developed solutions. So you don't fall back at any level and make the most of every dime spent on such a solution – your IT Outsourcing Partner, schedule a meeting with us: https://www.heliossolutions.co/connect-with-us/