With Internet of Things, the shape of the health sector has changed for the good. Due to the emerging concept of IoT, technology is exploring the world of Health Care and its possibilities with technology solutions. This decade in technology is expected to many devices that will be changing the face of health care sector.  Health Care contains the stringent data collection, thus IoT can enable Health Care industry in new highlights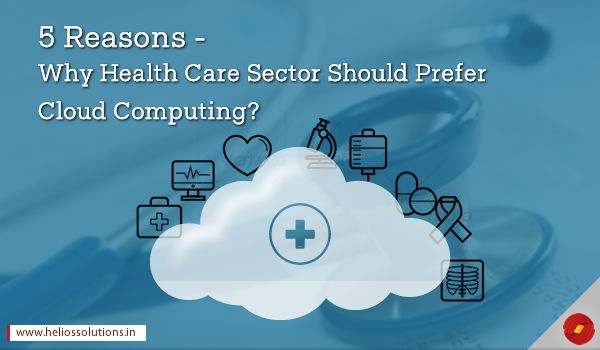 In today's time of 'Patient Centric' services, this kind of model is making a big impact on adoption of Electronic Health Records (EHR). Now, maintaining Electronic Medical Records (EMR) and Public Health Information (PHI) are focused areas for technology solutions enhancing patient safety, integrated care, clinical decision support and much more. Gradually, cloud computing is facilitating the availability of healthcare data and making it even better with advances in technology.
Why Cloud Computing for Health Care Industry?
Aids in Clinical Research
Cloud computing enables businesses with high powered data solutions which is resulting to qualitative research process. The growing importance of biologics in the research process  and the explosion of data seen from the next gen devices is the prime reason for health care industries to shift to cloud computing solutions. Merchants and businesses from the health care sector are tapping resources for bettering research and drug development processes where cloud solutions are coming to rescue.
Provide Customized Services
Every industry sector always focuses on how to enable end users with the best of experiences where they also experience ease in functionality. Especially when it comes to health care, there is data collection on a large scale and recording that data is a tedious process. Cloud computing efficiently works for storage of information, medical records, files and images of patients in a digital format. Patients can easily have access to their medical data. Medical records and images can be shared with medical practitioners anytime, anywhere. So you can provide with highly customized services and improve your functionality.
Better Analytics & Scalability
Using the cloud helps in having better insights from analyzed and tracked data on treatments, costs, performances and effectiveness studies. Further, this information can be harvested and used for referrals and medical research to support promise of personalized health care. Moreover, it proves insight and data on real time, making it easy to focus on value creation.
Advantages of Cloud Computing
Reduced Cost
Ranks High in Flexibility
Excellent Efficiency and Scalability
Core Competencies Focused
Better Business Agility
Pay Per Use Model
https://www.heliossolutions.co/blog/cloud-computing/businesses-moving-towards-hybrid-cloud-computing/ – Also learn about Hybrid Cloud Computing and understand how it can help you!
It is important to keep up with the latest technological trend like having a responsive website, mobile application or simply using the cloud solutions. Today, businesses and entrepreneurial activities are taking a digital shape where everything is going to connected. Don't fall back, consult the Cloud Solution software development specialist. And guess what? You can get these solutions at prices unbeatable! Only with Helios Solutions – Your IT Outsourcing Partner. Speak to us right away: https://www.heliossolutions.co/connect-with-us/