Technology is constantly evolving with time and it is revolutionizing the way we do everything, from communication to shopping to running a business; just everything.  The ecommerce is one such domain that has witnessed the disruptive impacts of cutting edge technologies time and again; here are five such groundbreaking technologies: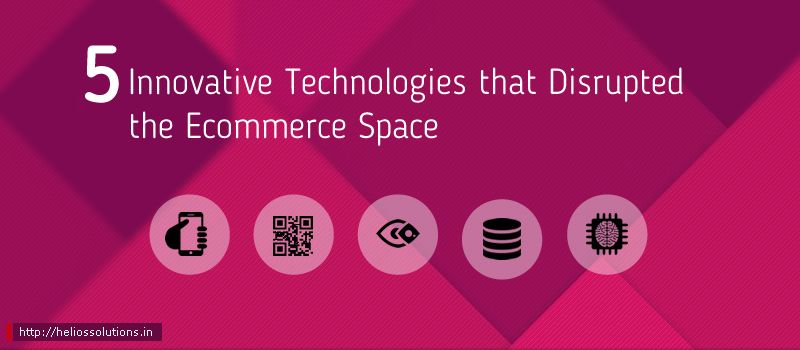 1. Mobile Computing
This technology has redefined ecommerce more than ever. Brands can connect and engage consumers everywhere via a dedicated ecommerce mobile app. They can enhance customer experience with personalized offers and contextualized messages. However, mobile still portrays the potential to grow in at least two manners – form and functionality. In near future, smartphones and tablets will make way for mobile devices of various shapes including smartwatches, Google Glass, etc. Watch out for the new disruptive trends brought along by these devices!
See Also : 5 New Trends in Mobile Computing
2. QR Codes
A QR code is a printed code that can be described as a paper-based hyperlink that connects physical tangible world to the digital domain. The scan can trigger a wide range of actions including directing your customer to the landing page of your ecommerce site, sending an email, download contact details, social sharing and many more. As QR codes are encrypted, you can capitalize on the mystery element attached to it and make more people scan it and land at your web shop.
3. Augmented Reality
Augmented Reality (AR) blurs the line between the real world and the virtual world; you can use this technology as a significant component of your ecommerce website in such a way that it resonates with your customers. Our team of ecommerce development experts has recently created an AR-feature integrated ecommerce app. With AR you can provide in-store shopping experiences to your customers, irrespective of their location. Your customer would be able to superimpose 3D objects in various spaces and envision the products in real time using smartphone apps.  This technology enables you to deliver value to undecided shoppers and boost your ecommerce sales.
4. Big Data
The rapid growth of the ecommerce industry can be attributed to the availability of data that has created opportunities for businesses to utilize the past performances and trends to enhance customer satisfaction through better products and services. They have turned to Big Data Analytics for evaluating strategies for campaign and customer segment targeting, especially during the ecommerce holiday rush.  Here are some of the ways in companies use Big Data to provide a personalized shopping experience to customers:
Customer Journey – Big Data plays a very crucial role in tracking the entire journey of customer right from the point of entry to exit. Based on purchase patterns and demographic details you can categorize customers easily to target them effectively. Moreover, analyzing the search and purchase information of your customers, you can better understand current trend and actual demand. Thus, you can optimize shelf space with appropriate inventory.
Personalized offers and recommendations – Ecommerce stores basically recommend products to its customers based on their past activities and purchases. They help their customers find the best of whatever product they are looking for.
Analyzing customer feedback – It allows effective analysis of customer feedback and categorizes them into different buckets to gain useful insights about customer satisfaction and the business in general.
See Also : How to Determine which Database is Best for Your Web App?
5. Artificial Intelligence
Artificial Intelligence is playing a game-changing role in the ecommerce industry; few instances are mentioned below:
Intelligent virtual agent – Integrated in your ecommerce website, these automated virtual agents will perform product offerings, facilitate transactions, interact with customers via an agent communication language.
Personal shopping assistant – This technology will provide a more human and personal touch to the ecommerce shopping experience. Your customers can have real time voice conversation with a virtual shopping assistance on your ecommerce website.
Personalized product recommendation – AI powered analytics tools are used for predictive analytics and provide personalized customer experience.
Visual search engine – As the old saying goes 'a picture is worth a thousand words', it could be worth a thousand keywords as well in the context of search bars. Image recognition technology can also complement the keyword search and help you craft an exceptional search experience for online shoppers.
In this fast-paced world, you can stay ahead of competition by embracing innovative technologies and being a professional ecommerce development agency, we have always enabled our clients to get competitive advantage by creating differentiation.