With businesses planning to invest in mobile first technologies, there are trends emerging that need to be kept in account to create the most innovating mobile application that give you high return on effort.  Companies globally are trying to compete with each other by providing better services or products where technology is playing a very big role.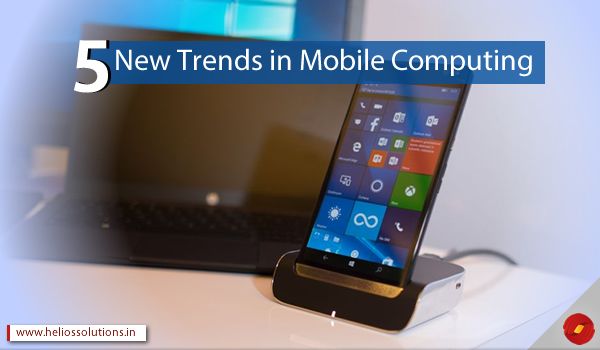 The current trends i.e. 2016 in mobile computing are the most amazing trends to discover. It is being predicted that mobile computing and cloud computing will converge. And thus it is important to understand to select the right technology and the right IT partner in order to enhance the mobile computing needs.
See Also : IN-HOUSE OR OUTSOURCING MOBILE APPLICATION DEVELOPMENT? YOUR CONFUSION CLEARED!
Top Trends in Mobile Computing
1. Tailor – Made Experiences
Everyone likes to be treated through custom and personalized feature that gives them an experience to remember. 'One experience' created for everyone is becoming an age old concept, now technology is enabling us with features that can make your services more customized and personalized.
Now businesses are creating mobile applications application that are focused on user experience and interactions which are customized to them and their context.
2. Globalization
Operating in global, connected marketplace, your potential users are no longer tied to your part of the world. Using the Internet, you can reach out to your users from anywhere at any time. Businesses globally are focusing on creating apps that support multiple languages and multiple cultural traits that enhance user experience. Indulge in accounting those factors that will make your presence felt globally resulting in more number of downloads.
3. Narrow Target Audience
Competition is increasing among native applications and still hybrid applications are moving at slow pace. But what remains very crucial is to select your target audience. For mobile computing, understanding the new trends, it is important to cater to the niche audience. The selection of your segment is all game! Explore new markets and try to penetrate in that market by narrowing down the age group, gender and other such aspects. Create innovative apps for niche applications that will give back more returns on effort.
4. IoT Approach – Internet of Things
It is the era of Internet of Things, taking the technology industry by the storm. Eventually, it is going to be the part of our future. Thus, thinking from that perspective is very important when it comes to making decisions on mobile computing. From your home appliances to Smart Homes (Home Automation) and Cars with technology like Telematics, it is soon going to be all digital where mobile will be the connecting link. So create a mobile app strategy accordingly where your mobile app is mobile device enabled portal to a range of omnipresent network and Internet-Connected devices.
5.Free Always Sells
All is taken if given for free. Wondering how do you earn? Adapt the 'Usage Based Model' for pricing. This becomes your way out! We recommend that we create mobile apps that can be integrated in to the app eco system so your mobile application is not just lying around with the other less used applications. Account these factors while planning for your mobile apps, be giving and wise. Allow your mobile app to be flexible with time and the changes that are expected in the technology industry.
Our mobile app development experts recommend first deciding your service and then understanding your target audience to reach out to them in the most effective manner. Then, come other factors like naming your mobile app and selection of icon design and content, look and feel of your application. Yes that may be too many words to understand, so consult the best for it. So when it comes to mobile computing you should leave it to the experts, because our experts do it best!