Google has come a long way from starting as a search engine to today just everywhere in the technology world. Because it is the biggest search engine – it is now enjoying the monopoly by minting on the fact that being like Google for business online is the most important aspect.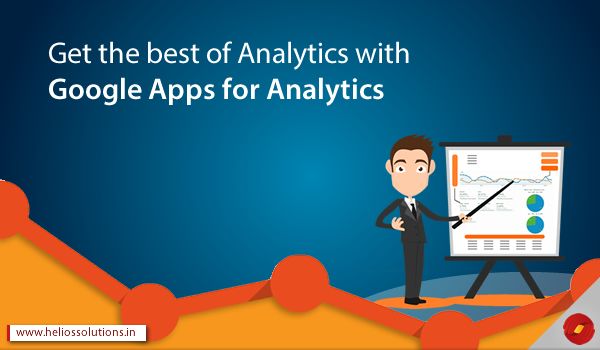 Analytics is one of the most important things to account for when it comes to analyze the impact of your online presence as for many business, online is the medium to get business. The primary way of getting business now! There are many applications and platforms for Analytics these days, but Google has something extra ordinary to offer, something more trustworthy and result oriented. For which – Google has recently introduced 6 New Application under the Head – Google Analytics 360 Suite
See Also : WHAT'S NEW IN GOOGLE APPS?
6 Google Apps – Google Analytics 360 Suite
Google Audience Center 360
Why this tops the list, it is because of its features. If data management a big deal for you? then a Google app can come to your rescue. Known as The Google Audience Center 360 is a data management platform that helps branding, sales and marketing personals to understand their target audience better. So how does it work? It works natively with Google and Double Click's ad networks as well third party data providers. This application integrated in the suite works best for thorough analysis of your target audience in every aspect. To know more, here is your official link: https://www.google.com/analytics/360-suite/audience-center/
To configure this application with your website, talk to our app development specialist, they will help you out in not time.
Google Data Studio 360
Since analytics has changed the way we perceive social media optimization. Today, data tells you how to strategize and aids in defining a measured purpose. The Google Data Studio 360 provides a closer preview of your data with visualization and real time collaboration tools. It also comes with few added benefits like generating detailed reports and dashboards. These kinds of dashboards avail you with data of various kinds at your disposal and will also help you in tracking the statistics through the application directly. It amazing to have Google Data Studio, consider using it now: https://www.google.com/analytics/360-suite/data-studio/
Google Tag Manager 360
Data collection is a task but collecting faster is a bigger challenge for a lot of businesses globally. This app by Google called the Google Tag Manager 360 will let you collect the data the simple and reliable way. With the help of this app, data collection can be done using tags across your sites, campaigns or other online marketing platforms. It also offers support for APIs to streamline your workflow. It integrates without much hassle with your existing systems and delivers programs fasters allowing you to make faster and better decisions for your business.
Google Attribution 360
Heard of Adometry, it is the same application. So what does it do for you? It informs advertisers with data to value their marketing investments and then go ahead to allocate budgets in an orderly fashion. It aids in creating a budgetary plan and also decide how much to allot for which segment by studying the analytics on advertising. This application has always existed and it is not new to the users, but the Corporation has rebuilt the application from the scratch in order to integrate it with the rest of the Google 360 Analytics Suite.
Explore this application of the Google Analytics 360 Suite: https://www.google.com/analytics/360-suite/tag-manager/
Google Optimize 360 (beta)
Testing your website in frequent intervals is as important as upgrading the frameworks. (To upgrade your website, talk to our website development expert at Helios Solutions). Thus, Google brings you an application in Google 360 Analytics Suite that lets you test your website with multiple variations of messaging and interface elements. This app enables you with features that let you research and get in-depth insights on the behaviour of your target audience resulting in your comprehension of your things that best suit your target audience and offer them with personalized experience. It is highly recommended for optimizing your sales by most engaging customer experiences. To know more about this application, visit: https://www.google.com/analytics/360-suite/optimize/
Google Analytics 360
GA Premium is one of the most preferred applications for analytics for the organization as a whole. To integrate it with this Suite, the Google Company revamped the application and it is now called Google Analytics 360. It is a basically a one stop solution for your data measurement. It also works best for ad product management requirements and fulfils the needs of sharing it with the professionals of your organization. The company later also announced that it they will be adding a host of new features in the coming months.
To understand how it works https://www.google.com/analytics/360-suite/analytics/#?modal_active=none or to configure the same, talk to the development experts: https://www.heliossolutions.co/connect-with-us/
Google has always pleased us with its services and we are more than happy to share these amazing application of the Google Analytics 360 Suite so that you can perform efficiently in your business and cater to your customers in a better way.
How do you go about it?
When you use it for the first time, you need to configure the website or your company account with the application and then understand its usage. For which you will need someone from a technical background. Don't worry, we have someone exclusively here for your to take care of such configuration. We are Helios Solutions – Outsource Software Development India and come with an experience of 12 years in the field of Information and Technology.