As we take into account the catastrophic effects of the coronavirus pandemic, the adversely affected dine-in restaurants and cafes top the list of badly hit businesses. These food outlets had to be completely shut down in order to maintain social distancing norms. 
As the saying goes every cloud has a silver lining, the online food-delivery payments witnessed a spike during the pandemic, as per an article focused on the payment industry by McKinsey. Thanks to Cloud Computing; here the Cloud itself is the silver lining!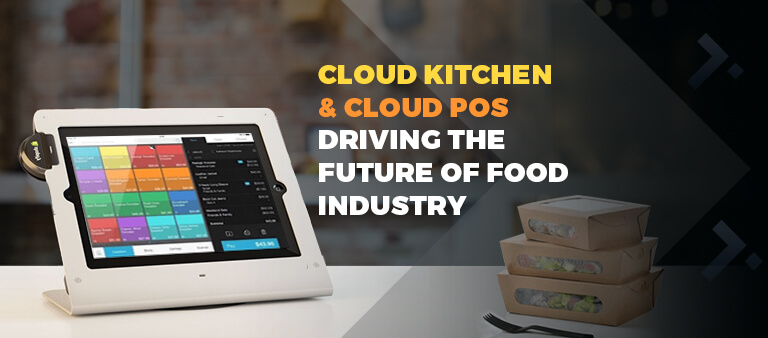 In this article, we are going to discuss why the Cloud kitchen concept is the need of the hour for the food industry, not only for sustainability amidst Covid-19 crisis but also for a profitable existence. Next, we'll put a glance on how a Cloud-based POS can streamline your cloud kitchen.
Here's what we are going to cover in this article:
The rise of the cloud kitchen model

5 reasons why Cloud kitchen is a safe bet for the restaurant industry

Lower infrastructure costs

Enhanced standards for delivery & packaging

Scope for rapid scalability

Higher profit margin with lower labour cost

More flexibility

How a Cloud POS can streamline your Cloud Kitchen

Centralized order placement

Taking order from multiple brands

Real-time data analysis and reports

Sales management

Operate from anywhere, anytime!

Cloud kitchen & Cloud POS – the game changers!
The rise of the Cloud kitchen model
As the restaurant industry stares at an unprecedented uncertainty amidst Covid-19, several players are switching to the online delivery models. They are adopting the operational philosophy of delivery-only kitchens also known as dark kitchens or ghost kitchens or cloud kitchens.
A cloud kitchen is basically a virtual restaurant without any physical infrastructure and dine-in facility. Apart from this ongoing pandemic, the primary factors driving the cloud kitchen concept are:
   

The increase in adoption of online food delivery platforms such as Swiggy, UberEats, etc.

   

This ability to eliminate the need for setting up a storefront with dine-in facility

   

The lower initial investment cost compared to traditional restaurants
Now, let's take a look at some of the proven reasons why the cloud kitchen model has emerged as the saviour of the restaurant industry during this ongoing crisis.
Planning to move your legacy apps to Cloud?
Talk to experts for legacy Cloud migration.
5 Reasons why Cloud kitchen is a safe bet for the restaurant industry
Before we jump to the reasons, let's take a look at how the Cloud kitchen model operates. It mainly operates in the following order: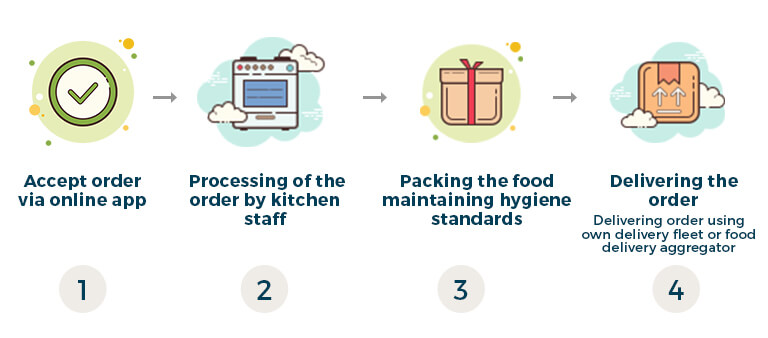 For the successful implementation of your cloud kitchen you would need to consider the following:
Establish a strong online presence

Cloud POS solution for digital menus & online ordering

Use marketing apps for ads & promotional activities

Integrate digital payment gateways

Build a robust delivery system
Moreover, you can choose to operate your virtual restaurant on any of these models below:
Single kitchen with a single brand

Single kitchen with multiple brands

Single kitchen with multiple brands & cuisines

Multiple kitchens with multiple brands & multiple cuisines
Furthermore, it's highly recommended that you pay heed to the location analytics of your target audience and determine their food preferences before you kickstart your cloud kitchen.
Lower infrastructure costs
This is a no brainer that investments for a virtual restaurant would be much lower as it does not host dine-in customers. So, you can significantly save on infrastructure and renting space for your business.
As the overhead expenses are lower in a virtual restaurant than a traditional one, you can serve food at a much lower price as well. This would in turn help you to acquire more customers in a short time.
Enhanced standards for delivery & packaging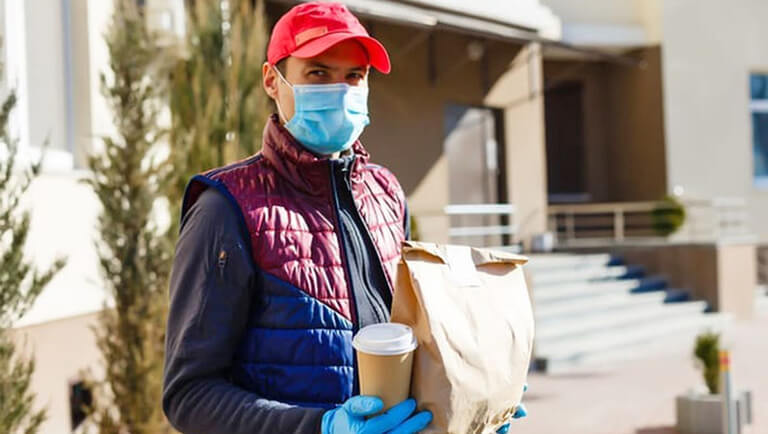 The cloud kitchens focus primarily on two key areas – (1) establishing a robust delivery system, and (2) maintaining hygiene and a good packaging system.
In the current scenario, the cloud kitchens prioritise on a timely and hygienic delivery while maintaining all the necessary measures of social distancing. For that they either rely on their own delivery fleet or partner with food delivery aggregators like Swiggy or UberEats.
Although, there is no upfront cost in terms of setting up dine-in infrastructure or related maintenance costs, nevertheless, establishing trust and creating a differentiation might demand investment.
Scope for rapid scalability
Given the current pandemic situation, dining-in at restaurants is completely restricted. So, food delivery services have emerged as the indispensable service required by most of the homebound people during this crisis.
This offered cloud kitchens a massive opportunity to grow its services based on different models – standalone restaurants, multi-brand co-working kitchen facilities or as kitchen network operators doing outsourced services for various restaurant brands.
There lies a huge opportunity for cloud kitchens to make data-driven decisions when it comes to expanding their services. They can implement different market strategies based on proper understanding of customer needs.
Higher profit margin with lower labour cost
In this dire situation of Covid-19 pandemic, almost every industry is trying to bring down operating costs by laying off the workforce. 
As cloud kitchens can operate with minimal staff, it is a safe bet for both the business owner and employees. To start with you can have only 6 staff – a head chef, two junior chefs, two helpers and a housekeeper for your fully functional cloud kitchen.
Moreover, by not offering dine-in facilities, you can save substantial margins on infrastructure and operational costs. Thus, you can offer competitive prices and change your menu based on changing customer preferences.
More flexibility
With cloud kitchen models, you can take data-driven decisions and enjoy the flexibility to alter your digital menu based on market preferences. You can also introduce changes as a response to the current pandemic situation such as contactless delivery, sealed packaging and more.
As an owner of a virtual restaurant, you can easily optimize the hygiene and delivery standards and keep your menu versatile taking into account changing customer behaviour.
Let's put a quick glance at how the future of Cloud Kitchen looks like as per the stats from Reports and Data, a market research & business consulting firm.
The global Cloud Kitchen market was valued at USD 0.65 Billion in 2018 and is expected to reach USD 2.63 Billion by the year 2026, at a CAGR of 17.2%.
According to this stat, the future of cloud kitchen appears very promising and it's worth investing in one today. Now, let's move on to find out why a Cloud POS solution is a must-have for your Cloud Kitchen and how it can help you streamline your virtual restaurant.
How a Cloud POS can help you streamline your cloud kitchen
So far we have seen how a cloud kitchen operates and the benefits it offers to the owner as well as the customers. Now we'll take a look into the benefits of integrating a cloud POS solution with your cloud kitchen apart from gaining customer data, inventory analysis and speedy delivery.
Centralized order placement
As we have already discussed that cloud kitchens operate under various models. So, in a single kitchen with multiple brands, a cloud kitchen receives orders from various platforms.
A Cloud POS solution manages orders centrally and thus eliminates the chances of missing out on orders. This in turn helps you optimize order processing time and ensure faster delivery and enhance customer satisfaction. 
For a multiple kitchens with multiple brands & multiple cuisines model, this cloud POS software helps you to streamline orders and define menu of different kitchens based on their bestsellers.
Serve from multiple brands in a single order
The Cloud Kitchen model that incorporates more than one brand, allows a customer to have food items from different brands in a single order. With a cloud POS, this tedious activity of taking orders for multiple brands becomes hassle-free and more revenue-generating for your Cloud Kitchen. 
Thus, Cloud POS helps you customize your menu based on bestseller recipes from different brands in your kitchen and maintain a happy & loyal customer base. It also assigns the order to a delivery partner instantly and takes care of personalized experiences for your customers.
Real-time data analysis and reports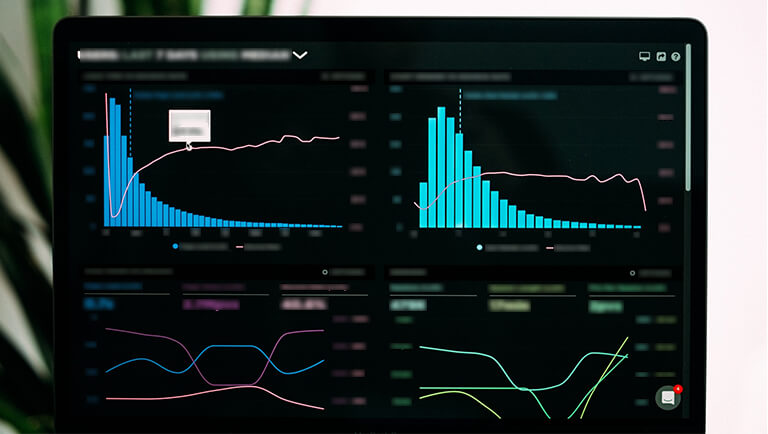 The cloud POS software allows your customers to track kitchen operations in real-time such as time taken to prepare your ordered dish. 
Moreover, as soon as the order is placed, your POS assigns the order to a delivery executive who can reach the kitchen facility as soon as possible. So, you and your customer can both track the status of food delivery.
Eventually, this data can be utilized for customer evaluation, how frequently this particular customer has ordered food from your kitchen so that you can offer a discount or upsell another dish based on the insights.
Also, you use the data for evaluation of your staff's performance and offer them incentives accordingly.
Need a Cloud-based POS for your business?
We can help you enjoy greater mobility & better data security.
Sales management
Suppose, your cloud kitchen operates under the multiple brands business model and those brands have outlets in different countries. Then your cloud POS helps you save you from the daunting task of currency conversion while you monitor the transactions in different countries.
When you have partnered with more than one delivery aggregator, your cloud POS not only helps you to easily keep track of them but also determine your top source of order. Thus, you can use those insights to understand your sales & profit and make informed decisions.
Operate from anywhere, anytime!
The Cloud POS solution optimizes all the operations centrally and helps you to identify each and every details that you might have overseen otherwise.
The best part is that a cloud-based POS offers you greater mobility and flexibility. You can operate from anywhere and from any device. 
No wonder that early adopters of cloud POS solutions have fared well in this lockdown due to the coronavirus crisis as they could leverage this mobility to keep their business up and running.
Cloud kitchen & Cloud POS – the game changers!
If we go by the numbers then Cloud kitchens are the future of the restaurant industry. Are you considering a switch to this revolutionary model? If yes, then a Cloud POS is a must-have solution for your kitchen to help you avail its multiple benefits while enabling you to deliver an exceptional customer experience.
This futuristic move would not only help you sail through this current crisis but also help you build a profitable and sustainable business that stands the test of time.
Planning to start your own Cloud Kitchen?
We can help you develop your custom Cloud solution.