As scientists and doctors around the world race to find a viable vaccine to cure COVID-19, social media platforms have become ground zero for facilitating discussions and arguments over the health crisis.
They have proved to be both a boon and a curse – on one hand, they've provided us the tips & tricks to stay safe; on the other hand, they've been the means of circulating hoaxes and misleading information.
Here, people need to understand that not everything on social media is true. A shocking fact was revealed by an MIT study that, on Twitter, false news stories are 70% more likely to be retweeted than true stories.
"Falsehood flies, and the Truth comes limping after it"

– Jonathan Swift
Simultaneously, businesses that use social media marketing as a way to reach their customers must follow certain social media etiquette while posting information, be it about a service, product, technology or general awareness.
This article discusses the current state of social media platforms, the right way for businesses to stay in touch with their customers, and the Dos & Don'ts that they can follow to leverage the social media marketing benefits.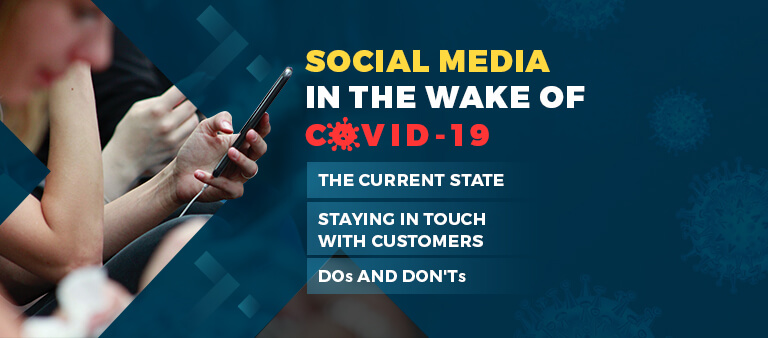 Social media buzz around the novel Coronavirus began in mid-January when people came to know about the initial news of outbreak of the novel Coronavirus in Wuhan district of China.
However, conversations started to heat up on social media in the late February. That was after the first COVID-19 case of unknown origin appeared in the United States, indicating there were chances of "community spread."
Days later, the NBA suspended its season after a player tested positive for COVID-19. Since then COVID-19 related posts are skyrocketing on social media.
The Current State of Social Media Platforms
With social distancing and lockdown measures in place, life has moved into the virtual realm. There's no other place for people to go other than the Internet, particularly social media.
According to eMarketer, Facebook saw a 70% increase in usage of all of its apps in the month of March.
Twitter reported having about 12 million more daily users in the first three months of 2020 than in the last three of 2019.
According to a survey carried out by Kantar, one of the leading Market Research company, WhatsApp has seen a 40% increase in the overall usage.
Social media channels such as Facebook, WhatsApp, YouTube, Twitter, and Instagram have become primary sources of information. They've also proved to be a medium for the world to stay in constant touch with each other.
Planning to utilize social media amid the crisis?
Talk to one of our digital marketing expert
Tide of Coronavirus 'Infodemic' of Misinformation
COVID-19 related misinformation has been spreading across social media sites at a shocking rate.
This includes fake remedies, conspiracy theories about the virus's roots and about those responsible for its spread, and false beliefs.
For instance, a video was widely circulated on the social media which claimed that breathing hot air from a hair dryer could treat the virus; a post went viral that talked about injecting vitamin C into the bloodstream to treat the viral disease.
The sheer amount of fake news and false data flowing across social media have put millions and millions of lives at risk.
What Big Brands Are Doing to Deal With COVID-19 Social Media Infodemic
In mid-March, Facebook, Google, LinkedIn, Microsoft, Reddit, Twitter and YouTube issued a statement saying they had joined forces to combat "fraud and misinformation about the virus".
Moreover, most of these companies are taking strict actions to fight coronavirus misinformation.
So what these companies are up to? Let's take a look:
1) Facebook is making constant efforts to fetch more and more regional partners to help with fact checking. Users are also encouraged to report suspicious posts by flagging them. Furthermore, Facebook is organizing newsfeed to support more credible sources such as the WHO.
2) WhatsApp has launched COVID-19 information hub in collaboration with WHO, UNICEF, and UNDP to offer users with a space where they can receive up-to-date information about the deadly virus. Moreover, WHO has also deployed a chatbot on WhatsApp to warn people about various dangers associated with COVID-19.
3) Instagram has taken severe measures to avoid the spread of misinformation by orchestrating its feed's algorithm in favor of trusted sources of data. Besides this, it has also emphasized the seriousness of the outbreak by prohibiting searches for COVID-19 related AR effects.
4) Twitter has revamped its profile verification process to stamp all the accounts with an iconic blue check mark that can offer reliable data to people. Additionally, it is also banning every potential tweet that could ignite falsehood.
5) YouTube keeping a close eye on all the videos that are getting published and is putting efforts in promoting verified, informative content of coronavirus information (on its homepage). Furthermore, it has removed ads for all the authentic virus-related content.
6) Pinterest has implemented the new "Today" tab, which is a blend of trending and curated pins like information from WHO and CDC on subjects like hand washing during the coronavirus epidemic.
All the major social media sites are doing their best to promote truth and eliminate COVID-19 infodemic, thereby helping their communities of millions (or in some cases, billions) of people.
Staying in Touch With Customers
The world has come to a standstill and there's uncertainty all around.
Amid such conditions, businesses are left with the following options when it comes to messaging and staying in touch with their customers and communities:
a) Go into the silent mode and do nothing
b) Continue with the old messaging and pretend everything is as usual
c) Change the messaging to the one that conveys support and spreads positivity
For businesses that do nothing, they need to understand the fact that if they don't show up now, their customers won't show up in the future.
For businesses that continue with the same old way, they need to understand the fact that these are challenging times and customers will simply ignore their message.
Changing the messaging to the one that conveys support and spreads positivity is the best way businesses can communicate with their customers. This is because this type of messaging reduces high-levels of anxiety being developed in customers (due to lockdowns and isolation) and will make them feel taken care of. Also customers will remember how a brand behaved when things went extreme.
Businesses can apply this type of messaging in their social media marketing strategy. For instance, they can publish posts about serving customers remotely, making them aware about the technologies/tools that can help them in this sort of crisis, etc. Moreover, if they aren't confident of best utilizing social media, they need to collaborate with an innovative digital marketing company that can accomplish this.
Kickstart your social media marketing journey
Speak with a digital marketing expert
Now let's dive into the Dos and Don'ts that businesses can follow to get the best out of their social media marketing.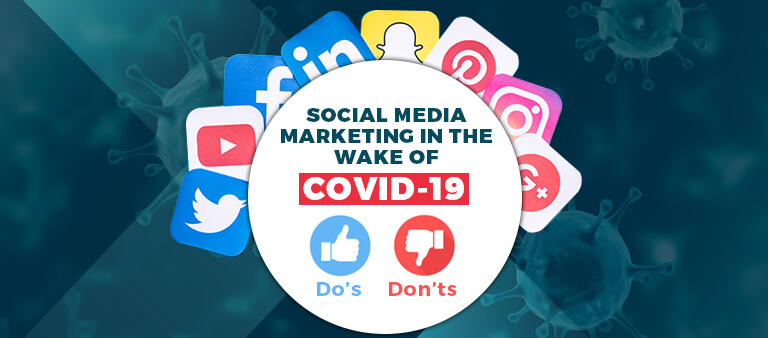 The Dos and Don'ts of Social Media Marketing
During this crisis, businesses need to be creative to utilize social media marketing to serve and grow their customer base. As discussed above, their messaging must mitigate risks and express care.
If you are looking to get the best out of your smm marketing efforts, here are some Dos and Don'ts i.e. social media marketing tips, that you can follow to stay on top of your customer's mind:
DO: Publish your content on a regular basis
Remember that your audience is experiencing lockdown and because of that it is  spending more time than ever on social media. Be where your audience is.
Develop creative content and post it on a regular basis on your social media channels (ideally it should be 2-3 times a week). Make sure all your posts offer customer value.
DO: Be honest and let your audience know what you are up to
Keep your audience posted on how your business is tackling the crisis.
Tell them about:
What your company is doing maintain productivity
What measures your business have taken to keep employees safe
What are the challenges your business is facing and how it plans to overcome them
What your audience can expect in the upcoming weeks
DON'T: Exploit the existing situation
Don't create content that exploits the outbreak for commercial gain. This may benefit your business on a short term basis, but will damage your brand reputation for a long term.
As discussed above, brands like Facebook, Twitter, and YouTube have taken precautionary measures to stop this.
DO: Spend some time in social media monitoring
Keep a close eye on comments and conversations. Furthermore, also check what your competitors and influencers are doing.
This activity will help you develop better and more interesting content.
DON'T: Share without in-depth research
As discussed above, Coronavirus related misinformation has been spreading across social media outrageously.
So, before you share or retweet any content, you need to check the roots first (i.e. check out the account from which the content originated) and also perform an in-depth research on the truthfulness of that content.
DO: Add humor in your content
People want to feel less anxious in these hard times, so you need to think how can you pour some humor in your content and make your audience smile for a while.
Organize an interesting activity or an education session and ask your audience to join.
DON'T: Complain
If you are facing an issue with a product or service of another company, or are dissatisfied with the behavior of a customer, you must avoid to unleash your discontent on social media.
Remember, we are facing tough times and negativity is all around us. If your prospects or potential customers see you complaining about others, they may think twice about wanting to do business with you.
DO: Engage with your audience virtually
Think about how you can best utilize the remote work tools in order to engage your audience.
Organize an interesting activity or an education session and ask your audience to join.
Looking to go remote? Check out the tips & tricks: CORONAVIRUS OUTBREAK: HOW TO SWITCH TO REMOTE WORK THE RIGHT WAY
DO: Promote worthwhile causes
You can invest some time in researching on topics about social awareness. Later, you can promote worthwhile causes and raise awareness on important issues.
Bottomline
At times when the COVID-19 outbreak has put everything on halt, social media platforms provide a great opportunity to businesses to connect and engage with their customers and communities – businesses that aren't able to leverage social media marketing are at a risk of getting left behind.
As businesses develop their social media marketing strategy plan, they need to implement creativity in a way that inspires people during this crisis. Furthermore, they also need to ensure that none of their posts promote rumors or hoaxes.
Get your brand seen & heard online
Talk with one of our digital marketing expert