This year's Worldwide Developers Conference (WWDC) for Apple wasn't with much of groundbreaking changes to its mobile operating system. It was about polishing some of the rough edges from previous years and bringing in some new features and applications to overhaul the fluid experience it tends to deliver all the time.
Developers are testing their applications as the Beta version is already out, and publicly beta to be accessible over summer. Like always, the new iPhone Models, (possibly called iPhone 7 and iPhone 7 plus), would be the first to taste the goodness of iOS 10, followed by the older iOS devices.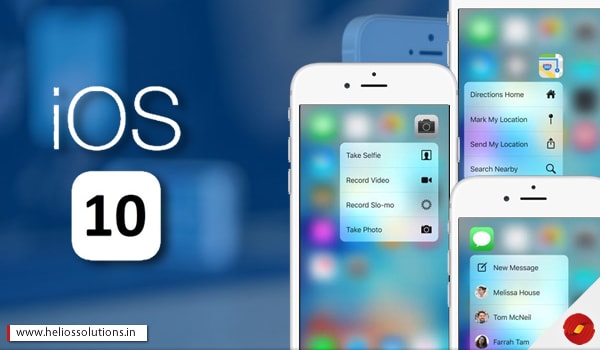 So, what are the features that we can expect, that would change the look and feel of our iPhones and iPads in September? Let us find out.
Siri for the Developers
Apple's voice-powered assistant is now open for the Developers. The iPhone Development Experts will make the best use of Siri's SDK, to upsurge the utility of voice in 3rd party applications, and many more apps will be using the service in the coming days, making it quite prevalent.
Apple will also be able to gather data based on Siri's accuracy and situations it's been used in. Apple is surely playing big this around, as it is trying to up its game around competition with the likes of Amazon's Alexa, Microsoft's Cortana and Google's now voice. To open up Siri to the developers is Apple's one big move to expand its eco-system.
A new Lock Screen
Apple has significantly changed the look and feel of the lock screen in iOS 10. Simply by picking up your iPhone, you'll be able to view your lock screen and also the actionable notifications with the help of 3D touch. Again, these features aren't really radical as Apple claims it to be, but it is great that they have finally landed on the iDevices.
Improved Notifications
This time around, notifications are much richer than they ever were. Developers will now be able code rich notifications. This could possibly show us more of media rich notifications (video or any particular image). This will also allow you to reply within the notification box even without opening up the respective application.
Developers are tend to enhance the experience for the iOS users in the coming days and in return shall also help the developers to be more engaged with Apple's platform.
Polishing the edges of User Interface
Over the years Apple has taken significant steps to improve the user interface of iOS.  The addition of the "Dark Mode" is one of them. It is nothing but a cosmetic touch for now, but when Apple will switch to OLED display in 2017, we can expect significant battery save in the power mode.  We can expect it to be in the default setting in the next year's iPhone 7 or may be iPhone 8.
The stock Apple apps have always consumed the space of your iPhones or iPads and forced you to make a dedicated folder that was just there for sake of being there. But with iOS 10, Apple finally allows you to delete those unwanted stock apps and their data from your iPhones.
Messages
In iOS 10, there is a significant overhaul coming to the Messages. How about writing messages in your own handwriting? Yes, you'll be able to do that in iOS 10. You would be able to send very quick 'Tapback' responses, and also add more animations.
Emoji are getting quite bigger and simple to insert, In addition, you will also able to place stickers all over your message threads.
The biggest addition though would be of iMessage apps. iPhone Specialists will be able to make their content accessible straight through the Message app.
Well, this year Apple certainly has many features that aren't really revolutionary but certainly evolutionary enough to mark the 10th edition of iOS to be spectacular.