E-commerce trends that work well on your competitors' will surely work the same way on your site; not necessarily! That is the reason whenever you introduce changes to your e-commerce website you must test them in the first place and let the data speak. We bring you some e-commerce A/B test ideas that are supposed to create great customer experiences but you need to find out what is right for your brand. Let us give them a test!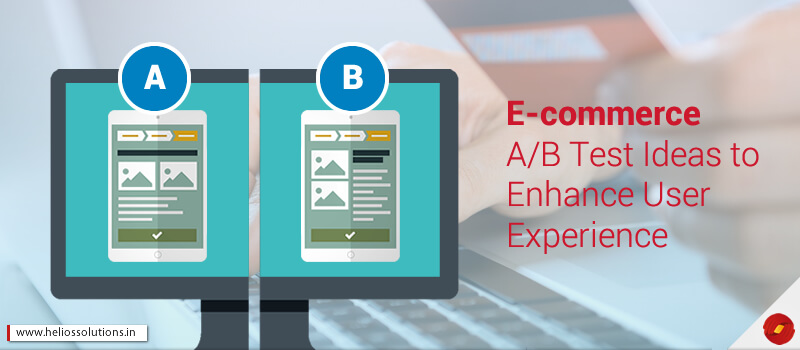 Make Your Sales And Specials Section Conspicuous
Most online shoppers prefer to buy only discounted products. So, they are always on the look for the section that displays sales and specials. Make it prominent so that your customers do not give it a miss and more traffic is generated at your e-store.
Highlight Your Wide Appeal Products
Make your best selling product or best deals, number one in the visual hierarchy on the homepage. Thus, your online shoppers would hardly miss an offer they are interested in and they would be easily directed to that product page.
Eliminate Hidden Charges
Online shoppers truly dislike hidden charges that are revealed only upon checkout and that are one of the significant reasons for higher cart abandonment rate. Being an e-commerce owner, how will you introduce additional variable charges such as sales tax and at the same time make your buyers complete the checkout process? Simple, just add a calculator or estimator to the shopping cart and save your buyers from additional surprise charges.
See Also : E-Commerce Insights: Learn From The Past To Boost Your Future Sales
Make The Shopping Cart Persistent
Customers find it quite daunting to keep backtracking a site just to locate their shopping cart and check the items they have picked for purchase. You can make the cart visible on all the pages to solve this issue. Discuss with our team of e-commerce development experts on making the cart persistent so that if a shopper returns after a day or week to your site the cart doesn't expire. Otherwise, they may abandon your site rather than starting from the scratch.
Get Creative With Your Product Descriptions
Product descriptions are really important and if crafted thoughtfully you can convince your customers why that product is just right for them. If you sell products that you don't manufacture, remember not to repeat the manufacturer's descriptions on the product pack. Convey your customers the benefits of the features and also present them with a comparison table.
Integrate More Payment Options
In order not to lose out your customers' to your competitors, expand your payment options. This is because many consumers cancel the purchase if they do not find their preferred payment method. Others may be scared of using credit cards for online payment due to increased instances of sensitive data theft. So, it is wise to add payment options like PayPal or Amazon Payments to win over such customers.
Upsell insightfully
To boost your average order size upsell intelligently. Offer related products and at least 60 percent cheaper than the product your customers have added to their cart. For example, upsell a belt if they are buying pants.
Test these ideas on your e-commerce site and let us know if they worked well for your brand. We are an Ecommerce Development Consultancy adept at creating better user experience from the customers' perspective leading to a higher return on investment.