It is expected that E-commerce in Europe will have a total online sales worth 509.9 billion Euros  in 2016. If you look back in 2015, the numbers generated in Europe were 455.3 billion Euros. That clearly shows us to expect a growth of 12% in 2016.
Around 510 billion Euros are assumed to come from Western Europe this year, as previous year it achieved 252.9 billion Euros online. Eastern Europe didn't see bigger numbers compared to the others, as it only generated 24.5 billion Euros.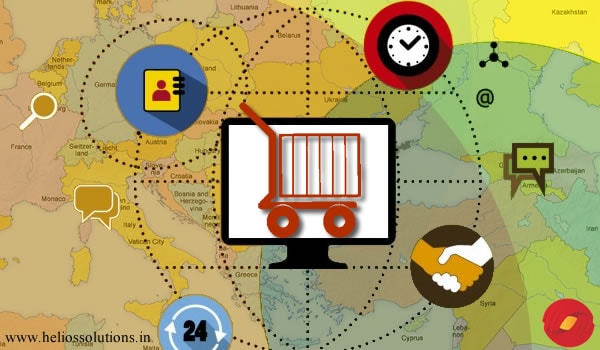 These are just some statistics to surface with the help of the report B2c that  E-commerce Europe published, through its B2c E-commerce report. If we dive in furthermore, the overall E-commerce mass exodus in Europe raised to 13.3% to reach 455.3 billion in previous year.
Higher Numbers in the Coming Years:
The numbers of online shoppers if you see in Europe are about 296 million. At an average of 1,540 Euros were spent by them last year. If we break down things listed in the report (E-commerce Europe) only 43% of the European population consists an age group of 15 years and older who prefer to shop online and 16%  of them buy from a different country.
E-commerce Europe had its vision set beyond 2016. Now, as 2017 isn't that far, a rise in the numbers for it to generate is likely to go beyond (2016).  An online sale of the goods and services worth 598 billion Euros is expected in 2017 and certain Revenue of 660 billion Euros is being forecasted for 2018.
The Major E-commerce Countries of Europe
UK, Germany and France are the leading E-commerce countries in Europe at present. The online turnover of goods and services by these countries was about 60% .   With a total of 157.1 billion Euros, the size of the E-commerce market shows UK in the leading charts, but if we see the number of online shoppers, Germany is ruling all the charts. Germany with 51.6 million market presence  and in comparison UK has 43.4 million.
Top Rapidly Growing Markets in Europe:
E-commerce markets in Europe are growing at an accelerating rate. Ukraine (with 35%), Turkey (with 34.9%) and Belgium (with 34.2) are amongst the rapidly growing E-commerce markets in Europe.
This certainly shows us that E-commerce in Europe is at a pace where it will see greater heights in the coming years.
If you have a brick and mortar store and still not convinced on making an E-commerce store, the above statistics about the rapid growth in European market will enlighten you enough to make one. Here at Helios Solutions, our team of E-commerce Development Specialists will help you make a store of your choice and that will help you be a part of the rapidly growing European Market.