After the release of Drupal 8.0, organizations across the globe dependent on Drupal framework are upgrading themselves to the new version to take the advantage of its newly improved features. Here, we are writing this blog in order to make educational institutions understand that why they should select Drupal Development for their IT structure and what are the benefits of it. And there is some great news to share also.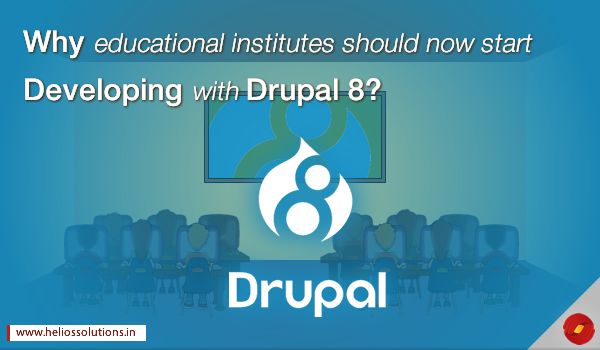 We were awaiting our project with Drupal 8. We finally have one and we could not be happier.
Check out our review on the release and to know what features Drupal 8 has to offer: https://www.heliossolutions.co/blog/helios-is-ready-for-drupal-8-0/
We are not only good at it, but best at it!
With development taking a new turn in the IT field, Drupal always has something extra-ordinary to offer. Our team of experts with an experience of over 5 years is always updated with Drupal technology that enables online businesses with the most robust features of content management, security and seo-friendly websites. We excel in CMS website development.
Preferred by the Education Sector
Today, more than 70% of the world's education websites are powered by Drupal framework. This adoption has grown over the years due to many reasons. One of the main factors influencing this trend is the CMS system that Drupal offers. For which Drupal also organizes a Higher Ed Drupal Users Meeting every year where developers and university representatives come together to understand the benefits and requirements.
A report by Drupal network found that out of 3260 universities tracked, over 35% of them were using Drupal framework where big names of the universities were listed like Harvard, Duke, MIT, UPenn, Princeton, UC, Berkley, MCGill and many such more.
Why do they select Drupal Framework?
It is a rational choice considering the advantages with selecting Drupal open source. It includes support for large scale multi-site deployments, fit with centralized IT organization, low end training requirements, support for integration with campus authentication and authorization systems. It also offers content capabilities with its CMS system particularly taxonomy meta support for libraries.
But hold on, it only gets better! Drupal also appeals among digital natives and young developers! Thus, it is very student – friendly and system oriented, plus its free open source platform.
We are Drupal Experts!!!
Drupal is an open source platform that offers you an organized set-up, brilliant administration, pleasing designing options and acts like your marketing partner by providing features that let you communicate better.
What do you get?
Your benefit includes Outsourcing Drupal Development! Currency makes the difference as its India!
We offer –
Website/ Webshop Development
Webstore – eCommerce Development
Drupal Module Development
Custom Theme Development
Web Application Development
Amazing Facts about Drupal 8.0 –
71 out the world's top 100 Universities use websites powered by Drupal open source.
27.7% of all .edu websites are powered by Drupal framework
More than 1900 themes and 26, 547 modules are available
Big Names that use Drupal framework are as follows:
The White House
Yahoo Research
Intel
Nokia
General Motors
Warner Bros Records
Amnesty International
Universal Music
MTV
Pink
R.E.M.
The Drupal Team at Helios cannot wait to get started on the project!!!
If you are looking to upgrade to the new version, you must have a word with our Drupal Development Specialist and clear your queries. If in case, you are looking for altogether new development on Drupal framework, here is how you can get a quote for it: https://www.heliossolutions.co/connect-with-us/, Hire Drupal Expert now.  We are prepared and geared, it time to upgrade! Don't fall back, upgrade and let your business benefit from it.